Best time to visit Alaska

Winter is another world in Alaska, with wilderness lodges and husky sledding outfits open for business.

The tourist season is very short in Alaska, usually May until the end of September. May is great for wildflowers and mosquito free days. Mid-June until the end of July, on the other hand, is notorious for mosquitoes, so take precautions, particularly at dawn and dusk. The night frost starts to kill them off by August. If you want to see bears banqueting the best time to go to Alaska is autumn, when they come out to feast upon migratory salmon and berries before settling down to snooze the winter away. You will also see more moose at this time of year, as rutting season begins.
Best time to visit Alaska, month by month guide
Alaska really begins opening up for business in May, when it starts beating out the lower US states for daylight hours. It's drier than the summer, but cooler by about 10°C too. Mid-May is also when the Anchorage Market stacks its stalls. Tours into central-north parks like Denali usually run in June and July. Summer solstice (21 June) lazes in 22 hours of sunlight in Fairbanks and 19 in Anchorage; definitely bring an eye mask. Alaska is a huge state, so temperatures range between 15°C and 25°C in the summer; yet the tundra still doesn't melt until late June. This is also when you'll meet the worst of the mozzies. The rain ratchets up a notch in August. As the weather dampens a little and days shorten, the numbers at Denali National Park ease off – which is good news if you want to keep the animal sightings all for yourself. Approach the weather like an Alaskan; they generally reckon that there's no such thing as bad weather, just bad clothing. Fruit season is in too, so you can get tasting blueberry pies (and berry beer and berry ice cream). September still rolls out relatively long days but cooler evenings creep in, with evening temperatures hovering around 5°C. The Alaska State Fair is still going, first celebrated in 1936 as a last hurrah for summer. Only specialist trips run between October and May: Northern Lights expeditions, husky mushing and snowshoeing adventures. Northern Lights tours tend to run from September to March; bear in mind the days are very short in December and January if you are planning to take part in other activities.
Our top Alaska, USA Holiday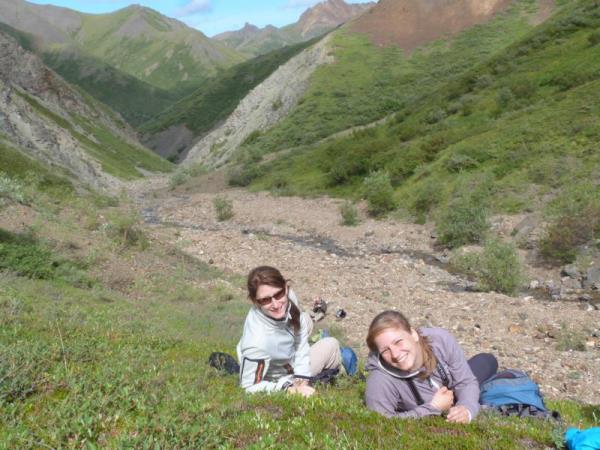 Experience untouched wilderness off the beaten path
From US $2440 12 days ex flights
Small group travel:
2022: 12 Jun, 3 Jul, 24 Jul, 14 Aug, 27 Aug
If you'd like to chat about Alaska, USA or need help finding a holiday to suit you we're very happy to help.

Responsible Travel recommends
Natalie Morawietz, co-founder of our Alaska specialists Infinite Adventures, shares her tips:
Land of the midnight sun
"Don't be put off Alaska because you think it will be too cold. Visitors often think that they won't get sunshine in Alaska, but in fact there are almost 24 hours of sunlight. You can arrive at the campsite at 9pm and sit at the campfire with the sun shining in your face. It might only be 18 degrees by then, but because the sun is shining, it always feels warmer.

"Summer solstice in Anchorage is one big festival, as it never gets dark. The town of Hope has music every weekend during the height of the long summer days, people dancing in their rubber boots, and just a wonderful atmosphere.

"People do worry about mosquitoes, but these ones bite you but don't harm you, so they don't worry me much. You just need to be sensible, have camp fires, and close the zips on your tent."
Powell Ettinger, director of our small ship cruising holidays supplier The Small Cruise Ship Collection, has some all-weather packing tips: "The weather is changeable and sunshine does certainly happen – so pack layers so that you can easily remove them when out doing activities such as hiking or kayaking that will warm you up. Hiking trousers that unzip into shorts are great, as are moisture wicking base tops, because the air is pretty damp up here and that doesn't work well with cottons.

"Good waterproofs are a must and do remember an extra pair of gloves, as they nearly always get wet. Same goes for socks; get moisture absorbing ones, and bring plenty of them. If you are brave, pack a swimsuit for a polar dip. The less brave will enjoy the on deck hot tub, though."
Festivals & events in Alaska
Salmon run
Bear Grylls has nothing on these fish that run the gauntlet from the sea to their spawning grounds every spring and summer. Along the way, fishermen and bears alike brace themselves in the river to catch the salmon struggling upriver. Different salmon species flip-flop their way upriver, from king salmon in May to cohos in late September.
Berry festivals
During Augustís berry festivals, huckleberries, blueberries, salmonberries and redcurrants start to sweeten winter-bare trees and shrubs. The fruits are like magnets for bears that plod miles to munch on them before hibernation. Theyíre also catnip for Alaskan cooks, who pack them in everything from pies to beer.