Amazon Rainforest river cruises
'The world's longest river' is a long-disputed title but, when it comes to size, the Amazon is a river that dwarfs all others. The volume of water that flows between its banks is greater than that of the Yangtze, the Mississippi and the Nile combined. At its widest it spans 11km, luring large cruise ships that wade in from the Atlantic. Subtle as a hippo in a paddling pool, these brazenly oversized boats are too large to access the deserted tributaries where our small ship cruises go.
Sadly, even the Amazon river isn't free from plastic pollution and plastic particles have been found in as much as 80% of fish in the more remote parts of the rainforest. In Manaus, it's less subtle; rubbish accumulates around floating houses and below stilted structures, filling the city's tributaries like a large unsanitary dam during the rainy season. The waste is largely dumped by residents, so the further your boat takes you from Manaus, the less you'll encounter.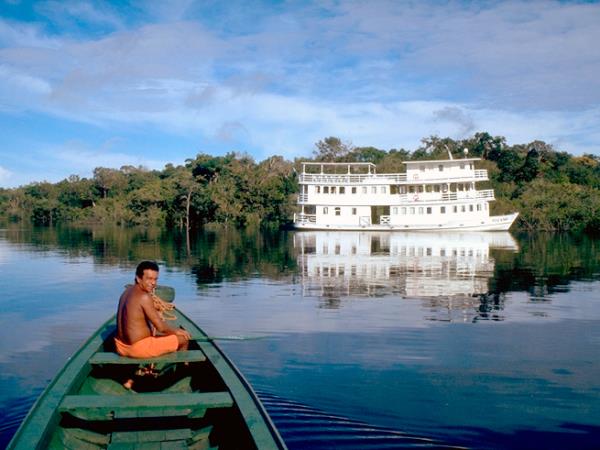 This voyage visits some of the most untouched rainforest
From
£2863

to

£3154
7 days
ex flights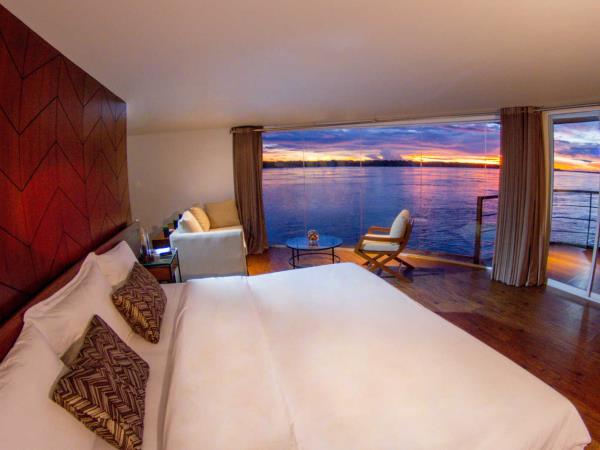 The ultimate adventure along the mighty Amazon River
From
£6599

to

£7099
10 days
ex flights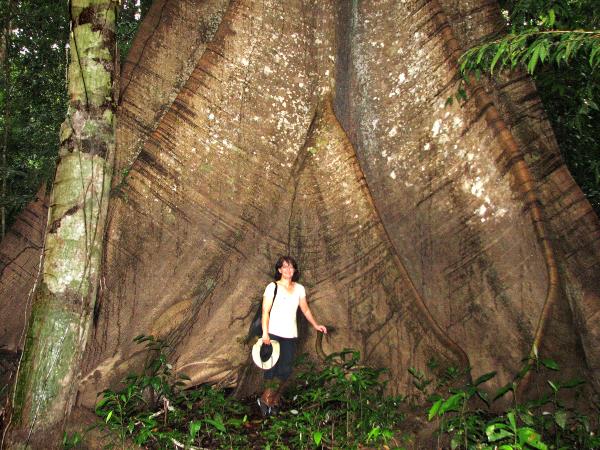 A 5 day Amazon cruise on the Rio Negro from Manaus
From
£1660

to

£1826
5 days
ex flights
Lasting between five and seven days, Amazon river cruises typically take places in northern Brazil, starting from Manaus and exploring the many tributaries and communities west along the Rio Negro. Passengers on these cruises benefit from the knowledge of local guides, who know the rainforest like their own back garden and can spot the sneakiest of creatures without disturbing them.
Life aboard ship
Travelling aboard custom-built boats designed to navigate the narrow, and occasionally shallow, tributaries leaves you free to explore the remote and less-visited corners of the rainforest. It's here you'll find wildlife hidden away, not in the wide open waters where larger cruise ships roam. Smaller boats, and groups, are also less likely to scare away any animals and birds and each passenger has more chance to talk with their guide.
"There's definitely quite a high demand for the big boat cruises that depart from Manaus," says Tristan Whitworth from our Amazon holiday specialists Natural World Safaris. Smaller, more
responsible river cruises
also avoid overcrowding, changing their routes from trip to trip to lessen their impact on smaller rivers and provide a variety of experiences for everyone aboard.
Bear in mind that these are not luxury cruise boats; you're supplied with everything you could need and there's enough space for privacy but cabins can feel a bit snug. However, large windows and air conditioning try to make the interiors feel light and airy and daily excursions mean you're not at risk of cabin fever.
Excursions
River cruise passengers aren't restricted to a week aboard a boat. Shore excursions are an opportunity to stretch your legs and experience the world of the dark forest floor. Treks tend to be fairly easy going and suitable for all levels of fitness, but you'll want a solid pair of shoes nonetheless. Some trips also offer guided kayak excursions along narrow forest streams, thick with foliage and the sound of birdsong. Bear in mind that weather, and seasonal flooding, may be a factor in how much time you spend exploring on foot.
Our top trip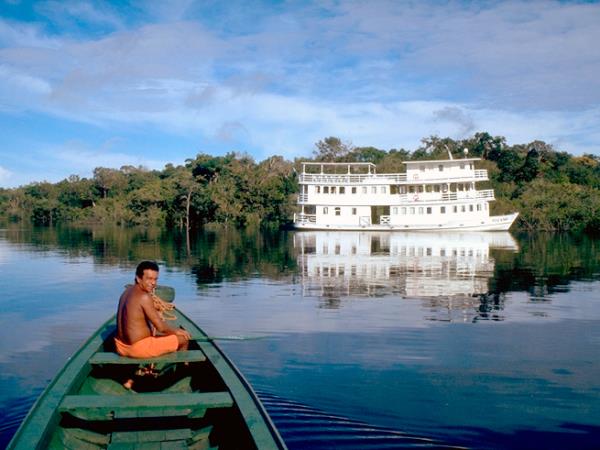 This voyage visits some of the most untouched rainforest
From
£2863

to

£3154
7 days
ex flights
Small group travel:
2023: 9 Dec, 23 Dec
2024: 13 Jan, 10 Feb, 2 Mar, 16 Mar, 6 Apr, 27 Apr, 11 May, 1 Jun, 15 Jun, 6 Jul, 27 Jul, 10 Aug, 24 Aug, 7 Sep, 28 Sep, 19 Oct, 2 Nov, 16 Nov, 7 Dec, 21 Dec
If you'd like to chat about Amazon Rainforest or need help finding a holiday to suit you we're very happy to help.

Wildlife
Small groups led by skilled guides already have the upper hand when it comes to discovering cautious animals among the rainforest foliage. But from the observation deck of your small and stealthy vessel, which can venture down deserted rivers and into uninhabited areas of the Amazon, you'll have a bird's eye view of life in the canopy. River dolphins the colour of candy floss and parrots in poster paint hues are easy to spot against the forest greens, as are thirsty mammals on the shore.
Encontro das Águas
The Encontro das Águas, the confluence of the Amazon and the Rio Negro and Manaus' only natural wonder, is where two of the world's mightiest rivers meet without mixing. The result looks like an unshaken salad dressing, a whole 6km of it. It's created by the different characteristics of the leisurely colliding rivers, the faster flowing and sediment-rich Amazon (Brazilians call its upriver section the Solimões) and the darker Rio Negro, which gets its black tea colour from decaying leaves.
Lago Janauari Ecological Park
Lago Janauari Ecological Park is 90km² of dry and flooded forests. Wooden walkways extend out over waterlogged ground where your guide's accustomed gaze will help you identify the caiman from the logs. The highlight of the park is a giant bloom of enormous green water lilies, each with a pad large enough to lie across, called queen of the lakes.
The Anavilhanas Archipelago
From above, the Anavilhanas Archipelago is an impressive maze of vivid green hedges, long slivers of densely forested land for boats to puzzle their way through. It's a national park within a river – so large is the Amazon. Cruising past islands packed with immaculate, bird flocked vegetation, you'll encounter a strange black water forest called the Igapó. Aquatic life here is abundant and super-sized; manatees, colossal caiman and 3m long primitive fish live in these less-visited waters.
Rio Jaueperi
The Rio Jauaperi, a whitewater river, seasonally floods the surrounding plains and wooded land, creating an important breeding ground for wildlife known as a várzea forest. This region is classified as an 'extractive reserve'; locals are allowed to live within the várzea but all commercial activities are banned. The fertile soils and many fish sustain small floating river communities of no more than 500 people. The forests here are otherwise immaculate and host an extraordinary number of species. It's the perfect place for observing nocturnal creatures during torchlit night excursions.
Best time to take an Amazon river cruise
Small group Amazon river cruises can be taken at any time of the year. The heat and humidity in the north and near the city of Manaus is fairly consistent throughout the year, averaging 31°C. Instead, the seasons are marked by the amount of rainfall – always some but sometimes much more. December to May are the wettest months, meaning you may spend more time in the boat and could be as much as 10m higher in the canopy, closer to all the wildlife that lives there. June to August is drier but busier – and high levels of tourism don't show the Amazon at its best.
More Amazon Rainforest articles