Amazon Rainforest travel guide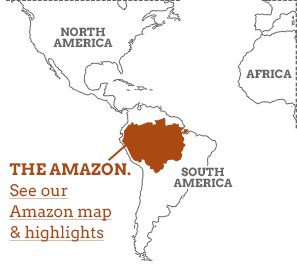 The Amazon is the largest collection of living species, in the biggest and wildest rainforest, on the planet. It's also huge cities and remote communities. Without the right guide, it's easy to feel a little lost. Spotless wildernesses may be several days downriver by boat and wildlife doesn't come along willingly when there are so many places to hide. If you rush, you won't see the sights for the trees. It's the perfect place to practice slow travel, so take a leaf out of the sloth's book because what you really need here is time.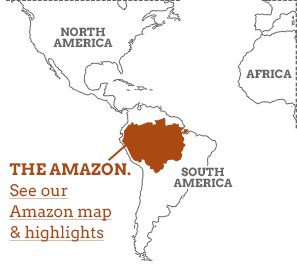 It's very difficult to protect an abstract notion but once you've seen the Amazon, you gain a sense of its immensity and the value of its wildlife and the people who live there.

"See it now before it's too late!" is the paradoxical cry of the tourism industry. But for once, we'll say it too. Although destinations are often further endangered by this kind of 'last chance' tourism, in the Amazon's case it could be the light at the end of the tunnel. We're at a tipping point where, after almost 40 years of save the rainforest campaigns, we stand to lose it all. But in small pockets of the Amazon, organisations on the frontline are standing up to deforestation and, in some cases, they're successfully bringing the rainforest back to life.
The Amazon is…
the single largest tropical rainforest remaining in the world. It's critical for stabilising the earth's climate, yet its destruction is accelerating.
The Amazon isn't…
just Brazil. Half the size of Europe, it spans nine countries and is home to more than 30 million people, including about 400 indigenous tribes.
What we rate & what we don't
Manú National Park
Populated only by indigenous people, Peru's Manú National Park has been spared almost any destructive human impact – not a single road runs through it. As a result, this 17,162km2 haven protects a thousand different species of mammals and birds alone. It's also a major hub for research, where new species still exist in secret and where learning from leading biologists, who work alongside your guides, will bring the scale of the rainforest to life.
Staying longer
Ticking off the Amazon with an overnight stay is like coming all the way to Paris for a croissant. The best rainforest experiences are saved for visitors who take the time to travel further from urban development and stay in one place for longer. Ecolodges on the frontline of protecting the rainforest, usually in areas with the highest biodiversity, aren't easy to get to – and suffer when tourists prefer a whistle-stop tour.
Ecuador & Bolivia
Brazil and Peru boast as much as 73 percent of the Amazon rainforest combined, but don't overlook the remaining regions. For the comparatively small amount of forest that falls within their borders, both Ecuador and Bolivia have more than their fair share of thick, immersive jungle just bursting with animal activity. The infrastructure is lacking in places – tourism hasn't taken hold just yet – but the wildlife experience is all the better for it.
Plant life
It's not all about animals and, in any case, you might not see that many. The most striking thing about being in the Amazon is realising just how small you are. Here rubber trees, which stretch 30m into the sky, are dwarves among the 70m mahoganies and colossal kapok trees. It's a strange territory dominated by even stranger plant life, where strangler figs form cages around their hosts to kill them and walking palms are said to shift along the forest floor.
Family holidays
Kids love the rainforest and dedicated family tours will take you to lodges specifically set up with children in mind. Forest trails are tailored to shorter legs and everyone is kept entertained with adventure activities, animal spotting and learning about indigenous cultures. This is by no means a budget family break but, if you're looking for memorable childhood experiences, an Amazon holiday ticks all the right boxes.
River tours
Canoe tours and river cruises cross areas of dense rainforest inaccessible by any other means. Cutting through thick vegetation, they follow the wandering corridors of water that flow from the Amazon's mighty rivers and offer the best views of the forest's shyest inhabitants. Feet stumbling over tree roots will scare off rarely spotted animals, by boat you might catch them congregating on the river banks to drink.
Local & indigenous cultures
Around 400 tribes live within the Amazon. Its size and many isolated areas have led to a patchwork of languages and cultures across the rainforest, where different tribes practice different dances, religions and craftwork. Some tours visit villages open to tourism, where you will learn how to use a blow pipe or make traditional pottery, share a home cooked meal or discover the medicinal uses of plants.
Ecolodges
Sustainability is at the heart of any good accommodation in the Amazon – it needs to be. Waking up to the sound of wildlife requires lodge owners that have woken up to the need to preserve its habitat. Most ecolodges are committed to conservation of the surrounding area, but lodges that employ local people, and provide a benefit to the local economy, also help highlight the value of keeping the rainforest whole.
Large Amazon cruises
These big boats take as many as a thousand passengers through the Amazon, sailing to the sound of cabaret shows and the hum of the onboard gym. Packed with people, these ponderous monstrosities ooze pollution in their wake. They're also limited to the least interesting length of the river. There's not much chance of spotting wildlife from the jacuzzi, especially when only small boats can navigate the wild and animated little waterways.
Manaus
This major inland port is a densely developed Brazilian city, busy with industrial activity, with few noteworthy sights. It attracts lots of tourists looking for easy access to the closest lodges and cruise liners come here from the Atlantic; there's no need to stay long here. 
Visiting isolated tribes
The Brazilian Amazon is thought to be home to more isolated tribes than anywhere else on earth. These groups, which have suffered persecution, land grabbing and foreign diseases, have chosen to avoid contact with outsiders. Curious travellers can discover the cultures of indigenous communities that do welcome visitors, such as the Kichwa Añangu people, while respecting the rights of others to remain undisturbed.
Selfie safaris
Despite being famous for its biodiversity, finding wildlife out in the wilds of the Amazon can prove tricky. So in some port towns, in Peru and Brazil, people are attracting travellers with the promise of seeing captive wild animals up close. Anything from macaws to giant anteaters are seized from the forest and kept in cages, hauled out in front of tourists for photos. Be sure to ask questions; responsible tours don't support animal abuse and a knowledgeable guide will be your best bet for seeing animals out in the wild. 
Our Amazon Rainforest Holidays
If you'd like to chat about Amazon Rainforest or need help finding a holiday to suit you we're very happy to help.

Eating & drinking
Fish makes a regular feature on most dinner tables in the Amazon. Paiche is popular and, as one of the biggest freshwater fish, it can feed a family for a week. 

Patarashca is a commonly eaten Peruvian dish of grilled fish and vegetables, all cooked in a large bijao leaf. A similar speciality known as maito exists in Ecuador. 

Starchy foods like plantain, often served fried, yuca and manioc, both root vegetables, are staple ingredients in most Amazonian diets. Yuca is even used as the base of the popular alcoholic drink chichi. The yuca is traditionally chewed then left to ferment, but you may find a brewer who has skipped the first step. 
People & culture
Many different people have made the Amazon their home. Evidence suggests the first human settlements were founded here some 30-40,000 years ago by indigenous people, but European colonisation resulted in mass migration to South America – at the expense of the original occupants. In recent decades, more and more people have moved into the rainforest in search of agricultural land, or have chosen to live on the várzea, seasonal floodplains where large inner-forest cities have emerged.
There are 330 existing indigenous languages, although many are sadly now on the edge of extinction. Most communities you'll meet will also speak the national language, whether Spanish or Portuguese, so brush up on your vocab before you go – you'll get to know your hosts better with the help of just a few words.
Gifts & shopping
Tours that visit indigenous villages or lodges will often include a visit to a craft shop or lessons in how to make your own. Not just an opportunity to see authentic art being made, these workshops ensure your money goes directly to the artisan. 

Some art and products are made using modern techniques, some are age old. Traditional, handmade crafts such as jewellery and bags are typically made from local plant products – fibres from leaves or vines, wood and seeds.
A brief history of the Amazon rainforest
When Spanish conquistador Francisco de Orellana finished the first known exploration of the Amazon's full length, in 1542, he described having found a flourishing civilisation living within the rainforest. This improbably successful first journey wasn't without incident; Orellana recounted skirmishes with indigenous tribes, including the Pira-tapuya people. Among them were female warriors, whom he likened to the warlike women of Greek mythology: the Amazons.
Read more
More about Amazon Rainforest