About 400 tribes live in the Amazon. Spread out across 5.5 million kilometres and nine different countries, each have developed their own cultural identities. Travellers who would like to meet indigenous people can visit communities that make a living from tourism, or even stay overnight in a jungle hut. These people have fascinating cultures completely connected to the rainforest – they're a model of sustainable living.
Indigenous people had been living and hunting in the Amazon, in areas we consider to be empty and untouched wildernesses, long before colonial invaders arrived. Yet despite this being their ancestral home, which they have fought to protect, they have no legal titles and land grabbing – for illegal logging, mining and oil drilling – is both widespread and violent. In Brazil,
people have been murdered
, whole communities have been forced to flee and, while the current president of Brazil remains hostile to indigenous communities, human rights abuses are going unchallenged.
As well as persecution, local communities will also be the first to face the consequences of climate change. As long-standing defenders of the Amazon, it is essential that we work with them and finally provide a
platform for their voices
. If we want to save the rainforest, we need to protect its people.
When you stay at an ecolodge partnered with a local community, the income from your visit goes directly to helping preserve the Amazon and indigenous land. Money may support community conservation, sustainable small-scale farming, joint tourism ventures or education facilities. Some lodges also support wider conservation programmes and lobby against the government to protect the environment.
Kathy Jarvis, owner of our Amazon holiday specialists Andean Trails, on the lodges they use:
"At Andean Trails we support several lodges that have environmental policies and provide a sustainable business that protects the environment. A lot of them are community owned or partially community owned, which gives a lot of people a viable and sustainable way of surviving, and value for their own identity and culture. The more they can protect the wildlife and the nature around them, the more they've got a sustainable future for themselves and their children."
Indigenous people of the Amazon
The Mocagua community in Colombia is one of the easiest indigenous populations to visit. A total of 22 autonomous communities have built villages along the river banks, but this one catches the eye with colourful murals of exotic animals painted on its stilted, wooden houses. Life hasn't changed much over the years; land is communally owned and fishing is the main way to make a living. Friendly faces will welcome you into sparsely furnished homes for lunch.
The Siona people are the largest ethnic group living in Ecuador's Cuyabeno Wildlife Reserve. The curaca (shaman) plays an important role in the life of the community and traditional clothing includes colourful feather headdresses and necklaces made of seeds and jaguar fangs.
The 500-year-old Kichwa Anangu community lives in the Yasuní National Park in Ecuador. Early adopters of tourism as a staple form of income, they have renounced their legitimate rights to fishing and hunting to protect the rainforest. Instead their customs are preserved by welcoming visitors and other Ecuadorians into their homes to share a traditional chichi drink made from yuca. Listen to ancient songs, learn to make crafts from the seeds and fibres you gather from the forest and listen to interpretations of your dreams.
The Achuar indigenous nation occupies a 1.5 million acre area of land in some of Peru's most pristine rainforest. Self-sufficient and largely protected from colonisation, they work in partnership with the Kapawi Ecolodge to teach visitors about their traditional hunting techniques. Learn the art of Achuar face painting, have a go at blowpipe hunting and listen to stories of Arutam, the spirit of the forest.
Our top trip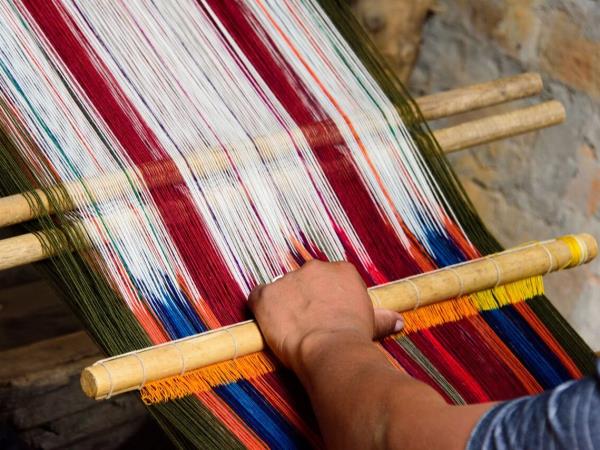 Private in-depth tour of Ecuador and The Galapagos
From
£6800

to

£7900
23 days
ex flights
Tailor made:
This trip can be tailor made throughout the year to suit your requirements
If you'd like to chat about Amazon Rainforest or need help finding a holiday to suit you we're very happy to help.

Uncontacted tribes
While some native communities have embraced tourism, and others are open to outsiders, some outright reject any contact with other tribes and non-indigenous people. The Brazilian Amazon is home to more uncontacted tribes than anywhere else in the world, with
as many as 100
thought to be living in isolation in the rainforest.
The name itself is, of course, a bit of a myth. Most isolated groups are well known and tribes know about the outside world too – they just choose to avoid it. After centuries of conflict and the destruction of their forest home, this should come as no surprise. These people are not an attraction and tourists are not welcome.
Guy Marks, from our travel specialists Tribes Travel, on uncontacted tribes:
"We always get contacted by people wanting to go and stay with tribes – but it's not something that we actually sell. We take people to meet the Maasai in Kenya or the Huaorani in Ecuador, but in the middle of the Amazon these tribes have remained tribes because they just don't want to get involved in what the rest of the world is doing. People think they can just turn up and be welcomed and live with the tribe for a month and have a fantastic experience – but they don't want that! They're not interested. People want to go and be Bruce Parry – and you just can't!"
More Amazon Rainforest articles