Walking in Australia travel guide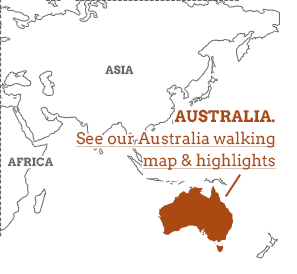 Thanks to Tourism Australia's partly ineffectual, and partly thoughtful, publicity campaigns to date – which include the slogan "So where the bloody hell are you?" that was banned in the UK in 2006 – you won't find half as many travellers on Australian walking trails as you will in New Zealand. Wilderness and adventure simply haven't been pushed in Oz, which is why so called 'busier' walking trails are empty; you're practically guaranteed serenity and definitely no queues.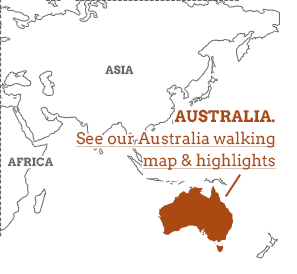 Victoria has variety; WA has wildflowers; Tasmania's trails can be tougher than a cattleman's flip-flop; and nothing beats the Larapinta if you want to get away from it all in the Outback.

'Be prepared' should always be your motto and our Australia walking holidays travel guide has been designed to help you on your way with honest and practical advice. This is a country that's almost as large as the US but has the same population size as Taiwan. There's plenty to go round. Find out what a walking holiday in Australia entails, as well as where to walk, what you'll see, and when to go.
What does a walking in Australia entail?
All our Australian walking holidays include locally owned B&Bs, nature resort motels or wilderness lodges that offer authentic and comfy conditions from where to rest and enjoy a cuppa and a natter. You'll often be staying in the same place for a couple of nights, from where you can undertake circular walks or be driven to and from trail heads, before moving on to the next location on foot or by private vehicle transfer. Luggage will be driven to the next accommodation while you walk, so don't forget to bring a day pack and reusable water bottle.
Often you'll be walking in the morning to avoid the midday heat. This means you'll arrive around lunchtime and have a chance to unpack, get orientated and explore before an evening meal. All food, including picnic lunches and home cooked evening meals, could be included, especially in more remote regions where there isn't anywhere to buy food. Other walking holidays might only feature breakfast – always hearty fare – to encourage you to check out a few of the local pubs or coastal cafés and diners along the way. The Great Ocean Road area in Victoria is excellent for this.
Basically, you'll be walking most days but there will also be plenty of time to rest or make the most of the scenery and local history either along the route or once you arrive at your accommodation. Walking distances, track quality and gradients are as varied as Australia is vast, and extensions or easier routes will often be made available as part of an organised small group or tailor made tour.
Small group or tailor made?
If you're happy to walk without a guide,
self guided walking tours
include an information pack, insulated lunch bag, regional area maps and detailed trail notes. Your main luggage will be transported while you're out walking and you'll also benefit from having someone on the ground if you need assistance. Accommodation hosts will be more than happy to provide plenty of local info, as well as a home cooked brekkie, and a packed lunch, to send you on your way.
The majority of tailor made walking holidays take place in Victoria. Trails are fairly easygoing and well-signposted, and there are plenty of places to stay within walking distance.
One tailor made walking tour
takes on a scenic section of the 1,000km Bibbulmun Track in Western Australia. This trip can also be undertaken with a guide.
If you'd like to chat about Australia walking or need help finding a holiday to suit you we're very happy to help.

Small group walking holidays will often include a couple of local guides. This means that sometimes a group can be split depending on how far they fancy walking each day. In other instances – take Tasmania's national parks – both guides need to stay with the whole group as per the safety rules and regs set out by the local authorities.
Group sizes are around 10 to 12 people. This allows groups to make minimal impact on the environment. You'll also be able to stay at smaller locally owned guest houses, wilderness lodges and family-run motels surrounded by countryside.
Small group walking tours are also a great way to learn about what you're seeing and where you're walking as you chat with guides. Safety is also extremely important, especially when walking in more remote regions. A guide gives you the confidence and security to enjoy the experience rather than worrying that you're going in the wrong direction and wondering what's around the next bend.
Solo travellers tend to lean towards small group tours, as they get a readymade group of pals to walk with. Single person supplements may be available at accommodation, so solo travellers can choose to have their own space or opt to bunk with a group member of the same sex, at a lower price.
Brett Neagle is owner and guide at our Australia walking tour operators Auswalk. He says:
"First and foremost, the benefit of self guided and small group walking tours in Australia is: value. It costs a bucket load to hire vehicles out in the bush and we've also negotiated better rates from local accommodation hosts and suppliers. There's way less stress and hassle as everything's organised in advance. You also benefit from guides having walked all the ordinary tracks and weeded them out before you set off."
How tough are the walks?
It doesn't matter if you're walking as part of a guided group or on your own with a regional map and detailed route notes – distances should be chosen to suit your pace, experience and fitness levels. Be honest with yourself; if you only want to stroll for a few hours each morning, and visit a vineyard or the beach in the afternoon, and have a couple of rest days, then pick a self guided itinerary to suit.
There are a variety of trails in Victoria, for instance – steeper alpine gradients in the north, and in the Grampians, matched by easygoing bay and lighthouse trails around the cosmopolitan coastline of the Mornington Peninsula. Average daily distances can be anything from 8km to 25km.

Victoria has more variety than Dame Edna, from razorback ridges overlooking alpine valleys to lighthouse tours on the Mornington Peninsula.

Elsewhere in Australia, you can undertake lighter or more challenging sections of the Larapinta Trail, depending on which you prefer. Splitting a small group, with one Larapinta guide each, allows everyone to experience the extreme isolation and remoteness of the Outback, on their own level, before meeting back at the homestead lodge for a chef-prepared evening meal.

Walking in Australia can be as challenging or relaxing as you wish – from 15km to 25km daily distances along sections of the 1,000km Bibbulmun Track in Western Australia to moderate hikes for around five hours a day in the Tasmanian wilderness. Just don't forget that this is a holiday, so take your time to enjoy the scenery, learn more about aboriginal cultural heritage, and spot native species of flora and fauna, rather than opting for a head-down uphill slog that will just leave you red-necked and sweaty.
Is it dangerous to walk in Australia?
It's not dangerous if you're prepared. The dangers have nothing to do with spiders and snakes – they're more related to sunstroke and taking on a trail without the appropriate maps and notes. Water, food and weather protection are vital, as are solid walking boots and sensible clothing. Australia is a very safe country to walk in as long as you've made the right plans before you set off.
Best time to go walking in Australia
Avoid walking in the West MacDonnell Ranges in the Australian Outback outside of June, July and August. It's just too hot. On the flip-side, December through to April is the best time to go walking in Victoria and Tasmania, although if you're happy to wrap up and walk in the Aussie winter you'll be treated to white-capped peaks and cosy wilderness lodges. August and September are best for walking in Western Australia, with the state's hugely diverse and unique wildflowers adorning the Bibbulmun Track at the peak of their powers during spring.
January and February are extremely hot and humid on the Larapinta Trail in the Aussie Outback, so you're better off walking sections of the Bibbulmun Track in Western Australia or hiking through Mount Field National Park in Tasmania for more comfortable conditions. Also, be prepared for a few more crowds congregating on the coast in January as Chinese New Year, Australia Day and school holidays see local sun worshippers descending on popular beach resorts and public parks. March, April and May are cooler, dry and sunny down south, and the best time to see whales if you're walking in Victoria's Great Otway National Park. Although to be fair, any time you're lucky enough to experience the sea stacks and waterfalls along the Great Ocean Road is certain to be time well spent. Walking in the West MacDonnell Ranges in the Northern Territory is only really recommended during June, July and August, with everywhere around the semi-arid Alice Springs experiencing slightly cooler conditions. Early starts are still recommended to avoid the midday heat. Western Australia is best explored in August and September, as the start of spring sees an abundance of wildflowers populate the clifftop pastures and ancient tingle (eucalyptus) forests either side of the 1,000km Bibbulmun Track from Perth to Albany. October, November and December are heating up in the north, so stick to Southwest National Park in Tassie or the alpine ridge walks of northeast Victoria if you're looking to keep cool Down Under.
Brett Neagle from our Australia walking tour operator Auswalk says:
"Aussie winters are much the same as the Spanish version – pretty mild – so we are sending people off in June to do the Great Ocean Walk and are confident that they'll be OK."
More Australia walking articles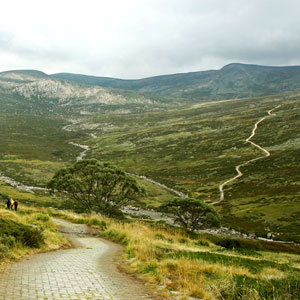 Hit the trail with our guide to the best long distance walks in Australia.