Best long distance walks in Australia
Walking in Australia is best undertaken with a local guide or self guided notes from an expert tour operator. That way, you're far more likely to learn about aboriginal cultural heritage on the Larapinta Trail in the Northern Territory or spot wallabies, echidnas and koalas on Victoria's Great Ocean Walk. Scenic sections of the Bibbulmun Track, along the southwest coastline of Western Australia, are also best appreciated with local knowledge, if only to find out the tale behind the Conspicuous Cliff. Alternatively, head south to Tasmania for wild walks in Southwest National Park. Read on to find out more about the best places to go walking in Australia.
1. Bibbulmun Track
The Bibbulmun Track is the longest in Western Australia, running for just over 1,000 klicks from Perth to Albany on the southwest coast. Named after indigenous Australians living in the Perth area, and promising cracking cliff top trails through karri and tingle forests, the section from Walpole to Albany is a real must for hikers searching for seclusion as they walk between remote cosy cottages and B&Bs.
2. Great Alpine Walk
As the name suggests, the Great Alpine Walk in Victoria will take you high above the valleys and creeks of northeast Victoria to provide prime panoramas from mountain peaks and razorback ridges. A variety of alpine routes takes you through snow gum forests to the state's summits and historic cattlemen's huts. Overnights in Falls Creek and Dinner Plain provide comfy lodgings on the trail.
3. Great Ocean Walk
Leave the car at home and take off in Victoria's Great Otway National Park on foot as you embark on an inn to inn adventure against a coastal backdrop of sea stacks, waterfalls and manna gum groves covered in koalas. Discover the coves, beaches and cliff top heaths as you explore from Apollo Bay to the 12 Apostles, as whales watch from offshore and lighthouses wink from Australia's highest cliffs.
4. Mornington Peninsula
Got plans to hike on cliff top trails and wild beaches, as well as indulge in cool coastal cafés just a couple of hours from Melbourne? The Mornington Peninsula is the place to sip, stroll and soak it all up. Take a lighthouse tour around Cape Schanck and trek from Arthurs Seat to King Falls and Bushranger Bay; just don't forget to stop for lunch as the local grub is absolutely fantastic.
5. Larapinta Trail
Hiking in the Outback is never going to be a walk in the park. However, if you're hoping to experience the isolation and remote ridgelines and rock formations on the Larapinta Trail with local guides, you'll discover a choice of easy and more challenging trails in areas sacred to Arrernte Aboriginal people. Trailheads are easily accessible from overnight accommodation in authentic Aussie homesteads.
6. Tasmania
Ascents to mountain peaks and alpine tracks in Southwest National Park take trekking in Tassie to new heights as you enjoy eagle-eye views over Lake Pedder, as well as access to the glacial lakes stacked on the shelves of neighbouring Mount Field. Elsewhere, the eucalyptus forests and cascading waterfalls around Lake St Clair and Cradle Mountain conjure Tasmanian treats way off the tourist trail.
If you'd like to chat about Australia walking or need help finding a holiday to suit you we're very happy to help.

Walking in Australia advice
Brett Neagle, owner and walking guide at our tour operator Auswalk, shares his top tips from the trails of Australia:
Victoria's secrets
"Victoria is a very fertile rain rich state like Tasmania, so there's beautiful forest and magnificent mountain areas like the Victorian Alps and the Grampians. And of course there are stacks of beaches and coastline. Little known fact: Australia has more snow than Switzerland, much of it in Victoria. Walking in winter is not possible in the Alps, though, unless you have snow shoes."
Larapinta lessons
"If walking the Larapinta Trail you need to be prepared, very prepared, from kit, to water, to supplies, to fitness. Unless you do it with a tour company, then you can relax a bit more. Don't go off track, because no one will find you. Take an EPIRB (emergency position indicating radio beacon) or PLB (personal locator beacon) no matter what."
Tasmanian devil
"Tasmania's Southwest National Park is bloody hard, a really crap track, not sure that it's worth the hype given you can't see much as you walk. But still amazing bush and a big challenge. And remote. It's the walk you'd go on if you're a wanted criminal. Just kidding."
Responsible Travel writer Catherine Mack explains what to look out for when walking in Tasmania:


Tassie tales
"Jack jumper ants are a feature of Tasmania and, with a nasty sting, you need to be able to identify them if going hiking. They are dangerous if you have an allergic reaction to them, which isn't uncommon. People who are prone to insect bite allergies are advised to take a non-drowsy antihistamine before hiking. If you consider your allergy risk high, bring an EpiPen. Otherwise, if stung, treat with antihistamine cream which works in the majority of cases."


Wild walking
"Never underestimate how wild Tasmania is. Although the wilderness is easy to access, once you are out there, you are really out there. Which is what is so wonderful about it. But you need to take care. Always tell someone where you are going, try not to hike alone, sign the national park log books and have an emergency kit with you. As well as the obvious map, compass and plenty of water. Plus purification tablets. And be well packed with layers and waterproofs."
Walking in Australia advice
At Responsible Travel, we think the best people to advise our travellers are often... other travellers. They always return from our tours with packing tips, weather reports, ideas about what to do – and opinions about what not to.

We have selected some of the most useful Australia walking holiday tips that our guests have provided over the years to help you make the very most of your holiday.

The walk was scenic and in many instances a little remote. The trail takes you along parts of the coast which you would never see from a car.

– Alan and Sue Sherbrooke
"The accommodations and food exceeded expectations. The holiday provider selected very pleasant places to stay on the walk and the proprietors were all friendly and helpful without being intrusive. Our rooms were clean, comfortable and occasionally quite spacious. The food was tasty, fresh, healthy and abundant. It was a wonderful trip – even in weather which was 'a bit wild'.

The walk was scenic and in many instances a little remote. The trail takes you along parts of the coast which you would never see from a car. The trail was not at all crowded and while it would be possible to backpack it, we found it much nicer to sleep in real beds, eat real food and meet interesting and wonderful Australians like our hosts and drivers." – Alan and Sue Sherbrooke on a self guided walk along the Great Ocean Road
More Australia walking articles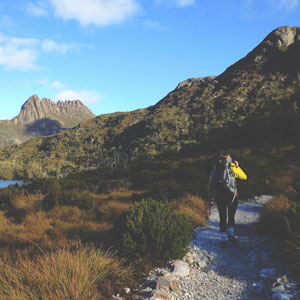 Our Australia walking holidays travel guide is full of useful information and tips.