Best time to go to the Basque Country
---
Temperature & rainfall
Things to do in the Basque Country
---
What to do in the Basque Country & what not to..
Things to do in the Basque Country…
---

The daytrippers and long-weekenders spend their time city hopping, but the only way to get into the heart of Euskadi is to walk. This province is small, but its dramatic coastline, verdant hills and rugged mountains offer plenty of landscapes – with fishing villages, mountain hamlets and cider houses to stop at along the way. Choose a guided, small group tour – or opt for self guided to tailor make your treks.

One of the best things about going on a walking holiday here is that you'll have even more of an appetite for the region's phenomenal food. Little San Sebastian has a whopping seven Michelin starred restaurants – three of which have three stars. The region is also famous for its gastronomical societies (txokos), where members – traditionally men – come together to cook and share food, often using ingredients they've hunted, fished or harvested themselves. This has kept the Basque Country's unique recipes and traditions alive.

Basque architecture is quite unlike anywhere else. Old town centres boast long, lean apartments squished up together, with wooden shutters and balconies painted blue, green or red – the latter traditionally from oxblood, which protected the wood from rot. The distinctive baserris are traditional stone or half timbered buildings – farmsteads, homes or cultural centres, in which the Basque culture language was fostered and fed throughout decades of persecution, through meetings, txokos and song and dance.
Things not to do in the Basque Country…
---

Run with the bulls. Pamplona's San Fermín may be the Basque Country's most famous event, but while there are many wonderful, traditional parades and Basque rural sports practised during the weeklong festival, the sad fact is that most tourists come purely to run with the bulls, which are subsequently killed in a bullfight. We don't support the killing or torture of animals for entertainment, and we certainly don't recommend putting yourself at risk; anyone considering running should be aware that every year, 200-300 people are injured during San Fermín, and up to 10 people are killed in bull runs across Spain.

More than any other region, the Basque Country has a very distinct history and culture from the rest of Spain. The language is unrelated to any other, and was outlawed – as were many Basque traditions – during the Franco dictatorship. Calls for independence have been consistently rejected, and the region suffered for decades due to the terrorist activities of Basque separatist group ETA – now happily in the past. Do research the history of this region to avoid cultural faux pas.

Forget your brolly. Waterproof layers and an umbrella are essential backpack fodder on a Basque Country walking holiday, whatever time of year you visit. You may get lucky with the weather – a sunhat, sunscreen and cossie are recommended, too – but it's always worth being prepared in northern Spain.
Basque Country travel advice
---
Tips from our friends in Spain

Chloe Knott, from our supplier Exodus, shares her Basque Country travel tips:
Itinerary tips
---
"I really recommend seeing both the French and Spanish sides of the Basque Country so that you get a real flavour of the whole region. The walks are relatively easy and mostly along the coastline so are perfect for summer walking. A Basque tour leader brings the destination to life with knowledge of not only the landscapes but the unique culture that they so proud of."
Basque culture
---
"The Basques are thought to be the oldest ethnic group in Europe and speak Europe's oldest living language, Euskera. It is unrelated to French, Spanish or any other Romance language so it is not the easiest to pick up! Some useful words are: Kaixo (hello), Eskerrik asko (Thank you) and Agur (goodbye). Their national game is called 'pelote', it is traditionally played outdoors (in fact our hotel has a small pitch right outside the front door!). It is played using a wooden bat, basket or hand to hit a ball against a wall and it can get very competitive!"

Macarena Riestra, from our Basque Country-based supplier, weWalking Tours, shares her thoughts on her adopted homeland:
The famous Basque cuisine
---
"The most typical food is the "pintxos", Basque tapas. They are small master pieces in which chefs play with different colours, textures and flavours. They are usually composed of a slice of bread and a portion of food on top, hooked with a toothpick (the Basque name for toothpick is "pintxo"). You can find them in almost every bar, mostly in old centres of cities and towns."
Why walk in the Basque Country?
---
"Here there is a lot to be discovered. We are lucky to have green mountains just next to the blue Cantabrian sea, beautiful and well preserved medieval towns, modern cities with some of the most famous buildings in the world, fresh local products such as cheese or wine, a tasty gastronomy to try, friendly people to chat with, an interesting history and a unique language and, of course, safe and well signed paths crossing some of the most interesting spots."

Hello.
If you'd like to chat about Basque Country or need help finding a holiday to suit you we're very happy to help.
Rosy & team.
01273 823 700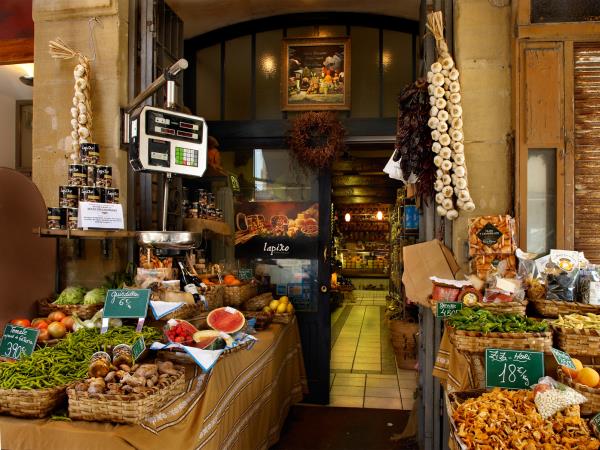 Discover the food and wine of the beautiful Basque country
From
£1649
8 Days
inc UK flights