Cycling in Bhutan travel guide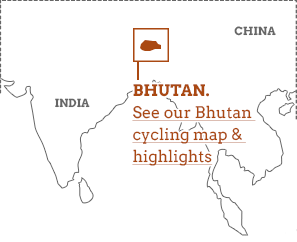 Bhutan's national sport is archery but – strange as it may seem given the country's punishing hills and treacherous highland trails – cycling is popular, too. Bhutan's former king, Jigme Singye Wangchuck, regularly takes to the hills around Thimphu in his gho (traditional robes) and both the current king and prime minister have taken part in the annual Tour of the Dragon, a one-day bicycle race said to be the most challenging in the world.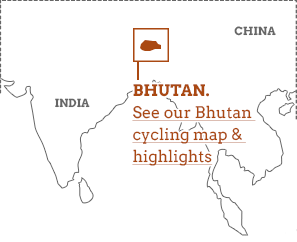 A cycling holiday is a fantastic way to immerse yourself in Bhutan's nature and culture, from following remote tracks through the mountains to experiencing cultural festivals.

Our cycling tours won't test your mettle to anywhere near the same degree, but you'll get the chance to pedal through vast landscapes and welcoming villages with minimal impact on the local environment in a country that's celebrated for its commitment to sustainability. You'll also stay in local-style accommodation that's far more authentic than the country's increasing number of luxury international chains.
Cycling in Bhutan is...
a rewarding and low-impact way to explore the country's wild landscapes.
Cycling in Bhutan isn't...
for the inexperienced. Long hours and high altitudes are involved, so get some prep in before you head out.
What does cycling in Bhutan entail?
Small group or tailor made tours
All our cycling trips in Bhutan are small group holidays, which means that up to 14 other adventurers will be joining you for the ride. Opportunities for bonding are plenty, and the hard slogs (of which there are quite a few) are that little bit more manageable with group camaraderie.
What's more, you'll be accompanied by a group leader with plenty of expertise in both travelling in Bhutan and remote biking and trekking. There'll also be a Bhutanese mechanic, driver and guide, who'll be able to give you the inside info on Bhutanese culture and help you chat to local people as you ride – there will be plenty of chances to do so.
As well as taking in landscapes, ancient sites and remote towns and villages, you may get the opportunity to visit a local festival – a fascinating experience and a real highlight for our travellers. Valerie Parkinson, from our holiday specialists Exodus, has been leading trips in the Himalayas for over 30 years: "There are lots of opportunities to meet local people at the festivals that we try to include in every trip, as well as lots of opportunities en route as we stop at small local houses or villages for lunch on many days. As biking is unusual in Bhutan the locals will always wave and want to chat."
How tough are they?
Cycling in Bhutan is hard work and you'll need a good level of fitness and determination – as well as proper kit (you should bring your own helmet and suitable clothing). You cycle up to 80km a day, mostly on paved roads, but with some bone-shakers thrown into the mix, too. This being Bhutan, there are more than a few long climbs involved and you'll cycle through several passes that are between 3,000m and 4,000m in altitude. That being said, ascents are pretty gradual and you'll have a support vehicle with you in case your thighs just can't take it anymore.

Some of our cycling tours combine cycling with hiking. You'll divide your time between the saddle and the trails, with hikes of four to five hours on walking days. Valerie Parkinson says: "There are plenty of hills and passes on the trip. You need to be bike fit and used to riding a mountain bike and be able to use gears efficiently. We cycle up the passes slowly and steadily but it is good if clients can use gears well and have a good level of fitness. Having said that, we have a back-up bus so clients can always ride in the bus anytime they want to."
Where will I sleep?
Luxury is easy to come by in Bhutan if you've got cash to spare, and there is an ever-increasing number of high-end international chain hotels, which offer plush rooms and managed tranquility, but aren't the best option for gaining insight into daily life in Bhutan.

On our cycling holidays you'll stay in simple, local-style hotels and guesthouses, which aren't flashy or polished, but have plenty of local character and charm. You'll stay in private rooms with en suite facilities and if travelling solo you can either choose to pay a single supplement or share a room with a fellow traveller of the same gender. Food is simple and usually served buffet style, with a mixture of Bhutanese, Chinese and European style food the norm.
Our top trip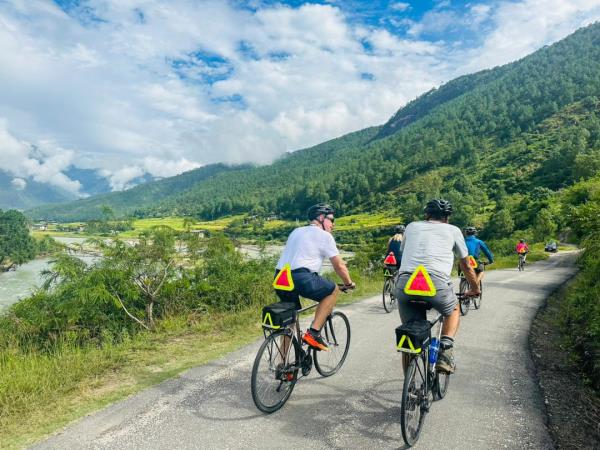 Discover Bhutan on an Exciting Cycling Adventure
From
US $1600

to

US $2160
8 days
ex flights
Tailor made:
This trip can be tailor made throughout the year to suit your requirements
If you'd like to chat about Bhutan cycling or need help finding a holiday to suit you we're very happy to help.

Best time to go cycling in Bhutan
Weather-wise, you only have a couple of smallish windows to squeeze through with October to November, when the climate is mild and the skies are clear, and March to April, when wildflowers bloom across the valleys, the best time to go on a cycling holiday in Bhutan.

June to August is the monsoon season, whereas December to February finds snow blocking many of the higher trails, although lowland trails can be much warmer and relatively unaffected. September signals the start of peak season, although conditions are still wet and muddy with cloud often obscuring blue skies and mountain peaks.
Responsible travel in Bhutan
The doors to Bhutan have opened slowly, and a
Sustainable Development Fee
for international tourists aims to safeguard the country's pristine environment and independent culture. Even if the 'high-value, low-impact' model is successfully maintained, it doesn't guarantee an authentic experience, particularly if you stick to luxury international chains, where the thread counts are high but meaningful cultural interaction is low and mostly restricted to nightly 'traditional performances'.
By choosing a cycling holiday, you'll not only immerse yourself in the country's immense natural beauty, you'll do so in a low-key way, with opportunities to visit local restaurants and guesthouses and have genuine chats with people you meet along the way, while keeping your footprint as light as possible.
More Bhutan cycling articles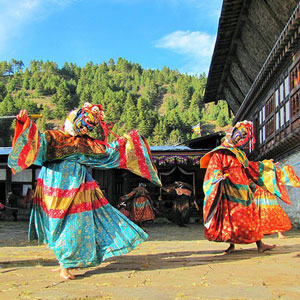 On cycling holidays in Bhutan you'll reach the parts that walkers and drivers simply can't.