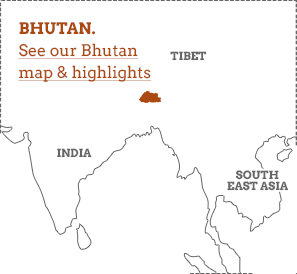 Since opening its doors to tourists in 1974, this formerly isolated country has had a clear strategy about how to manage tourism and preserve the traditional culture that makes it so unique. You might expect to bump into hordes of tourists, but you won't: the hefty 'Sustainable Development Fee' all travellers must pay keeps tourism low volume and therefore low impact, feeding back into the country's wider philosophy of Gross National Happiness. Its largely Buddhist population is peace-loving and its landscape – subtropical plains in the south to sub-alpine Himalayan heights in the north – is undeniably beautiful.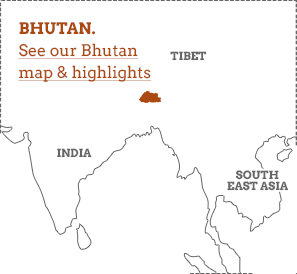 Over 70% of the Bhutanese population lead an agrarian lifestyle; these people know of the ways of slow living.

Thought to be impersonal, traffic lights do not exist in Bhutan and the local people often wear their distinctive national dress with pride. Bhutan has neither military nor economic power, but it does have culture and scenery in abundance; attributes that keep it distinct and safe. Read more about getting the most out of this beautiful country in our Bhutan travel guide.
Bhutan is...
an unparalleled example of how to preserve and maintain traditional culture.
Bhutan isn't...
a destination for smokers. It's the only destination in the world where the sale of tobacco is banned.
What we rate & what we don't
Dagala Thousand Lakes Trek
A common perception is that every Bhutan trek is a challenging 10-15 days spent hiking and climbing. Not so. The Dagala Thousand Lakes Trek is a five-day, very off-the-beaten-path affair that runs passed numerous high altitude lakes. The scenery is rich in bird species and flora, and the
route
– a bit of an insider tip so far – sits largely undisturbed by western travellers.
Prakar Tshechu
Tshechus are colourful festivals celebrating the Buddhist culture in Bhutan; the more you attend, the more atonement brownie points you earn. Held at diminutive Prakar, in the courtyard of the White Monkey Monastery (surely the name alone warrants a visit), this particular tshechu is very understated, but very unique. What it lacks in fanfare, it makes up for in loyalty to its centuries old roots.
Midnight Fire Dance
As with the Prakar Tshechu, this celebration is held in the east of Bhutan close to Bumthang, so you could combine the two. Unlike other tshechus that involve a lot of vivid colour and are held during the day, the Mewang (Fire Dance), which builds to its midnight crescendo from about 8pm, is held at night, so the fire itself is the intense and very engaging focal point.
Tso-lham
Tso-lham, which literally translates as 'shoes', are brilliantly coloured, handmade embroidered leather boots. Only those worn by the King and the Je Khenpo (Chief Abbot) have a yellow ankle, while the public wears red. The term Tsho-lham also applies to the art of traditional bootmaking, which is something of a vanishing practice, but an artform that's being revived in places like Thimpu's Zorig Chusum School.
Combining Bhutan & Nepal
Both are landlocked and both stretch from subtropical forest to soaring Himalayan peaks, so there are similarities between Bhutan and
Nepal
's physical makeup, but enough subtle differences to produce a South Asian combo that's well worth the one-hour flight time between them. Kathmandu's chaos makes for an intriguing antidote to Bhutan's equivalent, Thimphu, and Pokhara is a must for adrenalin junkies.
Dzongs
Bhutan is a land of dzongs: very grand fortress architecture seen throughout the kingdom. You wouldn't want to miss them – Trongsa dzong is a mammoth complex built on a spur overlooking the gorge of the Mangde River, and the dzong at Punakha is approached via an incredible wooden cantilever bridge. Our advice? Preserve your dzong zest by picking the ones you really want to see.
National Identity
Bhutan's strong sense of national identity is probably as much to do with isolation and fear of invasion, as it is to do with the concept of Gross National Happiness. That said, no other nation has founded such happiness on the basis of simplicity and, together with good governance, a strong environmental commitment, and the preservation of what makes them, well… them, they're certainly doing something right.
Centenary Farmers' Market
Held on the banks of the Wang Chhu River, this is the largest domestic market for farm produce in Bhutan and is a world away from roadside sacks of chilli. Comprising 400 stalls set over two stories, one corner of the market – you'll smell it when you get there – is reserved for fish, meat, and even the odd yak leg. A sight to behold.
Only eating ema datshi
Guaranteed, the words 'ema datshi' will ring in the ears of any visitor to Bhutan within minutes. The country's national dish, traditional ema datshi is fresh Himalayan yak's cheese cooked not just with chili, but also with fresh vegetables and potatoes. Give it a go, yes, but do take the chance to try other dishes too.
Buying gho
Gho, the national dress for Bhutanese men is a versatile traditional outfit. Some seven out of 10 western travellers make the gho a compulsory item on their souvenir shopping list, but most end up buying an off-the-rack import and never wearing it. If you want one, get one made from a local tailor and give something back to the community.
High-speed internet
The Bhutanese are a people for whom the ban on TV and internet was only lifted in 1999; even 10 years ago, there was little in the way of Wi-Fi and data connection for visitors. These days, however, coverage is pretty good across Bhutan, with 3G the standard network.
If you'd like to chat about Bhutan or need help finding a holiday to suit you we're very happy to help.

Eating & drinking in Bhutan
Bhutan's distinctive red rice is grown in the Paro Valley and has a distinct nutty flavour.

Bhutanese manners dictate that you refuse food whenever it's offered to you - say 'meshu, meshu' and cover your mouth with your hands, but feel free to give in after two or three offers.

Red Panda Beer is locally brewed in Bhutan. Made using a natural fermentation process, it's bottled in recycled bottles and tastes surprisingly good.

Ara = Bhutanese moonshine. One word: hangover.

Though not common, polygamy and polyandry are legal in Bhutan. The fourth king himself is married to four sisters.

People & language
There are over 14 officially recorded ethnic groups in Bhutan, though the three most commonly recognised are: ngalops (60%), descendants of Tibetan immigrants who began arriving in the 9th century bringing Buddhism with them; lhotshampas (30%), descendants of the Nepalese known as 'southerners' who moved to the southern lowlands of Bhutan in the 19th century; and sharchops (10%), arrived from northern Burma and northeast India in the 7th century CE and believed to be Bhutan's oldest inhabitants.

Translated literally, Bhutan means 'Land of the Thunder Dragon.'

To ask an elder their name with respect, say: "Na gi Tshen, Ga chi Mo".
For peers, say: "Chhoey gi Ming Ga chi Mo?"
Gifts & shopping
You can pick up good-quality leather goods and carved wooden bowls called 'dapas' at Thimpu's market.

Traditional weaving is a popular local craft in Bhutan and you can buy anything from rugs, clothes, blankets and bags in all sorts of bright colours.

Forget pan pipes – it's all about monastic chanting if you want to chill-out like the Bhutanese do. You can buy CDs direct from the monks at the very monasteries where they sing their spiritual stress-busters.

It's better to buy local – some souvenirs are bought in from Thailand, India and Nepal, so make sure you know your original from your import.

Marijuana grows wild in Bhutan, but it is illegal for human consumption. It's said that Bhutanese farmers feed marijuana to their pigs to keep them happy.

How much does it cost?
Local bottle of beer: 60p

Road (bus ticket) for 178Km: £2.50 - £3.10

Kilo of fruit: £1.85

Hire a bike: £12.45

Basic lunch per person: £1.85 - £2.50
A brief history of Bhutan
Although Bhutan officially opened its doors to outsiders in 1974, it has only really gained momentum as a tourist destination over the past decade. Prior to 2008, the Wangchuck hereditary monarchy wielded sole power and had done since 1907, but after elections held in March 2008, the country became a two-party parliamentary democracy with a landslide victory won by pro-monarchy former Prime Minister, Jigme Thinley of the Druk Phensum Tshogpa – Bhutan Harmony Party.
Read more