Bhutan budget travel guide
With overtourism a growing concern, it's nice to see a country determined to make tourism work for its benefit, rather than the other way around. Whether Bhutan's 'high yield, low impact' approach driven by a mandatory daily entry fee turns out to be sustainable in the long run remains to be seen, but we'd be prepared to bet they've got it pretty close.

'Budget Bhutan' is a bit of a misnomer. You can't travel here on the cheap, but then how would you put a price on the unique culture, landscapes and tranquility of this Himalayan Shangri La anyway?

Limiting tourism, and encouraging people to embrace frugality rather than expect luxury, helps Bhutan to preserve the distinctive character that makes it so attractive to visitors in the first place. And the daily entry fee you'll need to pay before you arrive? It's a lot easier to swallow when you know how it benefits the Bhutanese people, and what it actually includes.
What does a Bhutan budget
holiday entail?
Saving money isn't the only benefit of travelling on a budget. This style of travel also often gives you a particularly authentic take on a destination, for instance as you stay in locally owned and run accommodations eating home cooked food. You pay a bit less, and you get a different perspective to most travellers - a win win situation.

Travelling overland rather than taking domestic flights is another way to keep costs low and in Bhutan most trip itineraries follow the Lateral Road on long, winding journeys taking you over steep mountain passes. You will almost always be going by private vehicle, however; and public buses here are slow, uncomfortable affairs.
Any holiday to Bhutan does involve roughing it at times, especially in more rural areas where accommodation options are limited. Embrace the frugality of it all though, because the danger is that if local people respond to requests or expectations from travellers for little luxuries, Bhutan risks losing what makes it so special.

One last thing. We don't call ourselves Responsible Travel for no reason. We want to see tourism benefit local communities as well as those that come to visit them. So when it comes to our holidays, budget travel doesn't involve cutting corners, and it certainly doesn't mean squeezing local providers 'til their pips squeak.
The Bhutan entry fee explained

At first glance Bhutan may seem expensive but it's not really when you consider how much is included in the daily tariff. It turns out to be good value.

– Stephen Osgerby in a review of his Bhutan cultural holiday
It's hardly surprising Bhutan holds such fascination for travellers. The Land of the Thunder Dragon (so called because of the winds that howl through its mountain passes) only opened its doors to the world in 1974, and since then very few people have visited. The reason is that for most people the only option is to join a pre-booked organised tour, and to pay a mandatory daily entry fee: US$200 per person in January, February, June, July, August and December, US$250 in March, April, May, September, October and November.
The entry fee is a deliberate strategy to limit tourism numbers, and the negative effects they might have on the country's singular culture and environment, as part of Bhutan's well known philosophy of
Gross National Happiness
.
Yet a lot of people don't actually realise what the entry fee is for, and what it includes. The mandatory tourist charge is at least in part used to fund infrastructure, healthcare and education in a remote, undeveloped country, but it's definitely not a tax. Your fee includes your accommodation every night, private transport, entrance to sites, guide throughout and three square meals every day (expect plenty of rice, spice and yak cheese). Agents organise every aspect of the itinerary on your behalf, so beyond tips and personal expenses, you really won't need to spend anything else. Slap-up restaurants are few and far between anyway, and outside Thimphu you won't see many nightspots.
How to save money on
a Bhutan holiday
Despite Bhutan's reputation as an expensive place to travel, there is always scope for making it a little cheaper. The first and most obvious tactic is to look at visiting outside peak season, which is in the autumn between September and November. We suggest going a little later, in December, when it's cold but beautiful, and there tend to be far fewer people around.

It's very difficult to get around independently in Bhutan; almost everyone has to use an organised tour. Travelling as part of a small group means the costs of guides, transport and accommodation are shared equally, allowing for savings. If you're a solo traveller, you'll pay less if you're prepared to share a room with another traveller of the same sex.
We tend to think of tailor made trips as more expensive, but they can actually offer you very good value. That's because you are free to make your own decisions on the standard of accommodation you want, where you eat and what kind of activities you get up to. Another big advantage of a tailormade tour of course is that your schedule is your own, so you can do as much or as little as you want every day.

Another approach you might want to consider is combining Bhutan with Tibet, Nepal or India. Multi-country trips are a cost-effective way to see a region with only two expensive long haul flights needed.
Where to spend on
your Bhutan holiday
Dining in Bhutan tends to mean buffet meals in tourist restaurants and hotels. If you want something more authentic than that, it's worth asking your guide early in the trip if he or she can arrange a meal in a local restaurant later on.

Buy your souvenirs in different places, too, that way several parts of the country benefit. Bhutan has 13 traditional crafts ranging from weaving to wood carving and tailoring, so look out for tso-lha, handmade, embroidered leather shoes, and dapas and phobs, attractive wooden cups and bowls.

Healthcare is sporadic around Bhutan, and good healthcare even harder to find. So one area you should never skimp on is insurance. Be sure to arrange high-quality travel insurance.
Our Bhutan budget Holidays
If you'd like to chat about Bhutan budget or need help finding a holiday to suit you we're very happy to help.

Best time to go on a
budget Bhutan holiday

As with anywhere else in the world, if you're keeping an eye on your budget then avoid travelling during the peak season – in Bhutan that's definitely the autumn.

More than half of Bhutan's tourism arrivals take place in the autumnal months between September and November. This is the most popular time for mountain trekking, the scenery is absolutely glorious, the sky clear and the days long. Late September also sees one of the country's most renowned tshechus take place in the capital, Thimphu, and the arrival of the iconic black necked cranes in the Phobjikha Valley. If you want to travel Bhutan on a budget then, avoid the autumn. Instead look at spring, or even December if you can handle the frigid temperatures at high elevations.
Budget Bhutan, month by month
Don't travel during September, October or November if you're looking for a budget Bhutan tour. Flights will be more expensive during the peak season, and the daily entry fee rises to US$250 per day. The reason behind this is perfectly simple – autumn is a spectacular time for trekking in Bhutan, and you can tie that in with seeing the black-necked cranes in the Phobjikha Valley, and also the Thimphu tshechu. The entry fee is also higher during the spring. March, April and May sees Bhutan's natural landscapes at their most magnificent, especially later in the season when mountainsides and valleys are carpeted in blooming pink rhododendrons. With clear skies, the Himalayan panoramas are absolutely captivating in spring. Even though it's the low season there is little point in visiting Bhutan in the summer. Heavy grey cloud cover obscures the view much of the time in June, July and August, and particularly later in the season the monsoons can be heavy, which makes travel more difficult and time consuming. In winter the entry fee returns to US$200 per day, but there are few tshechus taking place, and since these vibrant religious festivals are one of the main reasons people visit Bhutan, it stands to reason there are fewer foreign visitors around, on a budget or not. Do consider a December holiday in Bhutan though. It gets very chilly, especially after dark, but the air is wonderfully crisp, with clear blue skies.
More about Bhutan budget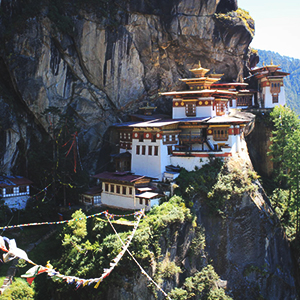 No one rushes around in Bhutan. You couldn't even if you wanted to as the steep roads over mountain passes are narrow and winding. And of course you have to stop all the time anyway just to drink in the stunning scenery. Our Budget Bhutan map & highlights takes you through the country's key destinations and must-see landmarks.