The Snowman trek in Bhutan
The 
Snowman trek
is one of the hardest in the Himalayas, if not the world. Remote, long and weathered by unforgiving icy blizzards, it's attempted by a mere handful of mountaineers every year. More people have summited Everest.
If this sounds like your kind of challenge, you're in good company; it's a trek that's tempted world-renowned climbers, some who might even be leading your trip. One of them is Simon Yates, best known for his ascent of Siula Grande with climbing partner Joe Simpson, recounted in the book and film adaptation
Touching the Void
.
"The trek sounds fantastic," says Simon, who sometimes leads mountaineering trips with our trekking specialists World Expeditions. "One of the reasons I'm so keen to go is that I've trekked in India and Nepal – one of the nicest places I've trekked – and I'm expecting Bhutan to be quite similar. It's quite a long trek that goes up and down and up and down over these entire mountain passes, so you're going to get really nice views."
Those views? A dramatic high mountain backdrop, gleaming like alabaster, and glacial blue lakes. Alpine pastures, grazed by big-horned Helan Shan blue sheep, that are fringed by shingle-roofed villages and thick coniferous forests. Tumbling waterfalls and woven yak wool huts dotted along trails well-trodden by local yak herders.
It's this little-touched natural environment that makes the trek special, both in terms of scenery and difficulty. It's an isolation that's disappearing from other routes, often made much more accessible by local infrastructure. Simon explains: "In the past, years and years ago, when I first started going to other parts of the world to climb mountains, the walk-ins used to be longer. But now there are roads into the mountains that weren't there 20 or 30 years ago, so the walk-ins have become shorter over the years."
Although reliant on tourism for income, it's a fragile area best visited with a responsible tour company that has its best interests at heart. As if that wasn't enough, when you travel with an experienced trekking company, your trip will be guided by a first-class leader like Simon, who loves leading trips ("I absolutely do"). Not only will you be in the safest hands, you'll have a private audience with some of the most adventurous mountaineers on earth.
Snowman trek route highlights
The Snowman trek is the longest in the Himalayas, tracing all 10 of the high mountain passes that form a natural border between Bhutan and Tibet. Starting south-west of the capital and largest city, Thimphu, it circles clockwise around the Jigme Dorji National Park, known for its rich cultural and biological diversity.
Perhaps the only place in the world where you might see both a snow leopard and a royal Bengal tiger, the park is also home to black bears, red pandas and Bhutan's national animal, the takin – big moose-shaped goats that roam the Asian mountains. Depending on your travel dates, your trek might coincide with the two-day Jomolhari Festival, a celebration of local culture and wildlife.
There will be time to discover more of Bhutan's culture and its isolated communities, as well as its impressive architecture. A shorter, but just as worthwhile, walk will lead you up a winding trail through steep pine forests to a tea house. From here, you'll have an excellent view of the sacred Tiger's Nest (Takstang) Monastery, perched precariously on the mountainside 900m above the Paro valley below.
If you'd like to chat about Bhutan walking or need help finding a holiday to suit you we're very happy to help.

The trek takes around 23 days to complete, including a few days for acclimatisation and rest. Terrain will be rugged and some days will be exploratory, walking well off the main path. Distances range from 6km to 20km, and you're often trekking up to 10 hours a day. For that reason, travellers are expected to have a fitness level well above average – this will be confirmed when you book – with previous experience of strenuous multi-day treks.

The Snowman trek is considered entry-level mountaineering or exploratory trekking, however, so there are no technical skills needed. This is a trek, not a climb. A long and winding ascent also allows more time to acclimatise, although altitude sickness could still affect some travellers.
Trips depart in the post-monsoon season between October and November. Although weather will be milder, it may well be harsh, so you'll need to be comfortable walking (and camping) in adverse conditions. On any one trek, the temperature might range from 10 to 20°C in the day, to -5 to -10°C at night. This can have an impact on the itinerary.
"Sometimes, with these kind of trips, severe weather can stop you," explains Simon. "You might have a day or two of it snowing and, obviously, you don't want to go over a high pass when there's a blizzard going on. You've got to wait until the snow's subsided and then go up and over it."
Otherwise, for 22 days, you'll share a two-person tent with another trekker in your group (limited to 16 people). Although porters and mules will carry most of the equipment, you should be prepared to carry a daypack weighing 8-12kg. A comprehensive kit list will detail all the gear you'll need to bring, but most trekking companies will provide you with essentials like a down sleeping bag, insulated mat and tent.
More Bhutan walking articles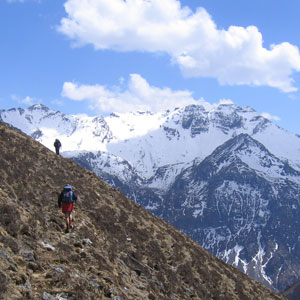 Our guide shares insights into what hiking here entails, as well as practical information.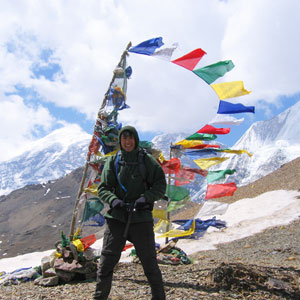 Weather conditions, fitness levels and high altitude all make a big difference to a successful trek.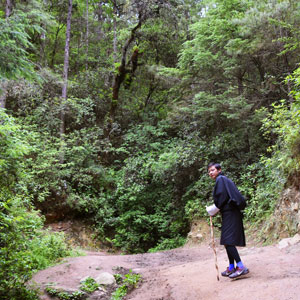 Soaring Himalayan scenery, local life and beautiful cultural sites, all compactly contained within a short and spectacular route.