Bolivia has a complex relationship with coca – and with cocaine. Visitors are confronted by the "sacred leaf" almost as soon as they enter the country; coca tea (
mate de coca
), is a popular infusion, believed to relieve the unpleasant symptoms of altitude sickness. And throughout the highlands are locals with balls of chewed leaves wedged into their cheeks, used as a mild stimulant. Coca has long been a symbol of the struggle against colonial powers, and was used by enslaved miners working 48-hour shifts under Spanish rule to suppress fatigue, hunger and combat the extreme temperatures.
Bolivia is the world's third largest producer of coca. The US-sponsored anti drug campaign of the 1980s was one of the most disastrous periods in Bolivia's turbulent history; crops were destroyed but the alternatives fared poorly in the soil. Coca thrives here, however, and is harvested several times a year; growers earn 10-20 times as much as farmers of other crops.
Opposing the destruction of their farms, tens of thousands of coca growers –
cocaleros
– formed powerful unions. Violent protests led to police clashes and deaths, struggling peasants were plunged further into poverty and hyperinflation destroyed the economy.
When Evo Morales was elected president in 2005, it was clear that things were about to change. Raised by poor Aymara farmers, Morales was the head of a
cocalero
union and an outspoken socialist who resented US involvement; his new constitution protects coca as part of Bolivia's "cultural patrimony". In 2008, he expelled the US Drug Enforcement Administration from the country, enraging the US, and causing fears that cocaine production would explode. But, with support from the EU, Morales has transformed the traditional, militarised war on drugs into what is known as "social control".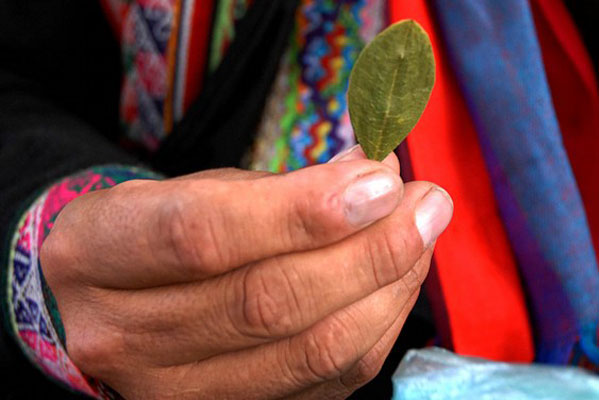 With the policy of "coca yes, cocaine no", Bolivia has promised to reduce the amount of coca grown while still making it available for traditional use. Every farmer is permitted one
cato
of coca – around 1,600 square metres – considered enough to earn them a year's income. Anything outside of this must be destroyed by the farmer, not by force. The concept of community control, and giving power back to the unions, appears to have worked; coca production has begun to fall. While the patriotic
cocaleros
were resentful of the US military and unwilling to collaborate with them, they are respectful of Morales' policies, and are likely to report a neighbour who contravenes the law.
But it is naïve to assume that coca can be separated from cocaine. While coca production has fallen, the production of coca paste – the first step in refining coca into cocaine – has increased, and Bolivia is now also the third largest producer of the drug. The production process involves toxic substances such as gasoline and sulphuric acid, harmful to the forest regions where the paste is produced. Worse, the dangerous process is likely to be carried out by impoverished migrants and youths in search of employment, who suffer injury and ill health as a result of the fumes and contact with the chemicals – as well as risking long jail sentences. In a sinister echo of the slaves of the past, it is said that the workers are given coca paste to smoke while they work, to numb them to the pain of their blistered skin. Drug trafficking also promotes the use of the drug locally*, as well as seeing a rise in prostitution and STDs in these rural areas with few sources of income.
It takes around 370kg of coca leaves to produce just 1kg of cocaine** – so it is clear where much of the leaf ends up. The drug trade has boosted the Bolivian economy (coca contributes 2 percent of GDP), and corrupt officials have been accused of profiting from the boom. The
cocaleros
won't associate themselves with cocaine production as it undermines their claims that coca should be protected as an Andean tradition – yet the disconnect is clear. While social control means that the violence and disappearances that have blighted Central America have not – so far – occurred in Bolivia, it is clear that not all Bolivians are being "fortified" by coca – and Atahualpa's curse may yet be reversed.
* Source;
Canada Free Press
** Source:
Huffington Post
What you can do
Drug tourism is an illegal yet widespread activity in Bolivia. La Paz's cocaine bar has been described in travel blogs and national newspapers, while in the Amazon, legal operators take groups out into the jungle on illegal drug tours for several days. Sentences for possession are harsh. Additionally, they redirect tourists' money away from legitimate activities – and further tarnish the image of the country.
Unlike in some Latin American countries, cocaine production is not associated with high levels of violence, and takes place far from any regions popular with tourists – so people should not be put off visiting.
Spend your time and money on legal, ethical tourism activities, and provide income in rural areas.
Visit the Coca Museum in La Paz – a fascinating if somewhat biased introduction to the coca leaf and its potent derivatives.