Why see Bolivia & Peru together?

Peru seduces with its ancient sites and Pisco sours, but travelling into Bolivia, too, delivers a contrasting blast of weird, wild landscapes and high altitude cities.

The Andes form the spine of neighbouring Bolivia and Peru, and they plunge down to a landscape of valleys, terraced farmland, Inca ruins and harsh desert, dotted with colonial cities and indigenous villages. These two countries are home to some of South America's most beautiful sights, so it makes sense to combine both of them on a single trip, and yet many people just, well, don't.
While holidays to Bolivia frequently include some of its neighbours – Chile, Argentina and Peru – holidays to Peru are quite often just that: holidays to Peru and Peru only. With Machu Picchu as its spectacular calling card, plus a wealth of other Inca ruins, Lake Titicaca and the Amazon jungle, Peru is so chock-full of cultural and scenic riches that it's a well established destination in its own right. There's no question you can spend a thoroughly rewarding fortnight or so in Peru, without travelling beyond its borders, but organised tours that take in Bolivia as well do exist and are an incredibly worthwhile option.
A combined trip means you can experience the giddiness of La Paz, pretty Sucre and the otherworldly Uyuni salt flats together with Peru's embarrassment of riches on a single trip. Explore indigenous Quechua and Aymara culture and the traditions of the rainforest; discover wildlife and weird landscapes; and enjoy that fascinating sense of comparison that only comes when you travel beyond a single country. Combining Peru and Bolivia is twice as illuminating and doubly exciting and, as you've gone to the bother of travelling all the way to South America, it makes sense, too.
These two neighbouring countries are hefty destinations to take on alone, never mind together, but organised tours make it easy to explore both. Conveniently, the vast majority of Peru's most celebrated spots – including Cuzco, the Sacred Valley and Machu Picchu – are in the southern half of the country, within striking distance of neighbouring Bolivia. Crossing the international border between the two countries is a fascinating highlight in its own right, too, as it passes through Lake Titicaca.
Overland tours exist, and they're a great budget option, but if you have more money and less time, flying makes exploring Bolivia and Peru feasible in a single trip. There are quick and easy flights between Lima, Cuzco and the Peruvian Amazon, cutting out full day (or longer) journeys. Once in Bolivia, you can also fly between La Paz and Sucre (it takes about 30-40 minutes) and it's possible to fly from La Paz into the Bolivian Amazon as well. Beyond that, you're dependent on overland travel. Luckily the Bolivian landscapes – Andes, desert, salt flats, volcanoes – are astounding enough to keep you entertained and drive times aren't too horrible. From Uyuni town to Potosi takes about four hours, while Potosi to Sucre is three to four hours.
Two weeks is really the minimum time you'll need to see these countries, and most organised tours take three, four or even five weeks. A trip of three weeks or more means there's time to trek the full Inca Trail, explore the Amazon jungle, see the salt flats, plus a host of other highlights, all at a lazier Latino pace and with useful time to acclimatise to some of the high altitude locations, too.
Most organised tours that combine Peru and Bolivia are small group trips, so you'll be travelling with around 14 other likeminded travellers. These holidays are a good way to get to little visited corners and rural villages, as they can use private transport to get further off the beaten track, and as small groups tread lightly on the environment, they won't overwhelm a destination or the local people living there. In addition to a fantastic holiday, you usually come home with a host of new mates, too.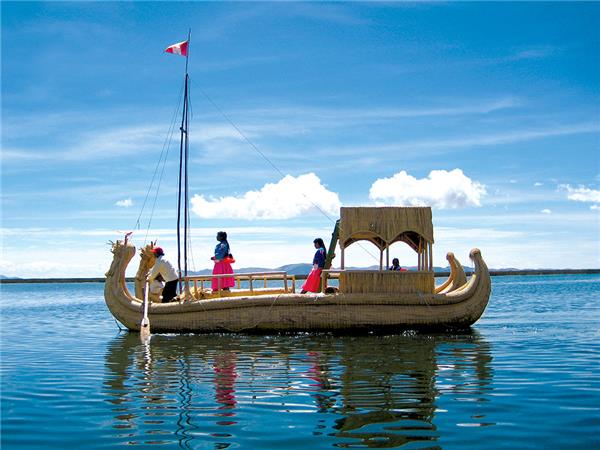 Explore the Amazon Andes and Inca trail
From
£3212

to

£4335
25 days
ex flights
If you'd like to chat about Bolivia or need help finding a holiday to suit you we're very happy to help.

Is this trip right for you?
Due to the distance you'll cover on a combined Bolivia and Peru holiday, the duration of these trips and the activities typically included, they are best suited to active travellers, happy to rough it a little. Camping facilities on the Inca Trail can be basic and making your way across the Andean Desert and salt flats of Bolivia involves long distances in a 4WD on bumpy surfaces, with less than luxurious accommodation on offer. There's usually lots of walking involved wherever you go on a combined Bolivia and Peru trip, too, demanding a good level of fitness, while hiking to Machu Picchu, whichever route you opt for, is strenuous.
A combined Bolivia and Peru trip will also travel to places at altitude. La Paz, for example, is one of the highest cities in the world and sits at a lung-busting 3,800m while Cusco is at 3,400m. Altitude sickness can kick in at altitudes above 2,800m and it can affect anyone, regardless of age or physical health, although underlying health conditions can make you more vulnerable.