Cycling in Cambodia travel guide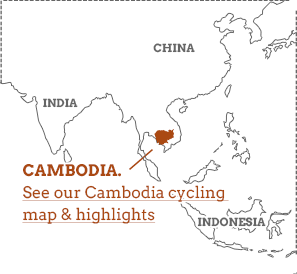 Picture yourself pedalling serenely through rice paddy fields, aromatic orchards and rubber plantations, dotted with bamboo shacks and colourful pagodas. Cycling along riverbanks past hefty but placid water buffalo, kicking up clouds of red dust as you enter rural villages where crowds of children run alongside, and pulling over occasionally to take a refreshing swim, power up with a bowl of noodles and a cold beer, or wander around a crumbling temple.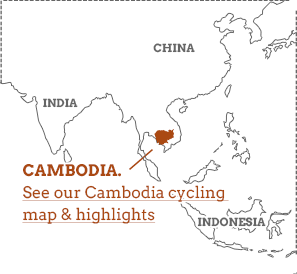 A cycling holiday in Cambodia is not so much about the challenge, but the opportunity to explore parts of the country, and the culture, that few other tours can hope to reach.

Cambodia remains relatively poor economically, but wealth cannot be gauged only in such narrow terms. When you take into account spectacular historic sites such as Angkor Wat, the understated beauty and peacefulness of the countryside vividly contrasting with the electric atmosphere of cities such as Siem Reap and Phnom Penh and, above all, the warm welcome that greets you every step of the way, it's clear that Cambodia has riches beyond measure. Find out more in our Cambodia cycling holidays guide.
What does cycling Cambodia entail?
A Cambodia cycling holiday typically spends no more than a few days in the cities, instead embracing the potential for adventure that comes with taking rural backroads. While it's good exercise of course, especially if you opt for a more laborious itinerary, the focus is very much on absorbing the local culture rather than racing for the finish line – you won't see many fellow riders wearing lycra. Travelling by bike makes it easy to escape the main tourist trail and get a more authentic insight into communities and landscapes that don't tend to see many visitors.
Small group & tailor made cycling holidays
You will usually be joining a small group tour, with between 12 and 16 participants accompanied throughout by an experienced local tour leader. There are a few tailor made options available too though, in case you can't make a set date or would like to customise your itinerary – these options also include tour leaders and support vehicles, naturally. You will be cycling point-to-point, your luggage transferred in the support vehicle, so you'll need to carry little beyond a daypack and can get hold of anything you need, such as a spare camera memory card, easily. You will be accompanied by a support vehicle, there to deal with repairs, carry water and energy-boosting snacks, or offer a lift if you need it.
We also offer family cycling holidays in Cambodia. Most are suitable for children aged 10 and up, with reduced daily distances. Some families with younger children may prefer to miss locations such as the Killing Fields near Phnom Penh. And if you'd like to expand your horizons, why not opt for a multi-country Indochina route that encompasses Vietnam and possibly even Thailand, too?
How fit do I need to be?
You don't need to be Bradley Wiggins, but you will want to be in decent shape, and put in at least a few practice rides before departure. Trips normally last between one and two weeks, and you will be doing at least some cycling on most days. Some itineraries will also make use of private bus transfers or tuk-tuks, when crossing borders or negotiating busy city roads.
On full cycling days you will travel anywhere from 20km to 85km depending on the grade you select, but the pace is generally relaxed throughout, so you can stop for a break or to snap a photo whenever you want. The terrain is predominantly quite flat, but more adventurous routes might see you tackling a mountain, such as in Bokor National Park. It is the climate that tends to prove most challenging; Cambodia's dry season sees daytime temperatures of up to 40°C, while in the wet season regular downpours and thick mud in some areas can make the going tough.
If you'd like to chat about Cambodia cycling or need help finding a holiday to suit you we're very happy to help.

Cycling options in Cambodia
Cambodia is probably not an entry-level destination for a cycling holiday, but given the generally flat terrain and that most itineraries offer a relaxed pace padded with rest days, neither is it especially challenging. It's the landscape, the culture and history that will take your breath away here, not the exertion. Most of the time you will be travelling through peaceful rural areas, where heavy traffic means a truculent water buffalo blocking the road, but cycling in Phnom Penh and Siem Reap is a very different experience of course. The sheer level of traffic, and the 'organised chaos' that ensues, make it necessary to board the support vehicle and wait for quieter roads before getting back in the saddle.
Adventurous cycling in Cambodia
Whether you're spritzing up red dust or coasting through wetlands, an adventurous cycling itinerary will see you arrive at every accommodation ready for a shower, but it shouldn't leave you too exhausted in the evenings. A typical route might see you tackling narrow backroads, crossing wetlands and facing the occasional (optional) mountain such as Bokor – a 40km uphill climb. You might cover 500km over 12 days, jumping into boats or vans when the terrain demands it, and soothing your muscles in the evenings with a traditional massage.
Easy cycling in Cambodia
Opt for an easy tour if you like to see and do plenty, but can live without the burning thighs, thanks anyway. You'll be maintaining a steady pace throughout, with plenty of rest days and others where you'll be out of the saddle by lunchtime. These itineraries have an intense focus on culture – you won't be riding every day but you will always be out and about, whether that's kayaking on the river, wandering a floating market on foot, or sightseeing in Siem Reap by private van.
Moderate cycling in Cambodia
On a more moderate route, you can expect to be in the saddle for around three to four hours most days, averaging around 30km. Some longer days will be involved when you might travel up to 90km, but these are rarely consecutive. There will likely be some off-roading involved too, always fun, and some bumpy sections in isolated areas. These are far from demanding itineraries, perfectly suited to the casual cyclist, and can be as short as a week, though you'll definitely want to stay longer.
Equipment & packing
Groups are provided with lightweight, robust and geared mountain bikes able to cope well with both on- and off-road conditions.
Essentials you will need to bring include your helmet, water bottle and gloves. You may want to pack a gel seat, and some chamois cream probably won't go amiss either. Long trousers and tops with sleeves are required when visiting temples.
Accommodation
You will be staying at a mix of locally owned and run hotels, guesthouses and the occasional village homestay, the latter of which you can expect to be pretty basic. While there will be a language barrier of course, the potential for cultural immersion in this kind of accommodation cannot be overstated.
Brett Seychell from our supplier Social Cycles on what to expect from accommodation and food in Cambodia:
"The hotels we use in Cambodia are normally 3-star, all have air con, and usually a pool too – handy in the hot season. Our dinners are in NGO-connected social enterprise restaurants that provide vocational training for young Cambodians – and the food is very tasty too, always a bonus!"
Responsible cycling
When cycling in Cambodia there are plenty of ways to make a positive difference. One such is to visit a handful of the many NGOs working in the country, offering a 'hand up, not a hand out' with programmes that help fund teachers, invest in vocational training for imprisoned youths, or purchase buffalos for villages as part of a pay-it-forward scheme. Educational and eye-opening, these visits are often combined with eating at social enterprise restaurants, challenging perceptions on charity, and on Cambodia itself.
More Cambodia cycling articles