Cambodia small group holidays guide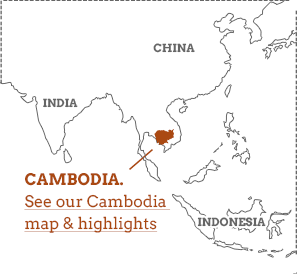 For the time pressed but travel hungry; for the amateur photographer or passionate foodie; for solo travellers, sociable travellers, seriously curious travellers who hate the idea of a whistle-stop sightseeing tour – for all these people and more, a small group tour to Cambodia is perfect. This is travel without the hassle – a carefully designed itinerary and experienced group leader takes care of that – but it's also a genuine, real life experience of the country, which benefits the local community as much as the traveller.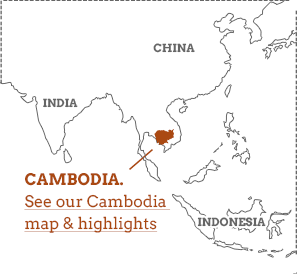 Small group holidays to Cambodia serve up super sized experiences: famous sights and local life, cities and villages, food, photo ops and friendly Khmer people.

Most Cambodia small group itineraries explore Phnom Penh and the celebrated temples of Angkor, but they also swerve off the beaten track to discover rural villages, enjoy a family homestay, visit a community project, taste street food, take a cyclo tour, cruise the Mekong or browse a museum. With itineraries to suit all styles of travel and budget, all you have to do is pick one, then prepare to have fun.
WHAT DO CAMBODIA SMALL GROUP HOLIDAYS ENTAIL?
Carefully planned itineraries
Carefully planned itineraries
The itinerary is everything on a small group holiday to Cambodia and, happily, there are plenty of tours to choose from. It means you can easily find one that combines your available time with the mix of places and experiences that interests you, ranging from three day tours around the Angkor complex to 26 day tours that take in Vietnam and Laos, too. Some small group tours focus on Cambodia's food, others are all about photographing this beautiful country, while some simply explore its towns, villages and ancient sites.
Itineraries are fixed, run on set departure dates and are designed to help you discover the best of the country. This means combining celebrated highlights with hidden gems that independent travellers might miss. Responsible small group holidays also work hard to introduce you to the people of the country, with visits to community projects, local artisans, markets and makers, and homestays, too, for a really genuine, real life experience of Cambodia that goes beyond simple sightseeing.
How big is a small group?
How big is a small group?
The clue is in the name – small! This typically means a maximum of 16 people, sometimes a maximum of just 12. Often, tours run without every place being filled, so you may be part of a group of only 10 travellers.
Small group means huge benefits, though. The group can stay in locally owned, small accommodation, so you enjoy a unique connection with local people. The tour operator will have built up a relationship with local communities, so you have the chance to stay in a traditional Khmer wooden stilt house, for instance, and help the family prepare dinner. This kind of intimate, unique insight into local life and the traditions of Cambodian culture is rarely available to independent travellers; and almost never available to anyone travelling in a large group.
Small group travel often uses local transport, including cyclos, remorks (tuk tuks) and bicycles rather than big, pollution-belching tour buses. This is more environmentally responsible and loads more fun, and it throws up the chance to meet and chat with local people, experience local life and access places off limits to pedestrians or big tour buses.
What is the accommodation like?
You'll typically stay in a mix of hotels and guesthouses, with the quality depending on the style and price of the trip (ranging from simple to more comfortable, with en suite facilities). Your tour operator will have an established working partnership with all the accommodation included, so you can trust that's it's a good standard and has proved popular on previous trips. Accommodation is usually on a twin share basis, and solo travellers can share with people of the same gender or request their own room, although the latter will usually incur a supplement.
Many small group holidays to Cambodia include a homestay. This is a lovely, local experience that might involve preparing a meal with your host family, picnicking in the grounds of ancient ruins and playing footie with the village children. Accommodation will be basic, though, with a thin mattress on the floor, a pillow and a mosquito net the typical provision. Expect shared bathroom facilities, too.
Your small group guides
Most small group tours to Cambodia employ a group leader, as well as local guides at specific sites. The group leader is there to take the hassle out of your travels and make sure you have the best trip. He or she provides information on the places you travel through, offers suggestions for things to do and see, recommends great places to eat and will introduce you to the local people that the tour operator has built up relationships with.
The group leader isn't a guide in the traditional sense, but has a broad general knowledge – historical, cultural, religious and social – of the places you will visit. In addition, local guides who have specialised knowledge will accompany you. So, when you tour the temple complex at Angkor, a local guide with in depth understanding of the site can bring it to life, and also navigate you to the best corners at the best times, away from the crowds. Local guides are also wonderful at breaking down barriers in your interactions with local people; they've got the language and the cultural know-how to make this possible. Meeting local people and enjoying a chat and a laugh with them can make the difference between a good holiday and really great, memorable holiday, so the local guides on a small group tour are invaluable.
On a photography tour, you'll be accompanied by an experienced, professional travel photographer (sometimes as well as a group leader) who is there to provide photography advice, lead workshops, offer feedback and arrange a host of photographic opportunities.
Responsible tourism
A good, small group tour operator will value travelling responsibly and its holidays won't be just sightseeing tours. It will aim to support local communities and regions, so expect to see the sights, but also to visit local charities, projects, communities and small makers, so you learn more about the country you are visiting, its challenges and success stories. This also ensures your tourist buck is spread a little wider than the key tourist sites, and your visit has genuine value for the local community.
Small group trips to Cambodia might include a visit to restaurants with training schools set up for under-privileged young people. In the tourist town of Siem Reap, a responsible operator will steer you away from the souvenir stalls and towards the land mine museum and school, for instance, where your donations support and educate at-risk and landmine affected young people that live at its relief centre.
Combining other countries
Combining other countries
While Cambodia has enough sites and delights to fill a two-week small group holiday, you can also team travel here with exploring across the border. Many small group trips combine Cambodia and Vietnam. Some begin in Ho Chi Minh city before spending the bulk of time in Cambodia; others take a more balanced look at both countries. There are lots of choices. Work out what you want to see, what your budget is and how long you have, then chances are there's a perfect small group tour ticking all the boxes (and a few you hadn't even thought of, too). If you have more than two weeks to spare, you can join a tour taking in Cambodia, Vietnam, Laos and Thailand, too, for the full Indochina experience.
Our Cambodia small group Holidays
If you'd like to chat about Cambodia small group or need help finding a holiday to suit you we're very happy to help.

Cambodia small group holiday activities
What to do on a small group holiday in Cambodia...
Engage with the history. Cambodia has a rich and, in the last century, distressing history that demands to be explored. Discover the dramatic 12th century temples of the Khmer Empire, experience the charming architecture and street stall baguettes that are the legacy of French colonial times and don't flinch from the country's 20th century history, when an estimated 1.5 to 3 million Cambodians were killed during the genocide orchestrated by the Khmer Rouge. In Phnom Penh, visit the Tuol Sleng Genocide Museum and the Choeung Ek Memorial, on the site of the infamous Killing Fields, and come out with a renewed sense of awe at what this country has endured in very recent decades.Enjoy a homestay. Staying in a family home in a small village, sharing a home cooked meal in a traditional wooden stilt house and learning about rural life transports you off the beaten tourist track to the heart of Cambodia.Tuck in. Deliciously different to neighbouring Vietnam, Thailand and Laos, Cambodia's food features pepper rather than chili, and goes big on fresh herbs, rice, freshwater fish and condiments. Small group foodie tours combine market visits, street food stalls and cookery lessons with seeing key sights. If you have two weeks to spare, join a small group tour that takes in one of Cambodia's neighbours - Vietnam or Thailand - for exciting contrasts and a deeper look at southeast Asia.
What not to do on a small group holiday in Cambodia…
Rush Angkor. Angkor Wat itself is just one temple in a vast complex, stretching over 160sq km through the forest. Choose a small group tour that allows plenty of time to explore the entire site (at least two days), including the Bayon and jungle covered Ta Prohm, with a mix of guided tour and independent exploration. Waste water. The Angkor region in particular has a pressing problem with overuse of water. Two million tourists visit Siem Reap every year which takes its toll on the water supply. Increased pumping of groundwater is damaging the temples, and it's up to travellers to act responsibly by opting for accommodation that has an active water policy, and only using water when absolutely necessary. Wear skimpy clothing. Yes, it's hot in Cambodia, but this is a conservative, Buddhist country – much of it untouched by mass tourism – and scantily clad visitors will cause offence. Cover shoulders and wear shorts or skirts that cover the knee, too. Many temples have strict dress codes, too, including covering ankles; anyone not suitably dressed will be denied admittance. Cyclo tours of Phnom Penh, cruises on the Mekong, boat trips on Tonle Sap lake to discover floating villages, riding the bamboo train or flying above the rainforest on a zipline – there are lots of fun ways to explore Cambodia, so don't stick to two feet.
Best time to go on a Cambodia small group holiday

Small group tours run throughout the year in Cambodia, but while the tours are a constant, the weather isn't

Many consider Nov-Feb the best time to go to Cambodia, as these are the dry months, with Dec and Jan particularly clear and sunny. June to Oct is the monsoon season, but don't rule this period out. Paddy fields are green, skies dramatic and the reflections in the pools around Angkor Wat particularly impressive. In between the late afternoon showers, you'll find fewer crowds and cheaper prices, plus the air is clearer, as the rain washes away haze and smoke. Temperatures are lower during the second half of the rainy season and Oct-Nov, just after the rains have stopped, are lovely times to visit, too.
January and February, offers one of the best times to go to Cambodia, but expect temperatures creeping into the low 30°Cs. There is little rain and blue skies. Temperatures begin to rise in March and April (they can reach the mid 30°Cs) and although there's not that much in the way of rain, humidity levels climb around now. April is also Khmer New Year when you can expect crowds, extreme heat and plenty of traditional fun and games. Monsoon season starts around late May and early June, with Cambodia's coasts, in particular, seeing the worst of the torrential downpours. July, August and September are still a bit soggy but the reward is lush foliage, vivid green paddy fields and incredible sunsets. Rain is often confined to heavy downpours of an hour or so in the evening, with fine mornings and cloudy afternoons. Cambodia's wet weather season is also less busy and prices more reasonable. October is a lovely time to visit Cambodia, straight after the rainy season but before the dry season really kicks in, so it's very green. November and December are also great in Cambodia, after the rains but before temperatures and humidity rise too high. Expect to pay more to travel during the Christmas holidays, though.
More about Cambodia small group
Our map and highlights page reveals Cambodia's popular places and more remote corners, all waiting to be discovered on a small group holiday.