Cambodia map & highlights
Small group tours of just over a week are long enough to experience Cambodia's celebrated highlights, including Phnom Penh and Siem Reap (for the Angkor temples), plus a taste of rural life. Foodie tours often dip down to the coast at Kampot and Kep, too, for super seafood and pepper. Drive times can be lengthy – from the capital to Siem Reap is around seven hours – and shorter tours of a week generally include a flight between Phnom Penh and Siem Reap to save time. Many small group tours take in Cambodia's neighbours, too, beginning in Vietnam, ending in Thailand and sometimes including Laos, using a mix of road, rail, river and flights.
1. Angkor
The temple complex at Angkor spreads over 160sq km, but the main cluster of temples is close to Siem Reap, including beautiful Angkor Wat, the Bayon (featuring towers sculpted with faces) and Ta Prohm (eerie temples covered in jungle). The knowledge of a local guide brings this ruined citadel to life, but small group tours generally include time for exploring alone, too.
2. Banteay Chhmar
The small, remote community of Banteay Chhmar lies three hours from Battambang. Its huge, 12th century temple, shrines and reservoir are one of Cambodia's least understood archaeological complexes from the Angkor period. The ruins feature face towers, similar to the famous Bayon, surrounded by a 9km wall. A homestay here in a traditional Khmer stilt house is a great way to experience Cambodian hospitality.
3. Battambang
Battambang (pronounced Battambong), is a pretty riverside town with an elegant French feel, friendly Khmer people and beautiful colonial architecture. Small group tours usually offer lots of fun activities here. Ride the bamboo train – a chance to chat with locals – join a cookery class or head into the countryside to learn about rural life, visiting cottage industries that produce sticky rice, noodles and fish paste.
4. Kampong Thom province
Southeast of Siem Reap, Kampong Thom has some significant archaeological sites, including the Sambor Prei Kuk temples, pre-dating those at Angkor and untroubled by crowds. There are also village homestays to enjoy here. Push on further southeast to reach peaceful Kompong Cham, home to the serene 11th century Wat Nokor and the rural island of Koh Paen, linked to Kompong Cham by an elaborate bamboo bridge.
5. Kampot
The home of Cambodia's most famous ingredient, the riverside town of Kampot is surrounded by pepper farms. Small group tours explain the history and cultivation of the spice, with the chance to buy some of the world's finest pepper. Durians, lychees and rambutan are also abundant. From here, you can explore the coast and islands to the south, including Kep, famous for its crab market.
6. Phnom Penh
Hectic markets, crazy tuk tuks and gorgeous French colonial architecture, as well as museums and palaces – Cambodia's capital deserves exploration. Small group tours allow time to see its highlights, including the Choeung Ek Memorial at the site of the Killing Fields, the Royal Palace and Silver Pagoda, Wat Phnom and the National Museum. Or take a cyclo tour of key sites and the Mekong river front.
Our Cambodia small group Holidays
If you'd like to chat about Cambodia small group or need help finding a holiday to suit you we're very happy to help.

Small group holidays in Cambodia travel advice
Cultural benefits of a small group tour
Cultural benefits of a small group tour
Faye Wilkinson from our leading supplier of small group holidays, Intrepid, has this advice for travelling in Cambodia as part of a guided, small group tour:
"There are loads of brilliant things. I always think travelling in a small group with a local leader gives you the confidence to interact with locals in a way you might not if you were travelling alone. You may visit some tiny family run businesses, such as the people making rice noodles in Battambang; this was a highlight of our trip as you get to really understand how people live, have meaningful interactions with them and taste some delicious food. The local tour guide can get you in some of the best, under the radar restaurants and your group is small enough to get in on all the action. We had an amazing dinner with a local family, the food was sensational and we knew we were directly helping a family who were sending their children to school etc. – this is something you just wouldn't be able to organise alone."
Group makeup
"We have a real mix – so expect people from their 20s to their 70s booked on. Our trips apply to everyone and there is no age range they're aimed at. If the itinerary appeals to you and you feel up for it, go for it."
Advice on group guides
"You have a local tour leader with you throughout and local guides where needed. The leader ensures the smooth running of the trip, helps you with any language barriers, suggests the best things to see and do and facilitates the booking of any optional activities. Having a local guide gives you a true insight into the country you are visiting, their local knowledge and passion for their countries teaches our travellers a lot and they always go above and beyond to give you the best travel experience ever."
Practical benefits of a small group tour to Cambodia
"It sounds off putting, but Phnom Penh isn't the safest of cities; there are bag thefts and tourists can be targeted. Your leader will always make you aware of what to keep your eye out for; this makes you feel instantly more clued up and safe. Public transport through Cambodia is not something that is easy to organise nor is it the most comfortable, so travelling on a private, air-conditioned minibus is a real luxury and something that makes travelling this country a lot more relaxed and comfortable – especially in the ridiculous heat! Most travellers in Cambodia stay in hostels so if you wanted to stay in nicer accommodation, then you may not meet as many people if you're travelling alone. The best thing about small group tours is the people you meet and the friendships you make."
Responsible tourism
"Small groups are very responsible, especially compared to larger groups; the impact on the environment is much smaller in terms of travel. We use local accommodation and transport so money always goes back to the local community. We organise activities that enable local business people to utilise the tourism coming to their country by hosting meals in their home, giving tours of their businesses, using the hotels and transport etc."
At Responsible Travel, we think the best people to advise our travellers are often... other travellers. They always return from our tours with packing tips, weather reports, ideas about what to do – and opinions about what not to.
We have selected some of the most useful Cambodia small group holidays travel advice that our guests have provided over the years to help you make the very most of your holiday – and the space inside your suitcase.

Pack light as there is lots of tempting things to buy

"Take a rucksack, travel light and don't forget the mosquito repellent." – Marian Jenkins

"Pack light as there is lots of tempting things to buy, plus having wheels on your bag is seriously an advantage." – Loretta Ahmed

"For those not accustomed to using tab water for brushing your teeth, don't forget about taking some purifying tablets with you. It will save you litres of mineral water. If you like taking photographs, bring at least 8 maybe even 12 GB large memory cards for your camera. You will definitely use it completely. It is always useful to have plenty of small banknotes (change of $1) handy. You will need them every day for tipping and supporting local communities. Grab any moment to write in your journal about random events or sights." – Iwona Montel-Krasucka

"Don't take too many clothes as laundry is easy and reasonably priced and there are lots of clothes to buy. What clothes you do take give away at the end - they are needed in Cambodia" – Margaret Still

Bring mosquito repellent, and willingness to try lots of street food.

"Comfortable walking shoes, plenty of water and you can fly out of Seim Reap to many destinations." – Elizabeth Carmichael

"Take up the optional activities – the trips to Tonle sap and the village tour were brilliant." – Caz Oatway

"Relax and go with the flow. Cambodians really love to chat, they take time out, go to a temple, dress up for the festival, and they visit their own sights. This is great - just do the same. There are ATMs in every town so make arrangements to top up your cash in case you see something you really want to bring home." – Francine Asonibare

"Make sure you have mosquito spray. Outside of the rainy season there's not so many and so that one bite is infuriating." – Andrew Heggie

"There is pretty strict dress code at a number of the Cambodian sites so remember to pack clothes that cover your shoulders / knees + shoes with covered toes." – Caroline Hamilton
More about Cambodia small group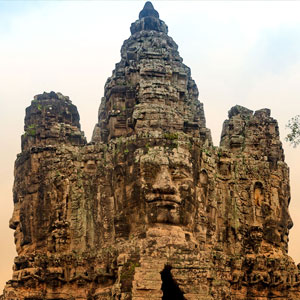 This Cambodia small group holidays guide explains the benefits of travelling with likeminded folk rather than striking out independently, and what you can expect from this style of holiday.