Central America travel advice
Cultural tips
Jessica Schugel from our Nicaraguan specialist, Buen Viaje Tours:
"Nicaragua is caliente – not just in temperature, but also in the culture and the people. There is something very special about it. It's a hot climate so everyone is out on the street, enjoying the breeze. There is a lot of talk and gossip. It's a bit like the Latin American telenovelas, or soap operas, but a living one. They also just put their sexuality out there. It's natural, it's not taboo, and they are very open generally. El Salvador seems a little more reserved, a little more Westernised almost. Guatemala is more indigenous and traditional, and they have the mountains, so everything is more indoors. However, dress respectfully, because even though Nicaraguans are comfortable revealing their bodies, that tends to be on top. The women always wear longer dresses or jeans. They show off their tops, but legs are covered. So those skimpy skirts or shorts that tourists wear makes them stick out like sore thumbs, and they are looked down upon."
Our Central America Holidays
Simon Forster, Director of our supplier The Beyond Tourism Company:
"Whilst many people travel to Costa Rica for its amazing wildlife and beaches, its real beauty lies in the warmth of its inhabitants, the ticos. Hidden among the jungle and mountains are some of the best community-run lodges in the world, offering experiences that will transform your holiday into the trip of a lifetime as well as benefitting local people."
Packing tips
Scott Marquardt, tour leader with our supplier Tucan Travel gives great Central America travel advice: "You'll need layers for some higher elevation spots where it can get down to 5°C in the winter, but nothing like the extreme cold you'd see in South America. Otherwise you'll mostly be wearing shorts and t-shirts. Definitely also pack sunscreen, bug spray with DEET, a bathing suit and some good shoes for walking and hiking. Also you might want to learn a little bit of Spanish before arriving. In some parts you won't hear hardly any English at all; a few words can go a long way!"

Nancy Ableser from our supplier, Tucan Travel:
"It isn't necessary to carry a big terry cloth towel. I highly recommend having a sarong instead. And bring a money belt. I only wear it on travel days, but it's peace of mind. And also bring water sandals, like Tevas. I recommend the ones that have good traction, and can be worn for hiking, caving, river rafting, walking, anything."
Itinerary tips
Vicky Rodford from our supplier Intrepid Travel:
"Personally, I wouldn't worry about Chichen Itza. It's one of the New Seven Wonders of the World, but I wonder how much of that can be put down to its proximity to the Mayan Riviera so it's firmly on the 5* all-inclusive day trip route. For stunning Mayan temples head to Uxmal, Palenque, Yaxchillan or down to Tikal in Guatemala. Tikal and Palenque are still jungle shrouded and you can see mounds which could be temples yet to be earthed, monkeys playing in the trees, and there are faaaar less visitors. Arriving over Easter (Semana Santa) has pros and cons. The cons are that everywhere is really busy as many Central Americans have this as a holiday period, the pros are without a doubt the festivities over the Easter weekend, particularly in Antigua. The Day of the Dead Festival over Halloween is also a great time to be in Mexico City."
Nancy Ableser from our supplier, Tucan Travel, also recommends the Day of the Dead:
"Check out the kite festival in Santiago Sacatepequez, not far from Antigua Guatemala, on Day of the Dead, November 1st. It's a huge party in a cemetery!"
Shopping tips
Vicky Rodford from our supplier Intrepid Travel:
"In Guatemala, head to Chichicastengo market and haggle hard! There are some great local handicrafts on offer and it's a perfect chance to immerse yourself in local life for a few hours."
Local food tips
Nancy Ableser from our supplier, Tucan Travel:
"Don't miss the tapado in Livingston, Guatemala! It's the traditional Garifuna coconut seafood soup. There is a lot of rice, beans, meat and plantains, and not many vegetables, or seasonings. Mexico is the only country where there is a variety of sauces and flavors. It's tasty, but it's pretty heavy, like the other countries, with lots of meat and carbs, and not many vegetables. The ceviche and other things at the Mercado de Mariscos in Panama City are great! And it's a fun and lively local experience."
Health & safety in Central America
HEALTH
Some basic vaccines may be required, depending on the regions you are visiting. Visit your GP or travel clinic 6-8 weeks before departure to ensure you are up to date.
Malaria is restricted to a few regions - mainly in Limůn province in Costa Rica, Stan Creek in Belize, the Autonaoma del Atlantico Norte region of Nicaragua, the Chiapas region of Mexico and the lower lying lands of Escuintla and Alta Verapaz regions in Guatemala. These are just a few examples, but risks are low. Always check with your doctor and tour operator for more details however. Long sleeves and insect repellent are recommended as an extra precaution.
Dengue is on the increase in Costa Rica, Mexico, Nicaragua and El Salvador. There is no vaccination for this painful, mosquito-borne disease so be sure to cover up and use insect repellent.
Snakes are an issue in the rainforests, although venomous bites are rare. If you are hiking in remote areas in Costa Rica, for example, you can get specific antivenins plus sterile hypodermic needles; if you're worried, you can buy antivenin at the Instituto Clodomiro Picado. If you are bitten, clean the wound with soap and water (don't suck out venom), keep the limb still and get to a hospital. And most importantly, watch where you are walking.
Tap water is safe to drink in most of Costa Rica, but most other countries recommend bottled water. Check with your guide or accommodation if you are unsure, particularly in rural regions. Boiling for one minute should purify the water if not.
If climbing any of Costa Rica's or Guatemala's peaks, be sure to acclimatise as much as possible and be aware of the symptoms of altitude sickness over 2,500m. Keep well hydrated and descend if you begin to feel unwell.
Ensure you have comprehensive travel insurance which includes any adventure activities which you are planning to participate in, as well as emergency repatriation.
Visit the NaTHNaC website for up to date health information.
SAFETY
Be vigilant in the cities, where gang related crime and robberies do happen. But they are well policed too. Always carry ID, and make copies that you can keep separately at your hotel. In general, most people donít wander around at night.
There have been some cases of robberies in the mountain areas of Guatemala, so it is advised to travel with a qualified, local expert. And donít carry all your money or credit/debit cards with you at one time.
Only use licenced taxis. In Costa Rica they are red, with plastic boxes on the roof displaying the taxi companyís name and telephone number. Similarly in Mexico, they are red with a white roof. There are pirate taxis in Mexico, however. The Taxiaviso app is now very popular, as you can check if a licence plate or taxi company is authentic.
Always inform yourself about volcano stability before trekking in these regions in, for example, Costa Rica, Guatemala or Nicaragua. Particularly if you are heading up high, as there might be elevated activity. If there is a risk of eruption the parks around them will be closed, so do keep an eye on local news and websites.
One of the biggest safety issues in Central America, with so many beaches, is riptides. Few beaches have life guards. Never go into the water in areas where there are known to be riptides ĖIf you do find yourself being carried rapidly away from the shore, donít swim against the current; you wonít beat it. Instead, swim parallel to the shore until you are out of the rip, or float until the current subsides Ė then you can swim back onto the beach. Drowning occurs when swimmers exhaust themselves by struggling against the current.
Check safety procedures with any adventure or activity companies and, in particular, with water activities, making sure there is a good instructor to tourist ratio, and that there are life jackets of helmets, in the case of white water, and that they fit children too. A company that doesnít check if your life jacket is well fitted probably isnít fit for purpose.
Check the FCO website for safety information and entry requirements.
Our top Central America Holiday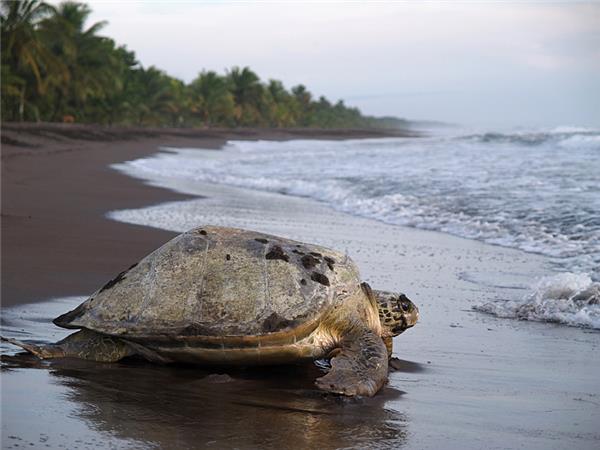 An amazing variety of Costa Rican wildlife
From
£4199

to

£5499
16 days
inc UK flights
Small group travel:
2023: 11 Feb, 6 May, 20 May, 8 Jul, 22 Jul, 29 Jul, 5 Aug, 12 Aug, 19 Aug, 26 Aug, 2 Sep, 16 Sep, 30 Sep, 7 Oct, 14 Oct, 28 Oct, 2 Nov, 4 Nov, 7 Nov, 9 Nov, 11 Nov, 16 Nov, 18 Nov, 23 Nov, 25 Nov, 16 Dec, 21 Dec
2024: 2 Jan, 4 Jan, 6 Jan, 9 Jan, 11 Jan, 13 Jan, 16 Jan, 18 Jan, 20 Jan, 23 Jan, 25 Jan, 27 Jan, 30 Jan, 1 Feb, 3 Feb, 6 Feb, 8 Feb, 10 Feb, 13 Feb, 15 Feb, 17 Feb, 20 Feb, 22 Feb, 24 Feb, 27 Feb, 29 Feb, 2 Mar ...
If you'd like to chat about Central America or need help finding a holiday to suit you we're very happy to help.

Tips from our travellers in Central America
At Responsible Travel, we think the best people to advise our travellers are often... other travellers. They always return from our tours with packing tips, weather reports, ideas about what to do - and opinions about what not to.

We have selected some of the most useful Central America travel advice travel tips that our guests have provided over the years to help you make the very most of your holiday - and the space inside your suitcase.

When you can, eat where the locals eat.

"Practise walking uphill before embarking on the volcano hike! Take a Spanish phrasebook for Guatemala if your Spanish is as bad as ours. Lots of bug repellent. Many memory cards for photos, I think my son took 950 photos. Take a waterproof, the rains when they come are phenomenal. Wifi is around but don't rely on it -use the phone as a camera, leave your email behind." - Alex Holmes

"There are legal money changers on street corners in Leon and Granada. These give a much better exchange rate than banks or the Cambio at the airport." - Stephen Osgerby (Nicaragua) "Travel as light as you can; but be sure to pack wet weather gear and light, fast-drying clothes. Be prepared for long, shared minibus rides, often on slow bumpy roads. Be patient when things don't quite run to time (but they weren't too bad). Make sure you use guides if you want to enjoy the wildlife - they spot things even experienced nature lovers just don't. The cost of living in Costa Rica is quite high - expect UK prices for dining out and even in supermarkets." - Ian Gavin (Costa Rica activity & nature trip)

"Don't hesitate to take plenty of USD cash with you from home as opposed to having to run to the local banks all the time." - Petra Ribbens

"Don't miss the whitewater rafting at La Fortuna and the Monteverde ice cream." - Jill Clayton-Smith (Costa Rica)

Seeing a Blue Whale in Loreto - something I never thought I would ever see!

- Sammie Hainesin (Mexico)
More about Central America