Cycling holidays in Central America
Cycling in Central America is a treat. The roads are good but quiet, the scenery is gorgeous and there's accommodation throughout the region, so you'll always have a comfy bed for the night. Cycling also allows you to get away from crowded honeypots and pedal into small villages, past coffee and banana plantations, volcanoes, pretty beaches and fields bordered by rainforest. Stop off along the way to gulp down some fresh coconut juice at a roadside shack, chat to locals, admire a sloth hanging lazily from a branch or just enjoy the views. Where routes involve steep ascents, there's a nice sense of personal achievement to relish at the top, and at the end of the trip, you're likely to head home with a new bunch of friends, as cycling in a group is fun and sociable.
Our Central America Holidays
What do these trips entail?
Cycling holidays in Central America are generally run as small group trips, with between six and 16 people. There's usually a minimum age of 16, and this is a fantastic and sociable holiday option for solo travellers. Local bike hire is typically included in the price, so no need to fly your bike over, but it's a good idea to bring your own gel saddle for comfort.

You'll be following a point-to-point route, staying in a different location each night, with the odd two or three night stay. Free days are built in to give you a break from the saddle and the chance to explore a beautiful region in depth and independently – Tortuguero National Park in Costa Rica or the islands of Bocas del Toro off Panama, for instance. Of course you can choose simply to relax on these rest days (the accommodation often has a pool), but there are usually heaps of optional activities to enjoy, too. Canopy or zip wire tours, kayaking, surfing, fishing, visiting a cacao plantation, surfing, hiking and dolphin watching all feature on Central America cycling holidays.

Throughout the itinerary, there are usually other activities mixed in, so you're not cycling nonstop. Boat trips, wildlife spotting, guided hikes, touring ancient Mayan sites in the Yucatan or visiting artisan workshops are all scattered through a cycling holiday, fleshing it out and giving you an insight into the region's wildlife, culture and people.

Transfers cover some of the longer, busier or more monotonous stretches between cycling, and the support vehicle accompanies the cycling group throughout, ready to help with flat tyres or tired legs – you can always hop in for a break and a blast of air-con if you want.
Where to cycle in Central America
Costa Rica is a fantastic cycling destination and thanks to its neat size, you can enjoy the satisfaction of cycling from coast to coast, from the Pacific to the Caribbean, following one glorious looping circuit in two weeks.
The Yucatan peninsula is another good choice, with mainly long, flat roads making it suitable for anyone looking for a more leisurely trip. You'll be able to visit the Mayan sites of Izamal, Coba and Tulum, plus the ruins of Chichen Itza, one of the new Seven Wonders of the World. Enjoy swimming in cenotes, discovering blissful beaches and colonial towns, and riding through traditional Mayan communities. Cycling holidays to the Yucatan are typically less than two weeks (10 or 11 days), ideal if you're short on time.
Cycling breaks that travel north to south from Nicaragua through Costa Rica and into Panama are another exciting option, although Nicaragua is periodically deemed unsafe for travel, so itineraries that include it are usually not confirmed until three months before the departure date. If the
FCO advice
at that time is that Nicaragua is unsafe, the tour simply spends more time in Costa Rica.
Our top Central America Holiday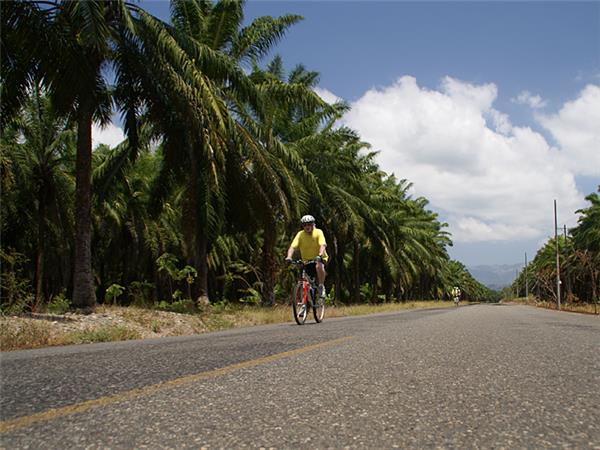 Take in the variety of Costa Rica by bike
From
£4149

to

£5449
15 days
inc UK flights
Small group travel:
2023: 28 Oct, 4 Nov, 18 Nov, 2 Dec, 16 Dec
2024: 3 Feb, 2 Mar, 30 Mar, 6 Jul, 10 Aug, 12 Oct, 26 Oct, 2 Nov, 16 Nov, 14 Dec
If you'd like to chat about Central America or need help finding a holiday to suit you we're very happy to help.

Cycling distances & conditions in Central America
You might think you have to be a dedicated cyclist to come on a cycling holiday to Central America, but there are trips that range from leisurely right up to challenging, and all include rest days and a mix of other activities, so you won't be in the saddle morning, noon and night. Check the number of cycling days – on a 15 day trip there may be 10 days of cycling, while a leisurely 11 day holiday might include just six days of cycling.

Obviously, it's sensible to have a decent level of fitness – this is not a stop and flop holiday but active exploration – and to be familiar and comfortable with cycling. Average distances will vary trip to trip, so do your research. In the Yucatan, in Mexico, you might cycle around 60km a day, but that's because the terrain is mostly flat. Where there's a more rolling landscape, in Costa Rica for instance, there may be some long climbs and steep descents that demand good fitness and pull the average daily distance down to around 45km.
In addition to the distances and terrain, the humidity in Central America is another test of your fitness. This can be the biggest issue for cyclists. After all, you can train for hills, but not for humidity. Cycling in these conditions can be tiring but most rides take place in the first half of the day when it's cooler, with regular stops to rehydrate and afternoons free to explore, swim or relax.

In Central America, cycling holidays usually follow quiet back roads where possible, and you'll only come across heavy traffic near to towns. There is typically a mix of mostly Tarmac roads and some dirt tracks and unpaved roads. Road conditions are generally pretty good in the region, but watch out for the odd poorly maintained section with potholes.
The support team
On a guided small group cycling break you'll have a group leader, who cycles with you and has a broad knowledge of the region and its history, ecology, fauna and flora. He or she will brief you each day on the route, keep you safe on the roads, answer any questions and keep everyone excited and motivated.

There is also a support vehicle and team, which accompanies you throughout the entire trip. This 'team' might be just a driver/bike maintenance guy, or there may be several staff. The guide and support team offer a wonderful mix of practical and emotional support on any cycling holiday. They look after the bikes throughout the trip, so you never have any maintenance worries, and they also provide snacks and drinks during each ride, so you're fed, hydrated and happy.
Best time to go cycling in Central America
Cycling holidays to Central America pay close attention to the weather and rains, running only in those months that are dry or mild enough to make biking possible and pleasant. Nicaragua, Costa Rica and Panama have a classic tropical climate, with the average temperature 10-13°C in the highlands, and 22-28°C in the lowlands. The rainy season here runs roughly from May to October, when there may be short, daily downpours mixed in with lots of sunshine.
November to April is the best time to cycle in Central America, with less rain and less ferocious heat, but you can never rule out a heavy shower. In Panama, the rainy season runs from May to November, but downpours are usually confined to the afternoons, and the Pacific coast is drier than the Caribbean. In Costa Rica, June, September and October see the most rain, but stormy conditions during July and August can also make cycling tricky.

In Mexico's Yucatan peninsula, there is little variation in temperature on the coast, all year round. The average daytime maximum here is 28°C to 33°C. Sea breezes take the heat and humidity down a bit, but inland it's quite humid between May and October. It's wet in the Yucatan from June to October, but it normally only rains one day in three. Outside this period, rain is unlikely, but you can't rule out the occasional storm.
More about Central America