Central America Overland Holidays

I love the sort of trip where you attach your swimsuit to the bus window to make sure it is dry for the next water stop. Or where you change from hiking boots to flip flops within minutes.

Central America is one idyllic isthmus. Which is a wonderful word, defined as "a strip of land with sea on either side, linking two larger areas of land." So narrow that many of its countries have two coastlines: the Caribbean in the east and the Pacific to the west. But don't let the skinny look of an isthmus trick you into believing that Central America is just some sort of bridge between north and south. Because this region boasts one of the most eclectic collections of cultures, natural wonders and hidden secrets.
The V factor
Central America is voluminous, volcanic and voluptuous, which means that it can also be v. hard to know where on earth to start. In South America, for example, you have a few obvious starting points, such as the Inca Trail in Peru, the far reaches of Patagonia, or Iguazu Falls on the Brazil/Argentina border. But apart from a few obvious hotspots in Costa Rica, where eco tours have been the norm for a while now, Central America remains a mysterious isthmus for many – which is why an overland tour is just perfect.
What is an overland tour?
Overland tours are generally small group holidays, with around 16 travellers maximum, and using carefully crafted itineraries that are a pretty pic 'n' mix of coastlines, cayes and culture, wildlife, wilderness and wonderful welcomes. Unlike in other parts of the world, Central America overland holidays tend to use public transport to get around, usually buses, although with two coasts to cover and idyllic islands, there are plenty of boat journeys to be had, too. So, pack a pillow and a sense of adventure, knowing that in the background you have an experienced local guide to support you, hold your hand when you want it to be held, but leave you to your own devices plenty of times too. But they will definitely lead you to all the best spots.
Which countries do we visit?
Overland tours to Central America last at least two weeks, with some stretching to a month. Some cover as many as seven countries, and others cover a trio of treats. A classic trio is Mexico, Belize and Guatemala. For a southern version, you could travel through Nicaragua, Costa Rica and Panama. The latter takes two weeks and covers beauties such as Nicaragua's volcanoes, rainforests and lakes, Costa Rica's stunning Arenal Volcano, Tortuguero National Park and the white sandy beaches of Cahuita National Park. Finally, it dishes up a few delicious coastal moments in Panama on the Bocas del Toro archipelago as a fine farewell.

For the Full Monty version of Central America, you can expect to take a month off. Start in Mexico and be guided south through Belize, Guatemala, El Salvador, Honduras, Nicaragua and Costa Rica.
The lesser known beauties
There are still some Central American countries that are pretty new to tourism, and their transport and accommodation infrastructure is thin on the ground. In El Salvador and Honduras, for example, overland trips tend to use private rather than public transport. In these countries you will discover a world that boasts the same stunning Mayan archaeology or wilderness wonders as other parts of Central America, but without the crowds – such as at the Honduras' Mayan Copán ruins and the natural nirvanas of Pico Bonito National Park. And then there is the tranquil beauty of Suchitlán Lake in El Salvador, a country known to many for its years of conflict and strife but where, today, you will discover some of the most stupendous birding opportunities.
Our top trip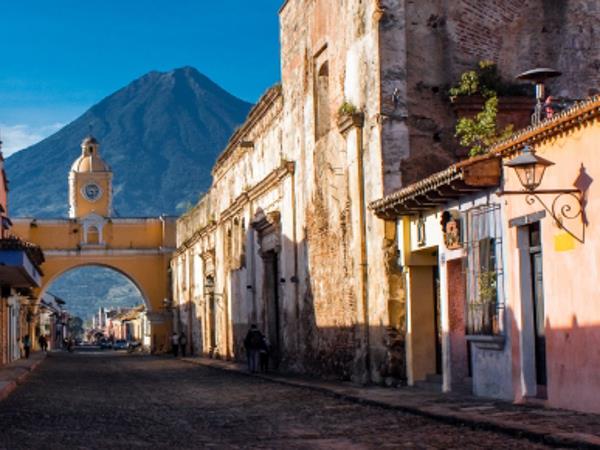 Travel through 6 Central American countries
From
£3807
22 days
ex flights
Small group travel:
2023: 9 Dec
2024: 6 Jan, 10 Feb, 9 Mar, 22 Apr, 3 Aug, 12 Oct, 9 Nov, 7 Dec
If you'd like to chat about Central America or need help finding a holiday to suit you we're very happy to help.

Does overland mean overlong?
If you are not a patient traveller, then overland holidays may not be for you, as there will be some long days of travel when you will be glad that you packed a good travel pillow, ear plugs, a hydration backpack and a lot of podcasts. However, if you want to see the Copán Mayan ruins in Honduras one day and the Caribbean island of Roatán the next, then you will have some ground to cover. Another Mayan marvel to coastal gem trip is from Tulum in Mexico to Caye Caulker in Belize. Take in the stupendous ancient clifftop ruins, cross a border, have lunch in Belize City and then take a ferry out to paradise. There's always somewhere worth getting to at the end of the bus trip.
Does bus mean budget?
In general, yes. You will also stay at small, locally owned accommodation for the most part, so that local communities gain economically from your travels. Overland trips are also carefully crafted to include optional activities, such as hiking up volcanoes in Nicaragua, white water rafting on the Pacuare River in Costa Rica, kayaking across Guatemala's magnificent Lake Atitlán or scuba diving in Belize – so you only need to pay for the ones that appeal.
If you are travelling solo then be prepared to share a room, which also saves money, although there may be options to have your own room for a supplement. You can also budget food wise, because you are usually left to your own devices for lunch and dinner. Your tour leader will be an expert on great markets, budget street food and a splash out restaurant if you feel like it – although you don't need to spend too much to eat like gods in these countries. Overland, overfed and totally over the moon. That's the general vibe in Central America.
See our
Central America Overland travel guide
for more details.
More Central America articles