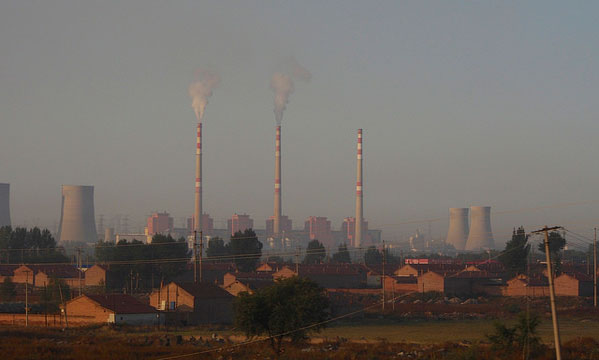 China's pollution problem is out of control. The Environmental Protection Agency's air-quality scale rates any pollution above 300 as unsafe to breathe and according to guidelines, under these conditions people should stay in their homes with an air purifier running and remain still – it is not uncommon in China for 19 days in any given month to exceed that 300 threshold, in fact readings above 500 are more usual. In January 2013, the reading reached an unbelievable 886, a figure that just thinking about makes your head hurt and that is comparable to a life lived permanently within a crowded smoking lounge.
Now throw in the 100 million cars that drive on China's roads and the picture (but certainly not the air) becomes clearer.
Sadly, this isn't the worst of it and the ultimate finger of blame where China's eye-watering pollution levels are concerned must be pointed firmly at the coal-burning electrical plants that have powered the country's breakneck economic development. China burns 47% of the world's coal, which is roughly equal to the total used by all the other countries in the world combined. The air in Beijing, a city regularly enveloped by thick, toxic, grey smog, is now too heavy to be dissipated by prevailing winds.
There are entire towns in China known as 'cancer villages', which have been written off as so polluted that simply living there represents a huge cancer risk, and then there's the water – local rivers run full of industrial effluents and contaminants, and more that 50% of the country's surface water is so polluted it can't even be treated to become drinkable.This isn't a 'let's pick on China' list – this is fact, and actually a very tame summary of how, ironically, China's growth has slowly but surely been killing the green lungs with which the country breathes.
Thankfully there is a 'but'…Hugely relevant is the Chinese government's admission that cancer villages do exist, which shows that the issue of environmental pollution leading to poor health is drawing attention – a very good move by China who doubtless could do without the next generation Erin Brokovich slapping them with a massive bill.
Urumqi, in China's far west, a city that once shouldered the dubious accolade of being China's most polluted city, is now enjoying its clearest skies in decades thanks to the perseverance of its Blue Sky Program, which has replaced thousands of coal-fired boilers with natural gas boilers. Additionally, innovations like the Three Gorges Dam on the Yangtze River, which is the world's largest hydroelectric power station and is producing vast amounts of power, show clearly how much China is trying to reduce the problem and, of course, there are many more dams being built to add to the assistance.
There is no question that China is finally addressing its life-threatening pollution problem and the pertinent point is that they recognise that alternative fuel sources must be found and are making steps to provide them.
What can you do?
Unfortunately, China's pollution levels are on such a huge scale that there's little you can do to reduce them, what you definitely shouldn't do though is not go to China. Advising someone not to go to China for fear of developing a respiratory illness is like advising someone not to go to America for fear of getting shot. There are areas of China that are more polluted than others, so if you're worried about it, spend your time walking the Great Wall or taking pictures in the country's lesser-explored southeast; if you're spending time in Beijing, do as the locals do and grab a face mask. Otherwise, our best tip is not to add to the problem: make sure you only get taxis in and around the cities when absolutely necessary.