Trains are the go-to mode of transport in modern China. Over the last 5-10 years, rail networks have expanded to almost every corner of the country, making them the most popular way for Chinese people to travel.

"When we travel, we'll look up train times before looking to see whether we should fly or not," says Karen Zhao, China travel specialist at our partners Intrepid. "So when you're travelling on high-speed or even overnight trains, you will be travelling with a lot of local Chinese travellers."

This means that train travel is one of the best ways to break out of your bubble, placing you directly into situations where you'll meet Chinese people out and about during their daily lives. It also offers a view of the huge range of landscapes beyond the walls of China's main cities. And with the worsening climate crisis, and pollution an ever-present problem in China, there's really no excuse not to go by train.
What to expect on a rail holiday in China
Karen finds that when travellers usually think about rail holidays, it often tends to be luxury train travel in Europe or cross-country journeys in countries like India. "But there are so many reasons to travel by train in China," she says. "I think China has found a really sweet spot in-between, making it really affordable for people to travel without having to rough it."

High-speed train facilities are very modern. There's hot water at the end of each carriage for tea or coffee, the toilets are western, and there's usually a dining carriage or, if not, someone will be along with a trolley selling food and snacks.
"Choosing a high-speed train rather than a slower overnight train means you can have a bit of comfort," says Karen. "It's more accessible to a lot of travellers who might find the overnight trains a bit more of a challenge."

The facilities in older model overnight trains are not as modern. You're more likely to find squat toilets at each end of the carriages and will be sharing a four- or six-bunk bed compartment. Many people bring their own food – often instant noodles which are easy to make on the go. Although it might feel a little confined, it's often great fun and you share the experience with your group and local people. "In a sense, you are one little family," says Karen.

Your tour leader will usually teach you some basic Chinese along the way, which will help you strike up basic conversations. People are likely to be interested in talking to you as a foreign visitor, offering a Chinese perspective on the places you're visiting and activities you have planned. On overnight trains you may even find yourselves playing poker together or just sharing random conversations in whatever of each other's language you can learn.

Karen recommends packing light if you're travelling by train, as it makes it much easier to get around stations with lots of people. For overnight journeys, bringing a silk sleeping bag liner means you don't have to worry about how freshly laundered the linen is – and it'll keep you warm on any colder nights. Some tea or coffee, a good book and some music will also help you pass the time.
Our top trip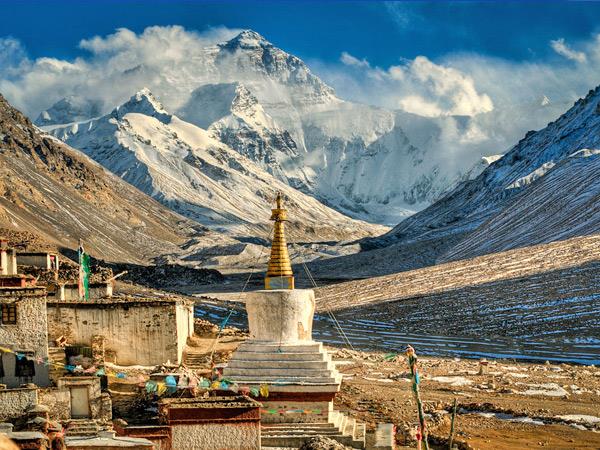 Beijing to Lhasa on the famous sky train
From
£1600

to

£2300
13 days
ex flights
Tailor made:
This trip can be tailor made throughout the year to suit your requirements
If you'd like to chat about China or need help finding a holiday to suit you we're very happy to help.

Where can I go on a train tour in China?
Even if you're not planning a classic cross-country rail journey on the
Trans Mongolian Express
– which only spends a short amount of time in China – you'll find that many tours in China will travel around by train. You can easily travel from Beijing to Hong Kong – a 2,000km trip – or see the views along the ancient Silk Road from Beijing to Kashgar, which is over 4,000km away.
If you want to spend a little more time in a destination, but still want to explore more than one region, then train travel is a great option for getting from city to countryside to city. Many cycling and walking holidays in China offer routes that are connected by overnight trains, so you can experience the architectural grandeur of the Great Wall of China north of Beijing before discovering the rural villages and rice terraces near Guilin, 2,000km to the south.
The bonus of train travel is that it opens up China to more budget-conscious travellers too, who get the added experience of falling asleep in a busy metropolis and waking up to green landscapes of rivers and limestone mountains.
"It's a lovely way to arrive into an area," says Glyn Thorneloe, China product manager at our small tour specialists Explore. "It's much better than flying."