Community-based tourism guide
Responsible Travel was founded because of a small village in Zambia. Around the millennium, our founder Justin Francis was visiting South Luangwa National Park. This is Zambia's most celebrated park and one of the best places in Africa for wildlife-viewing. "While I was there," says Justin, "I was told that there was a village nearby who had seen lots of tourists driving past. The villagers had decided they wanted to invite guests to stay."

In its purest form, community-based tourism is owned, run and benefits the community in which it sits. But there are many very commendable projects that don't follow this model.

When Justin went to investigate the village, he found community-based tourism in its purest form: "100 percent of the money, 100 percent of the ownership and 100 percent of the decisions belonged to the community." He stayed in a mud hut in the centre of the village, helped wash clothes and pump water, and visited the traditional healer. At the end of his stay, Justin was approached by the head of the village. "He asked, 'Please can you bring more visitors? You've seen the school and hospital; you see how we need to expand.' And I thought, 'Yes, I could spread the word when I got home.' And that's when I decided to found Responsible Travel."

Keep reading our community-based tourism guide to find out more.
Community tourism is…
tourism that funds a whole community and gives that community a say in how the money is spent.
Community tourism isn't…
always community-owned – but there are often very good reasons why.
What is community-based tourism?
Community-based tourism is tourism where the money earned directly benefits the whole community. The community could be a village, cooperative or collective, and the benefits should be financial. The community should be in control of how any profits are used.

There are other non-fiscal benefits of community-based tourism, of course. Many are "win-wins" for community, traveller and environment: they promote cultural exchange, provide cultural enrichment, preserve ways of life, and protect the environment.

An eco-lodge in the jungle that's a base for nocturnal safaris with local guides; a hut in Ethiopia's Simien Mountains where you can share strong coffee with local farmers after a long day's trekking; or even a luxury safari camp – the beauty of community-based tourism is that it has many faces and many benefits. At its heart, it is still a holiday; some people don't even realise that they've visited one.

Since Responsible Travel's inception, our remit has grown, and so too has our definition of community-based tourism. We believe that community-based tourism must, by definition, benefit the community. This means that the community should be autonomous in how it spends the money. However, we know many projects which are community-based but not 100 percent community-owned, which do just as much good for the communities in which they sit.
History of community-based tourism
Communities have been welcoming tourists forever – and long before the existence of hotels. But it's only fairly recently that the academic community has used the term community-based tourism, and seen it as a tool for international development. Community-based tourism in this context was seen as a tool for alleviating poverty in indigenous communities. Many recent projects have been set up by NGOs, not communities, with a long-term goal of eventually becoming entirely community-owned and run.
Many of these projects have not subsequently succeeded. "They were conceived in ignorance of the market, service connections and tourist distributors," Justin explains. Projects were planned without adequate consultation – and some built in places so far off the tourist trail that no one would visit. As a result, some were even torn or burnt down by the communities they were supposed to support.
Justin did some research with environmental organisation Conservation International: "They had funded many ecotourism lodges and were dismayed with the results."
Research in 2009 found that the average occupancy across 28 surveyed projects was just
five percent
. Many lodges didn't provide contact details, making them impossible to book.
"The big lesson for NGOs is that rather than building something, raising a community's hopes and then at the very end thinking, 'How do we sell it?', you need to build partnerships and get some advice from the start," says Justin.
Since the 2000s, many community-based tourism projects have fallen by the wayside. Yet, in the same time period, others have survived and gone from strength to strength.
Where community-based tourism is the norm
Guyana is a small South American country that has seen a rise in tourism in recent years. Tourists find that as soon as they leave the capital, they use community-based tourism projects – there's no other option. In the jungle, there are so few settlements and so little infrastructure that tourist lodges are de facto part of the community; they would not function without the support and infrastructure already established by the village.

But this doesn't mean that community lodges succeed alone. Rewa Eco-Lodge is now a well-established lodge in Guyana. It's part of an Amerindian community which live in the rainforest at a place where the Rewa and Rupununi rivers meet. Its remote location proved a challenge at first.

"The first year, only two travellers went there," explains Claire Thorne of Wilderness Explorers, who work with our travel specialists Pioneer Expeditions. "In the second year, only four. It was heartbreaking for the village."

Wilderness Explorers got involved and helped spread the word. The village is now a firm fixture on the tourist trail: "It's really gone from strength to strength over the years, thanks to a very strong village council."

A tourism company can market to a wider range of people. It can also provide financial advice. Some communities have never had large funds before and can fall prey to bad guidance without help from a more established partner.
Community-run – but not always community-owned
Getting the right tourism agencies in at the beginning spreads the risk for small villages and gives them a huge potential market of customers.
"We used to call it a marriage," says Jasmin Caballero, co-manager of 
Chalalan Ecolodge
in Bolivia, who also runs her own tourism business. A marriage between a company and a community, especially for tourism. The community can provide a service but a company can do all the marketing and keep the finances where they should be.
A community may not have the initial funds needed to own a safari lodge. They may not want to take on the financial risk of ownership – not in decades peppered with financial crises and in the shadow of a global pandemic.
Outside ownership can make it easier for projects to grow so that they benefit many villages instead of just one. Our partner Basecamp Kenya is a safari camp which considers itself community-based tourism because the land where the safaris take place is leased from the community.
"Basecamp can scale much bigger with funding from the tourism business," says Justin. "It operates in 1.2 million hectares of land – it has 400 staff and more than 10,000 families directly benefitting."
Community-based tourism as part of a wider trip
It has been over 20 years since we launched, and we still market community-based tourism. But you will see a mix of trips on the site.
Many trips include one or two nights in community-owned accommodation a part of a wider itinerary.
The solution is to weave community-based tourism projects into other itineraries, says Justin. "What success looks like is a tourist travels around and stays one night in a community-benefitting lodge."
Claire agrees: "People don't go to Guyana to visit one lodge." These projects need to be marketed as part of a full holiday package.
Another solution is to make them compulsory. If you want to visit Rwanda's newest UNESCO site, Gishwati Mukura National Park, you need to stay one night in a community-owned lodge.
Communities will organise themselves so that they host tourists on a rotational basis. This means that the work is shared. On the Andaman Sea, you'll find Thai villagers taking turns hosting visitors in
idyllic beachside settings
.
At Surama, a lodge in Guyana, tour guides work for two weeks, "and then they're off roster do their own farming and hunting so they are protecting their own traditions," says Claire, "This was amazing during a pandemic as they weren't reliant on tourism."
If you'd like to chat about Community based tourism or need help finding a holiday to suit you we're very happy to help.


Not every community will feel comfortable advocating for their privacy when politeness or money is on the line, which is why tourism should tread carefully.

A home away from their homes
No community should be pressured into flinging open its doors to tourists.These holidays might be community-benefitting, but they are not always literally community-based.

Whilst there is a place for tourists spending time in a village, spending a day pumping water and trying an unpractised hand at agriculture, the community can still benefit from less seemingly 'worthy' tourism. Many villages do not want to host tourists, as they have other work to be getting on with, and a trickle of curious travellers isn't always enough of a stable income to justify downing tools for the day.

"Because I speak their language, people are more willing to tell me that they're actually happy for someone to have lunch in their house," says Sophie Hartman from our partner Holidays in Rural India, who is fluent in Hindi.

But not every community will feel comfortable advocating for their privacy when politeness – or indeed money – is on the line, which is why tourism should tread carefully.

Chalalan Ecolodge in Madidi National Park, Bolivia, is three hours downstream from the community it benefits, which suits the community just fine. They receive funds from the lodge and most of the workers at the lodge are from their community.

"The Maasai didn't want tourists staying in their village," Justin explains. It means that community-based tourism can appeal to luxury-minded travellers too. Visit Basecamp Kenya, and you'll stay in one of six basecamps – modern ecolodges with in-room Wi-Fi, electric roofs that open at the touch of a button, and massages and mineral water on standby.
Looking beyond development goals
Community-based tourism has many faces. Whilst its prevailing modern use is as a development goal from the academic community, its principles can be applied anywhere. Community-based tourism isn't just a paragon of virtue but a blueprint to be imitated.

"Look at rural Europe; look at Italy or Spain," says Justin. "Large parts of it are being abandoned as we move from rural to city living – and you find the grandparents are the only ones in the village. There are few jobs for the young who move out. You're losing traditions, history, craft, food, language and dance – that's a terrific opportunity for community-based tourism."

From a small village in Zambia to an agriturismo in Italy – projects that benefit the community are everywhere, and your support can keep them going.
On tailor made trips, ask to spend at least one night in a community-based tourism project, or look for small group trip itineraries that use community-owned or community-benefitting accommodation. Community-based tourism can still be very beneficial to a community, even if it is not 100 percent owned by community members. Industry business partners can do a lot of marketing and provide financial stability. Don't be afraid to ask questions about who benefits and who makes decisions. Some parts of the community – especially women or non-landowners – may still not have equal agency.
More Community based tourism articles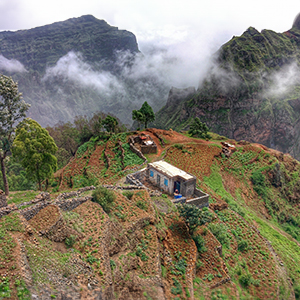 Trips that directly benefit the villages, cooperatives and collectives in which they're set.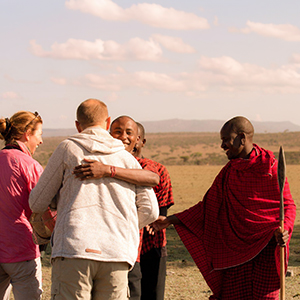 Tourists, communities and wildlife benefit when landowners lease land for conservation.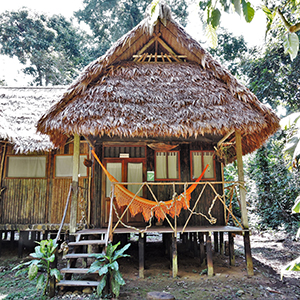 Protecting the interests of indigenous peoples in Madidi National Park.