Best time to visit Corsica

September is a wonderful time to visit. Prices fall, the roads and beaches are quiet, yet the sea is still warm. It's the Med at its very best.

The heat of the prime summer months of Jul-Aug can make walking and cycling a bit of a slog. The best time to visit Corsica is Sep as the temperature is warm enough for the beach but cool enough for walking. May and Jun are also great as the maquis (the dense, scented scrub covering lowland Corsica) is in blossom, and the sea is just heating up. If you're planning on walking the GR20, insiders recommend late Jun and early Sep. In winter, the trails are impassable due to snow, while in high summer the heat is too intense.
Things to do in Corsica…
Corsica's most feared and respected walking trail is the GR20. One of the toughest in all of Europe, it's a 170km slog across the island's spine. If you can deal with the terrain, and the sometimes unstable climate, it will take you at least two weeks to terk the entire route, walking five to 10 hours a day through dense maquis and Larico pines, and up steep, rocky paths. Accommodation is usually a mattress on the floor of a tiny wooden refuge, or a tent pitched out in the elements, but some tours offer private gîtes, carrying only daypacks, and have more rest stops built in.
Flavourful and steeped in history, Corsican cuisine borrows from France and Italy but maintains its own character. On any self respecting Corsican's table, there's room for sheep and goat milk cheeses as well as an array of charcuterie. There's also rich game from the mountains and forests, such as hare, wild boar and wood pigeon, plus excellent wines. Cakes are made from chestnut flour, a local staple that sustained many Corsicans during times of adversity.
Corsica's a great place to step back in time, and if you're hoping to mix medieval fortresses with 15th century Genoese villages and magnificent baroque cathedrals, you've come to the right place. Stunning remnants of the island's past are found scattered throughout the island, and collections of French and Italian art live in its museums, including one dedicated to Napoléon, Corsica's most famous son.
Things not to do in Corsica...
Attempt the GR20 solo. Unless you're an experienced mountaineer, then avoid taking on the GR20 alone. Reading route notes, locating your position on a map, and navigating your way over narrow rocky climbs without the aid of an experienced guide could lead you into difficulty, unless you know exactly what you're doing. Aside from the safety benefits of walking as part of a small group, having others to talk to, and to share the aches and pains when the going gets tough, can make the GR20 that little bit easier.
Light fires. Wildfires can be a problem and in Corsica the wounds of widespread fires in 2017 are still fresh. Never light fires in the wild, and don't discard glass bottles which can act as incendiary devices if hit by rays. If you see glass litter, pick it up and dispose of it carefully. If you encounter a fire, call for help immediately from the fire brigade and locals. Do not fight it yourself.
Hide away in a resort Corsica is a fascinating island with strong local traditions and plenty to explore, so it would be a shame to spend all of your time hidden away at one of the island's ever growing number of all inclusive resorts. Keep this proud isle as idyllic as you can by supporting locally owned businesses at every turn, staying with them and eating in family owned restaurants.
Our top trip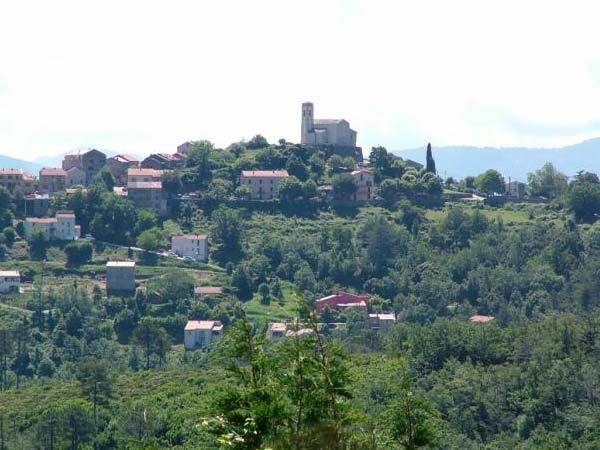 Walking in the Corsican mountains
From
£1779

to

£2399
8 days
inc UK flights
Small group travel:
2024: 19 May, 26 May, 2 Jun, 9 Jun, 16 Jun, 7 Jul, 14 Jul, 25 Aug, 1 Sep, 22 Sep
2025: 18 May, 25 May, 1 Jun, 8 Jun, 15 Jun, 22 Jun, 29 Jun, 6 Jul, 13 Jul, 31 Aug, 7 Sep, 14 Sep, 21 Sep, 28 Sep
If you'd like to chat about Corsica or need help finding a holiday to suit you we're very happy to help.

Why Corsica?
Claire Ouditt from our top Corsica supplier, Exodus, shares her advice for exploring the island:

"For me, what makes Corsica unique is the proximity of the mountains and the sea. The island is quite narrow and yet the mountains are very high… that creates a really unique landscape. The scenery is really striking. The French call it the Isle of Beauty because it is simply stunning."
Advice on when to go
"Corsica is pleasant to visit from spring all the way through to autumn. Summers can be very hot, so depending on what people want to do, cooler months than July and August might be better – and quieter, too."
Walking the GR20
"The GR20 is very tough. The biggest challenge is to be able to sustain this level of walking for two weeks almost nonstop. People are often fine for the first few days and then they really start to find it difficult because you have to keep going at that same pace. So being confident in your endurance is key. Experience of point-to-point trekking of a week or more is essential. Toilet paper is good to take as supply can vary from one gîte to another!"
Foodie tips
"Corsica is known for its cheeses and cured meats. I am personally quite fond of figatelli (a type of sausage)."
More Corsica articles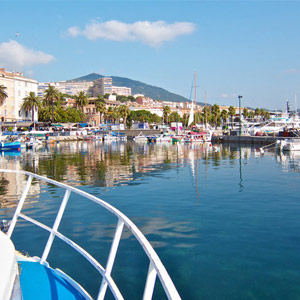 Corsica is one of France's greatest surprises – a wild outpost with an independent spirit that runs deep, despite more than two and a half centuries as part of the mainland.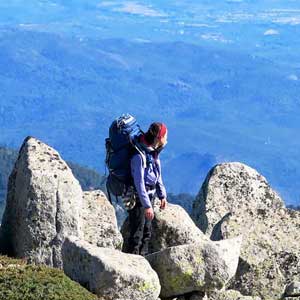 Walkers will be in their element on Corsica's mountain trails, coastal tracks and meandering village pathways, and this beguiling island has something to suit everyone from experienced hikers to gentle ramblers.