Croatia cycling highlights
---
OUR TOP PLACES TO PEDAL IN CROATIA
The Dalmatian coast is aptly named, with well over 101 spots to cycle to and coo over. Especially if you like the idea of putting your bike on a ferry, circumnavigating islands such as hedonistic Hvar or the national park of Mljet Island. Islands you won't want to leave, and more often than not, you don't have to. Croatia's cycling highlights are more about pedalling for pleasure than going on an Olympian odyssey, cycling through the vineyards of the Peljesac peninsula or past the medieval architecture of the Konavle Valley. Istria, with its Roman influences, however, is pure odyssey, with cycle routes into a whole other glorious Croatian world.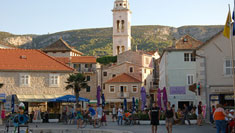 Hvar Island
Croatia's fourth largest island, you can do circular cycles around this 68km x 10.5km wide island idyll. Known for its celebrity status, oligarchs and yachties, Hvar has great cycling status too, as you pedal through old fishing towns such as Stari Grad or hilltop hamlets. All bursting with old stone houses and paths that lead through olive groves or secret coves. Who needs an oligarchy? Cycling on Hvar, you have it all.
Istria
Very popular for self-guided cycling, especially the restored 120km Parenzana railway line, which traversed the much fought over area with neighbouring Italy for many years. Especially as you end up in the wonderful Roman town of Porec. Istria's cuisine is still very Italian, allowing for feasts en route. Istria's Brijuni (Archipelago) National Park is also a must on the cycling menu, if gorging on natural beauty is your thing.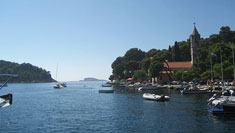 Konavle Valley
One of Croatia's best kept secrets, this narrow strip leads you south to the border with Montenegro. With the turquoise waters of the Adriatic on one side and Sniježnica mountains on the other, it's a cycling tour de force. One minute you are cycling along cliffs past ancient architecture, such as Cavtat's Franciscan monastery, the next you are heading up into rural villages and vineyard bedecked hills.
Korcula Island
Although popular with cruiseship daytrippers, because of the stunning Gothic-Renaissance Cathedral and mini Dubrovnik vibe, it is very easy to get off the mass tourism trail – and onto pine forested, vineyard lined or shimmering seaside trails. With hilltop hamlets, olive groves and gorgeous views back along the Peljesac Peninsula, it's a great place to spend a couple of nights. Visit Mljet Island NP from here, too.
Mljet (island) National Park
This island is a national park, so you feel like you are landing on a precious natural nugget. It's also, unique with two salt water lakes on it which you can cycle around. They are surrounded by pine, wooded hills with turquoise peeking through the trees, beckoning you to tiny golden beaches. Because it is, in fact, a golden nugget. Great place to swap pedals for paddles and kayak the coves at the end of the day too.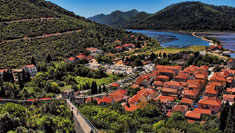 Peljesac peninsula
Get drunk on life cycling along this ambrosial arena, home to some of Croatia's finest vineyards. This elegant finger of land, with water on both sides, is also home to Ston – a town that had muscle power in the past, with the longest city walls in Europe. And mussel power today, with the most celebrated seafood in the country. Often the last cycle for people en route to Dubrovnik, this is some finale.
Croatia cycling holidays travel advice
---
TIPS FROM OUR FRIENDS IN CROATIA

Marijana Filipovic of our supplier Cycling Croatia, shares her tips on Croatia's cycling highlights:
"Don't miss our mountains in the Gorski Kotar region. Most of the tourism focuses on the blues of the coast, but this is the green heart of Croatia. You might even spot bears up there if you are lucky"
"We want people to enjoy themselves on holiday, so if they get too hot or tired, we have a backup van to pick them up and travel back with us. We just want to create trips for people who want to enjoy visiting off the beaten track by bike, but we don't want them to be exhausted."
Andrew Appleyard from our supplier of Exodus Travels: "Whilst Croatia has a fantastic coastline don't forget there are some hills to negotiate. And it's worth remembering that the weather on the coast can be very different to a few miles inland. Make sure you take your bike to Mljet, which is a national park, as it's easier to see the whole island this way. And make sure you take your trunks for a swim."

Ana Vujakovic from our Croatia cycling holidays supplier, Huck Finn Adventure Travel, shares her Croatia cycling advice:
"When planning a cycling holiday in Croatia, it is highly recommended to explore the routes you wish to take prior to your arrival due to a lot of traffic on all roads in summer months. Taking local roads is a safer way to travel or explore the area. We recommend going with a local operator that can provide bikes and has already planned routes for a good cycling holiday in Croatia. Always have a lot of water, sun cream and snacks while on the road."
Hello.
If you'd like to chat about Croatia cycling or need help finding a holiday to suit you we're very happy to help.
Rosy & team

01273 823 700
Croatia cycling holidays travel advice
---
TIPS FROM OUR TRAVELLERS
At Responsible Travel, we think the best people to advise our travellers are often... other travellers. They always return from our tours with packing tips, weather reports, ideas about what to do - and opinions about what not to.

We have selected some of the most useful Croatia cycling holiday tips that our guests have provided over the years to help you make the very most of your holiday - and the space inside your suitcase.
"Give yourself a day or two to see Split before you start with the group (there isn't a ton to see, but it is still nice to walk around the city more than the group itinerary allows), same with Dubrovnik. Also, go to Mljet - which is optional on the itinerary, but well worth it. Booking in early September was great -- not too hot for the biking" - Erika Weisbrod

"Bring insect repellent !" – Karen Brookes

"Choose the month carefully, we found June too hot" – Clive Hancock

"There are some big climbs, so make sure you are fit, especially in summer as it is also hot. Big uphill climbs were rewarded with simply stunning views of the coast and there was always a colourful village nestled in a turquoise cove just around the corner" - Sharron Beazley

"Don't be afraid to be specific about what you want. We found that our tour director was very happy to customise our trip. Cycling in Croatia can be for softies too!" - Laura Greenberg, on a self-guided cycling holiday

"Pack light, and bring water shoes and goggles as you never know when you might be swimming (beaches are beautiful, but not sandy)." - Sally Aitken

"The fact that we went early in the season meant that there were few other tourists, although it did create some minor hiccups related to transports as not all the ferries were running yet. I guess you take your choice." - Phil Russell

"We downloaded map of the area onto an iPhone and it was useful on occasion to have the GPS in addition to the maps provided." - Diana Hammans

"Learn at least a little Croatian first – most people in Dubrovnik (and your hosts in the villas) will speak basic English but many on the islands won't... Nearly all the shops are independent operators so if you're self-catering you'll save alot of pointing and gesturing, by learning how to order salami, ham, cheese and seafood." - Ryan Harrison-Grundy