Cuba is surprisingly large; it's tough to see it all even if you are travelling on four wheels, let alone two. But getting around by bike is not about seeing more of the country; it's about seeing it better. You'll get a feel for the size of the island, visit the unexplored pueblos between the main cities, stop off at little farms and fruit stalls and see what life is like in Cuba away from the tourist hubs. Buses are used to transport you on some of the longer stretches, so you can still cover plenty of ground. And you're rarely far from an idyllic tropical beach to kick back on at the end of a long, hot day in the saddle.
1. Around Baracoa
2. Las Terrazas Biosphere Reserve
3. Matanzas province
4. Sierra Maestra Mountains
5. Topes de Collantes National Park
6. Around Trinidad
7. Viñales

1. Around Baracoa
The little seaside town of Baracoa makes a fantastic base during a Cuba cycling holiday if you don't fancy moving on to a new spot every day. Within easy pedalling reach are white sand beaches, the biodiverse Boca de Yumuri estuary and stunning coastal rides. This entire region is particularly overlooked by tourists; until the 1960s it was only accessible by boat, and Baracoa retains its unique character to this day.
Las Terrazas Biosphere Reserve
2. Las Terrazas Biosphere Reserve
This unusual village was created by Fidel Castro as a model eco community in the 1960s. Today it's filled with artists and poets, and surrounded by bird filled forests and the overgrown ruins of ancient plantations. A pleasant 5km-ride takes you to the idyllic Rio San Juan, whose turquoise pools and mini waterfalls are a popular bathing spot for locals and tourists.
3. Matanzas province
Characterised by the island's largest swampland, the Cienaga de Zapata, Matanzas is enjoyably flat making for an easy ride through tranquil villages, sugar cane plantations and citrus farms. Most routes end up at Cuba's most notorious beach: the Bay of Pigs, which includes beaches such as Playa Giron, Playa Larga and hidden coves. These are pleasant spots for swimming, snorkelling and soaking up the Caribbean sun.
4. Sierra Maestra Mountains
This densely forested mountain range was the hidden HQ for Castro and Guevara's camps. The Sierra is stunningly beautiful and rich with birdlife – partly due to the difficult access which made it so appealing to the guerrillas. Cycling here is challenging yet exhilarating, as you pass towering peaks, chug up steep hills and whizz back down them in the stifling jungle heat, surrounded by revolutionary history.
Topes de Collantes National Park
5. Topes de Collantes National Park
This little-known national park is one of Cuba's cycling highlights. It has all the beauty of the mountain scenery – but none of the calf-burning ascents, as the vehicle drops you off at the top of the Sierra, leaving you to cruise down through bird-filled forest. The ride ends up at the vast and very beautiful Hanabanilla Lake, ringed with forests, hills and hiking trails.
6. Around Trinidad
The region around Trinidad is a favourite for cyclists. Undulating coastal roads rarely let the shimmering Caribbean Sea out of sight, taking you past unexplored bays, remote fishing villages and scattered farmers' dwellings. Finish up at the UNESCO-rated city of Trinidad, or the idyllic Playa Ancon, a white sand beach where you can sunbathe, snorkel or take a catamaran tour to a nearby cay.
7. Viñales
A UNESCO World Heritage Site, the gorgeous Viñales Valley is ringed with imposing rock formations and leafy banana plantations. There's plenty to see here and all of it's easily accessible by bike – from vast cave networks to tobacco farms via oxen-ploughed fields. The town itself is small and friendly; meals (and piña coladas…) are prepared using the freshest produce from the surrounding farmland.
Our Cuba cycling Holidays
Cuba cycling holidays travel advice
Packing advice
Andy Ross, from our supplier Exodus, recommends packing less than you think:

"Pack light. You don't really need that much stuff! The weather's generally very consistent; so you just need your beachwear, a couple of pairs of cycling shorts and a few t-shirts or tops… other than that you don't really need too many things. It's not essential, as you don't really have to carry much of your own gear, but quite often you see people turning up with full suitcases. If you cycle at home, you can bring your own saddle. The hire bike is included in the cost, and the guides there can put individual saddles on. Or if you use clipless pedals, you can use your own shoes and clipless pedals. It just means it's a bit more familiar and comfortable."
Coping with the climate
Adam Roberts, from our leading cycling holidays supplier Exodus:

"The heat can be a bit of an issue if you're going in Feb-March time. We design our trips so that you're not cycling in the hottest part of the day, especially if you're on a really exposed section of the route we'll factor that in for the morning. We start things off with shorter rides so that people get acclimated both to the heat and the distance.
Our top Cuba cycling Holiday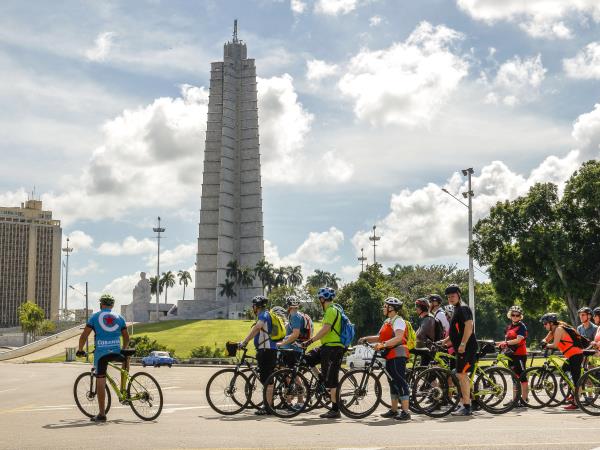 Cycle Cuba - Beaches, Mountains and Revolution!
From
£1899

to

£1999
15 days
ex flights
Small group travel:
2019: 14 Dec
2020: 18 Jan, 15 Feb, 7 Mar, 4 Apr, 9 May, 13 Jun, 18 Jul, 15 Aug, 19 Sep, 17 Oct, 14 Nov, 19 Dec
If you'd like to chat about Cuba cycling or need help finding a holiday to suit you we're very happy to help.
It's not all about the cycling!
It's not all about the cycling!
Andy Ross, from our supplier Exodus, has spent plenty of time cycling across Cuba:

"Lots of people that come on these holidays really are not serious cyclists and are not people that go out cycling every day, it's more that they just want to be a bit more active. So you're going to still see all the same sights as they would on a regular Cuba holiday, but you're not going to spend as long looking around them, and for a lot of people that's quite appealing; to have a couple of hours in one of the interesting town having cycled 70km, rather than spending an entire day having organised sightseeing or free time. It's a means to get around, and you will still see all of the sights and all of the key towns.
It's important not to take the cycling too seriously. Sometimes on holiday you see people and they're just intent on riding quickly like they might do at home – it's very easy to miss what's going on. A lot of these things I see as real highlights – stopping to meet the locals and take photographs and this kind of thing. The key is really to take it down a notch and enjoy the pace of life there."
More about Cuba cycling
You don't need to rush to see "Cuba before it changes" to experience the unspoiled side of this Caribbean island. You can cycle it instead - discovering the backroads, plantations and forgotten pueblos that few other visitors explore. Our cycling holidays in Cuba travel guide helps you book a holiday here on two wheels, with expert tour leaders, support vehicles and tips on the best time to go and what to see.
Back to the top
Convert currencies