Best time to visit Cyprus

The exceptionally mild winters, the warmest in the Mediterranean, attract visitors from far and wide but the majority fail to venture into the North.

The best time to visit Cyprus is the spring which often arrives as early as Feb. Weather is still favourable in Mar-Apr with wild flowers, including over 40 species of orchid, popping up across the ridge of the Besparmak Mountains and the hillsides towards the Akamas headland. The heat starts to kick in in May and the sun usually lasts all the way through to October. Summer is the best time for sea turtles with conservation projects to be found on Lara Bay and Alagadi Beach. Prices start to fall in autumn, so consider a getaway before the cold and rain of Dec-Jan.
Things to do in Cyprus…
The most scenic hiking trail is undoubtedly the ridge running for 100km from east to west across the Besparmak (Kyrenia) Mountains. Punctuated by crusader castles and ancient monasteries you'll find carpets of wildflowers and scented pine forests flanked by views over the Med and distant Troodos Mountains. There's also a shorter trail in the Five Finger Mountains on broad forest tracks and ridges with panoramic mountain views to the south and north culminating in the stunning 'Lover's Leap'.
Tourists flock to the south with Nissi Beach, Coral Bay and Fig Tree Bay popular Blue Flag options. In between, you'll find Governor's Beach, Lady's Mile and Button Beach all somewhat more developed. For wild and untamed head to Latchi Beach, Serena Bay, Porto Pomos, Lara Bay, Blue Lagoon Cove and around the Akamas Peninsula. In the northeast, Karpasia Peninsula is remote but worth it with Golden Beach and Nangomi Beach probably the most rewarding beaches on the island.
Cyprus boasts several agrotourism schemes set within close knit Cypriot communities, just inland from the coast and within easy access of Nicosia and the airport. The Larnaca region, especially, is well known for its collection of authentic, centrally-located villages, like Tochni and Kalavassos, which feature self catering properties; although villas close to the coast in Limassol and rural retreats in the foothills of the Troodos Mountains can be equally as enticing for those looking to live like a local.
Things not to do in Cyprus...
Support the mistreatment of animals. Just outside Nicosia there's a noise being made and not just from the lions, tigers and other captive animals at Melios Zoo. The dissonance comes from protesters concerned with the legal loophole that allows the zoo to import animals as pets therefore bypassing international trade and veterinary conventions on animal welfare. Melios is not a zoo, it's a licensed pet shop. The animals are for sale. Siberian tigers are kept in the heat of the Med. Paphos Zoo is no better. Get them both shut down.
Although the rock carved Makronissos Tombs and the local monastery are worth a mention the rest of Ayia Napa, as a resort, centres around boat parties, bar crawls and fast-food chains. So, unless you're part of the up until dawn and sunbathe from noon crowd, we'd recommend giving it a miss. However, if you are in the area, the protected Cape Greco nature reserve, in between Ayia Napa and Protaras, is well worth a visit if only for the peace, quiet and unrestricted views out to sea.
Miss out on the north. Crossing to the Turkish Republic of Northern Cyprus at the 24hr checkpoints in Nicosia is possible on foot and by hire car. The TRNC is not off-limits to travellers or Cypriots and presents a much more authentic vision of the island complete with stretches of coastline unaffected by tourism as well as ridge walks, crusader castles and splendid countryside dotted with citrus groves, turtle conservation sites and nearly 50 different species of orchid.
Our top Cyprus Holiday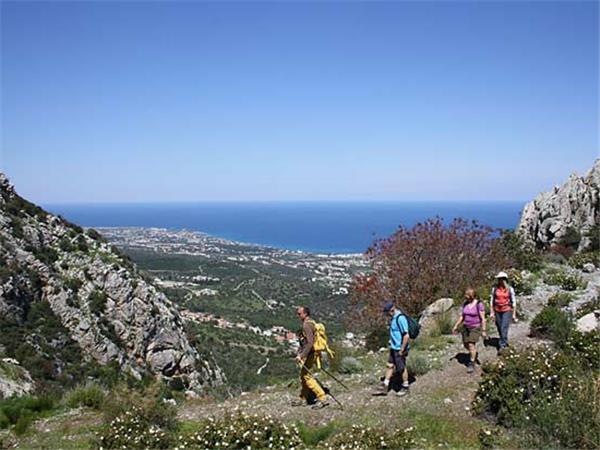 Varied walks amid rugged scenery and superb archaeology
From
£1179

to

£1849
8 days
inc UK flights
Small group travel:
2023: 6 May, 20 May, 16 Sep, 23 Sep, 30 Sep, 14 Oct, 4 Nov, 23 Dec
2024: 20 Jan, 3 Feb, 17 Feb, 2 Mar, 9 Mar, 16 Mar, 30 Mar, 13 Apr, 27 Apr, 4 May, 18 May, 14 Sep, 21 Sep, 28 Sep, 12 Oct, 2 Nov, 16 Nov, 21 Dec, 28 Dec
If you'd like to chat about Cyprus or need help finding a holiday to suit you we're very happy to help.

Mountain advice
June Zaft, co-founder of our tour partners Country Walks, shares a few Cyprus secrets:

"The best kept secret relating to the whole island I would say is the wonderful mountain range in the north, the Besparmak range. Many people associate the north with the picturesque harbour at Kyrenia but few discover the wonderful scenery. The Troodos Mountains in the south are beautiful too but hardly a secret being much more developed."
Foodie tips
"As this mesmerising Mediterranean island is situated at the crossroads of Europe, Asia and Africa, the food has evolved to cater for many different tastes. You can discover the impressive variety of cuisine by enjoying mezes, particularly in an authentic village tavern. Mezes consist of a main dish of meat or fish accompanied by a plethora of small side dishes which embrace the most traditional foods and provide food to suit all tastes."
When to see nesting turtles
When to see nesting turtles
At the protected beach of Alagadi in the north between the beginning of June and mid-September there are various opportunities to observe sea turtles, including a night watch, organised by the Society for the Protection of Turtles.
Advice for walkers
"The Cyprus Tourism Organisation has produced free guides to walking in the south. The tourist organisations of the north are now beginning to produce some publications but as yet it's best to walk with a guide or on self-guided walks written by people who know the best walks."
Cypriot hospitality
Helen, co-owner of Vouni Lodge in the Troodos Mountains, shares her local knowledge of Cyprus:

"Wherever you go on the island from our smallest villages to our towns take the time to have a cup of coffee or a glass of Zivania with the locals and you will make their day."
North/South divide
"The South is more European with luxury hotels, restaurants and clubs. At the same time the foothills of Troodos Mountains have numerous villages featuring Byzantine monasteries, Venetian bridges and nature trails. The North is like a different country - less developed with its own currency giving you the impression you are entering Turkey. The old harbour of Kyrenia is a must for those who decide to visit the North, also the area of Pelapais is of exceptional beauty."
At Responsible Travel, we think the best people to advise our travellers are often... other travellers. They always return from our tours with packing tips, weather reports, ideas about what to do - and opinions about what not to.

We have selected some of the most useful Cyprus travel tips that our guests have provided over the years to help you make the very most of your holiday.

The Emiroudes winery about 4 or 5 km the road on the way from Vouni to Pera-Pedi produces high quality wine...

"Note that there is no electronic money in Vouni, so you need to bring plenty of cash (we were there for two weeks!). The friendly local shop sells all the basics, but not everything is obvious, so ask! We mostly cooked for ourselves; but there are a couple of nice tavernas in the village too." – David Muir

"The walking terrain in North Cyprus isn't difficult, but there are rocky/stony sections, so take a comfortable pair of boots/thick-soled walking shoes. If you use them, walking poles could be helpful for the mountain treks." – Paul Watling

"If you like hikes, give yourself at least 4 days to discover all the trails in Vouni and Platres and beyond. Economy car rentals are very good and efficient and cost less than the big ones." – Oosha Rao

"Learning a few basic words of Greek seemed to be much appreciated by the local people." – Elayne Jackson

"Vouni is a small village with limited shop and other facilities. Make sure you bring necessary supplies of food and drink for your first night, particularly if not arriving until evening." – Michael Moriarty

"The Erimoudes winery about 4 or 5 Km up the road on the way from Vouni to Pera-Pedi produces high quality wine at a reasonable price although you may need to phone for an appointment." – David Graham

The walking terrain in North Cyprus isn't difficult, but there are rocky/stony sections, so take a comfortable pair of boots/thick-soled walking shoes...