Camel safari tours in Jordan
The words 'beauty' and 'camel' wouldn't normally come up in a word association game, but the word camel does actually come from the Arabic word
jamal
, meaning beauty. And, when you get over the quirky look of a camel, it does have many beautiful aspects. The graceful walk, the long, elegant legs, the big luscious lips, an almost wry smile at times, as well as those lashes and brows – both
so
on trend. Might need to work on the teeth though. What is truly beautiful, however, is the camel's ability to endure distance and time without food or water and thus survive in the extreme temperatures of the desert, storing food or fat in its hump. In this case singular as camels in Jordan, also known as Arabian camels or dromedaries, are one hump beauties.
Camels have been making life easier for desert dwellers for generations, providing food, milk and transporting them and their goods from one oasis to another safely and in relative comfort. Today they also play an important role in tourism in Jordan, and are rarely used for personal use anymore by Bedouins. In fact there are no wild camels left in Jordan anymore, although Bedouins do let their camels roam off now and again for a day or two into the wilds.
Most people associate camels in Jordan with a quick camel ride around the great Rose City of Petra which is part of a somewhat commercial caravan. However, by taking a
camel safari for a few days
into the heart of Wadi Rum, the country's southern desert, you get a feel of not only the sustenance it carries on its back, but also its vast heritage. Camel safaris are usually included as part of a longer cultural holiday in Jordan, with three or four days of deeper immersion in the desert an important part of your tour.
Our Desert & dunes Holidays
Bedouin camel culture
The Bedouin's nomadic lifestyles have long been linked to pastoralism: breeding, raising and caring for herds of both camels and sheep. This was traditionally in Badia, the name for the arid and semi arid areas which cover 80 percent of Jordan. Camel herds were synonymous with prestige and wealth, nobility even. Although many Bedouin are now settled, this lifestyle is as close to their hearts as music is to Celts or sauna to Finns. Respect and hospitality are also key aspects of Bedouin culture, with respect not only for their guests but also for their livestock. It is said that, in the past, if a female camel was unable to conceive then a herder would perform surgery on her womb, using desert ants as a way to seal any cuts in the womb caused during previous births.
Camel safaris in Wadi Rum
Camel safari holidays
are at a slower pace, however, and take place in Wadi Rum or, as the Bedouin call their beautiful vast homeland, the 'Valley of the Moon'. As you ride amid its razor-toothed mountains, wind sculpted rocks and expansive plains you will see why. Spending several days and nights in Bedouin camps, you gently traverse the great red wilderness staying in Bedouin style camps at night and having your meals prepared for you by Bedouin chefs. You will be riding with English speaking Bedouin guides, some of whom will be settled now in villages or caves around the desert, but it is also likely that some of your hosts will be from the traditional nomadic Bedouin of the Al Zalabeyh Tribe who live exclusively in and are stewards of the Wadi Rum desert. The government also playing a protective role, of course, with 720km2 of the Wadi protected nature reserve and UNESCO World Heritage Site. As a result, safaris and camp organisers have to follow very strict guidelines to maintain the area's natural heritage but also its Bedouin cultural heritage.
Sleeping & eating
Your tent will have a proper bed and the canvas tent, woven from black goat hair, stays wonderfully cool helped by the billowing layer of silk or some other cooling fabric inside. Many have en suite toilets too. You will dine outdoors, often seated on an array of Bedouin carpets or around a fire, and enjoy traditional Bedouin food. This is absolutely delicious. The most common dish is
zarb
, or platters of chicken and root vegetables that have been slow cooked in the ground for three hours in a charcoal fire pit, and covered with an array of herbs and spices. You won't starve on this desert safari, that's for sure, and you may end up storing a fair bit of your own fat.
During the days you head out on your camels in a caravan, usually linked to your Bedouin leader with a long rope so that you still have plenty of distance between you, and take in the arid mountains, oases such as Lawrence's Spring after
you know who
(although the Bedouins must be sick of hearing his name at this stage), Jabal Khazali mountain as well as several other exquisite desert elevations, massive sand dunes and the beautiful Burdah and Um Froth Bridges. These latter two are extraordinary natural features in the pink sandstone rock. Khazali canyon is one of the most famous places in Wadi Rum desert which, although it is only 100m long, you can't help but be struck by the ancient inscriptions and petroglyphs on the walls, especially the ones of camels.
Berber coffee
Coffee fans get ready. This drink is an important symbol of Bedouin hospitality and every family must have some in storage to show that they are ready to welcome guests. In the morning, the tradition was that the sheik of the village, who lived in the largest of their hand woven black and white tents, located at the highest peak in the region, would mill the coffee using his 'misbah' or mortar. The sound of this illustrated that he too was ready to receive visitors in his role as elder. So, wake up and hear the coffee is the Bedouin way. And then sit for a while and let your senses awaken with the sun rising over the great Wadi Rum, before you mount your camel for another day of adventures.

They like things in threes in Bedouin culture. Guests should be entertained for three days, and three cups of coffee is the polite amount to drink. Bedouin don't traditionally ask you personal questions until after the three days are up, as it is deemed impolite, so beware if the coffee consumption ups your capacity to chatter.
Wadi Rum wildlife
Keep an eye out for wildlife from your camel-top vantage point, as Wadi Rum is far from deserted. The largest species is the Arabian oryx, which is a species of antelope, but you will also see lizards and an array of birdlife, the most famous being the Sinai rosefinch. Jordan's national bird is so called because it boasts the same pretty pink as that of the desert and surrounding sandstone mountains.
The comfort of camels
For most people this is a bit of an oxymoron, and you will certainly discover muscles that you didn't know you had on a camel safari. However, the secret is to just let the body go loose and let it follow the movements of the camel, while holding onto the wooden pommel. Some have stirrups, others don't, and Bedouin don't use them traditionally. They will add blankets to the saddle for extra comfort if necessary, but don't worry about clinging on with your thighs as you would on a horse. The looser the better to enjoy this dance in the desert. And all its joyous jamal.
Our top Desert & dunes Holiday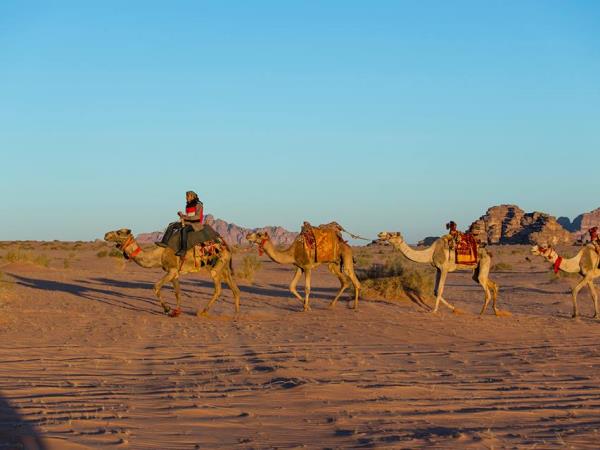 Taste the real life of Bedouin at Mars on Earth, Wadi Rum!
From
US $1915
10 days
ex flights
Small group travel:

If you'd like to chat about Desert & dunes or need help finding a holiday to suit you we're very happy to help.
Responsible tourism & camel safaris
Traditions have changed over the years of course but, more recently, due to an economic downturn in Jordan, the traditional respect and care for camels isn't always front of mind, sadly, with camels being worked harder and harder to gain much needed tourism income for their owners. This is not the case on safaris, but it is more common with some quick camel trips around Petra, although it is something you should
never
come across with a responsible tour operator. Read more about this in
our responsible tourism in Jordan guide
. One tradition that hasn't changed is that of camel racing, which has always been a feature of special occasions, the largest race being the Sheikh Zayed bin Sultan Al Nahyan Camel Race Festival with 500 camels competing. These races, the treatment of camels and also their riders have been very controversial, and they are not something we support at Responsible Travel.
More about Desert & dunes
Convert currencies