Desert & dunes holidays guide
There is something intrinsically romantic about travelling in the desert. The harsh beauty of landscapes shaped by the elements; the honour and generosity of the people that live there, which is essential to their own survival, and the exotic stories and legends of the sands, from 'The Arabian Nights' to Marco Polo and T. E. Lawrence.

Camping under the stars, following the crests of the dunes by camel and watching the mist lift off the sand in the morning; desert voyages are just as alluring as you've always pictured them.

Desert travel can mean exploring palm fringed oases, vast plains of salt, geothermal geysers and savannah grasslands where wildebeest play hide-and-seek with predators. Because one thing that desert scenery is definitely not is bland. Even when all you can see are dunes stretching endlessly off into the distance, the sand ripples with colours, making it a dream for photographers. Find out more in our desert and dunes travel guide.
Our Desert & dunes Holidays
What does a desert & dunes holiday entail?
Getting around
Not every vehicle is cut out for desert travel, but then again, not all deserts are the same. In Chile's Atacama Desert you might be transported mostly by van, whereas elsewhere more rugged terrain may require switching to 4x4s and quad bikes, or rocking gently from side to side atop that most dependable of steeds: a camel. A camel ride is a memorable experience – and not usually a very comfortable one, but they rarely last more than a couple of hours. Wrapping a light scarf around your face isn't just the right 'look', but a very practical approach.
Desert accommodation
Types of accommodation vary country by country too. In Southern Africa's Namib and Kalahari you might be wild camping, or staying in luxury lodges or tented camps. In the Atacama and Thar Deserts, locally owned hotels take precedence. And in the Sahara and Arabian Deserts where nomadic Bedouin people are to be found, you can stay the night in a traditional tented camp amid the dunes. These tend to be a lot more luxurious than you might think, and will usually be combined with activities such as a fire-roasted feast, song and dance performances, and stargazing that will leave you gasping.
Small group or tailor made trips?
Most desert and dunes holidays are small group tours, typically with between eight and 16 participants, where both the itinerary and departure dates are fixed in advance. Some of these are also suitable for adventurous families with teenagers. You can also opt for a tailor made trip, giving you the freedom to choose your standard of accommodation for instance, or to add in a few days at a nearby coastal resort if there is one, to cool down after the desert.
What do I need to bring?
By the time the sun is at its full height in the desert, the heat comes at you like a drawn sword. Even if you're travelling in winter you will need sun protection, suitable headgear such as a wide brimmed hat, and clothing that keeps you well covered. Luckily, the dry heat means that covering up is not too uncomfortable. Many tours will advise you to bring a sleeping bag along, but in warmer months a liner will suffice – although do check, as temperatures can drop precipitously at night. You'll need water too of course, lots of it. Your tour leader and guides will ensure there is always plenty, but carrying a reusable bottle or two will help you reduce your plastic usage in places that can struggle with recycling.
Our top Desert & dunes Holiday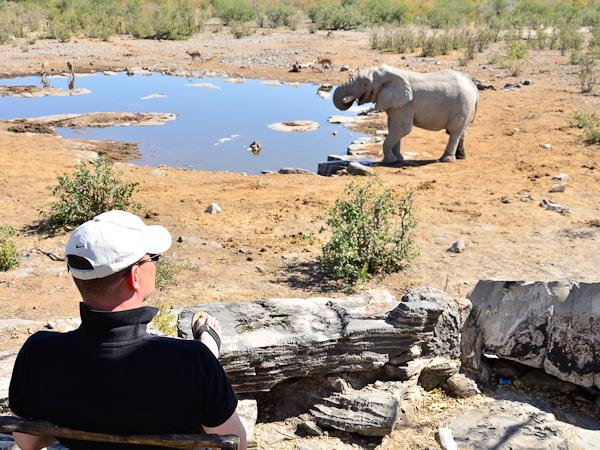 Namibia & Botswana lodge safari Caprivi Etosha Okavango
From
£2895

to

£3480
21 days
ex flights
Small group travel:
2019: 10 Nov, 15 Dec, 29 Dec
2020: 5 Jan, 9 Feb, 15 Mar, 12 Apr, 17 May, 31 May, 21 Jun, 28 Jun, 5 Jul, 12 Jul, 19 Jul, 26 Jul, 2 Aug, 16 Aug, 23 Aug, 6 Sep, 13 Sep, 27 Sep, 18 Oct, 25 Oct, 8 Nov, 15 Nov, 13 Dec, 27 Dec
If you'd like to chat about Desert & dunes or need help finding a holiday to suit you we're very happy to help.
Best time to go on a desert & dunes holiday

The best time to go on a desert and dunes holiday naturally depends on which desert you have in mind, but wherever you go, it's a bold person that arrives in summer.

The mistake that many people make about desert travel is thinking that it's going to be baking hot throughout. In fact temperatures can drop a long way overnight, even in summer. If you're camping, you'll want to pack a few extra layers as well as high factor sunscreen. Or you could just cuddle up to your camel. In winter, hats and gloves can come in handy, especially if you're going to be out after sunset for stargazing, or embarking on pre dawn game drives.
Desert & dunes, month by month
Daytime temperatures have been known to reach 54°C in the Arabian Desert, and the Sahara gets even hotter, though thankfully that is rare. One big advantage to having a local guide with you is that they can lead you to shade from the midday sun, and prevent you from heading towards what looks like an oasis but is actually nothing but a mirage. India's Thar Desert is at its least humid between November and February, with December and January having the coolest temperatures by day or night. The shoulder seasons of September to November, and March to May, are the best time for visiting Chile's Atacama Desert. Daytime temperatures are pleasant, and it's not too cold at night. There are far fewer tourists around too. March, April and May are the winter months in Oman, and see the mildest weather in the Arabian Desert. Daytime temperatures are typically in the high teens and early 20°Cs. In the Gobi Desert, the mercury can rocket to 50°C in June, July and August. Visit in September instead, when both temperature and visitor numbers are dropping. October is a grand time to explore the Moroccan Sahara. The temperature is not so fierce, and you avoid the freezing nighttime temperatures of December and January. Sandstorms are most common earlier in the year, too. The dry months of April to November are a great time to see animals Namib and Kalahari Deserts. While the rainy season gives the landscapes a wonderful freshness, the dry season is much better for spotting wildlife in sparse vegetation. It's getting pretty hot by November though.
More about Desert & dunes
Back to the top
Convert currencies