As the only country in Africa never to have been fully colonised, Ethiopia is a rare glimpse into a culture little influenced by the West. Like many African nations, it has its own languages, but it is the only African country which also has its own unique alphabet. Ethiopia also has its own time (the daily clock starts at 6am, not midnight), and its own calendar, roughly seven years and nine months behind our own.

The country is largely Christian, but having been so since around 330AD, Orthodox Christianity here far predates the colonisation of Africa; Ethiopia is, in fact the second oldest Christian country in the world. Religion is enormously important in Ethiopia – for the Christians, Muslims and many tourists, who come to admire the impressive rock hewn churches, or to make the pilgrimage to the little chapel in Aksum, where the Ark of the Covenant is said to rest today.

Religion also wields a huge influence over daily life in Ethiopia. Visitors will hear the calls to prayer, see the churches, chapels and mosques which are focal points in every town, and join in the many religious festivals that take place across the country.

Feasting & fasting
The staple food in Ethiopia is injera – a huge, slightly spongy, sourdough 'pancake' made with teff flour. Served on a large platter, toppings (wot) are spooned onto the injera, which are then eaten by tearing off a piece of the pancake to scoop them up.

It's a bit love-it-or-loathe-it, but whatever your view, it's definitely an experience; especially as local custom dictates you must eat only with your right hand. Given that little else is served outside of Addis, you'll likely become an expert by the end of your trip. The Ethiopians love their spice, and the wot are heavily seasoned with a spice mix called berbere, which seems to infuse just about everything – edible or not.

Another distinctive feature of Ethiopian food are the fasting days. These take place almost every Wednesday and Friday, as well as for 55 days leading up to Easter. Only vegan or sometimes vegetarian meals are served during the fasting days; because of this, vegetarians will find Ethiopia an easy country to travel in. The meat-mad can get their fix - with raw or cooked chunks of steak, or raw minced meat for the very brave – during non-fasting days.

Our top Ethiopia Holiday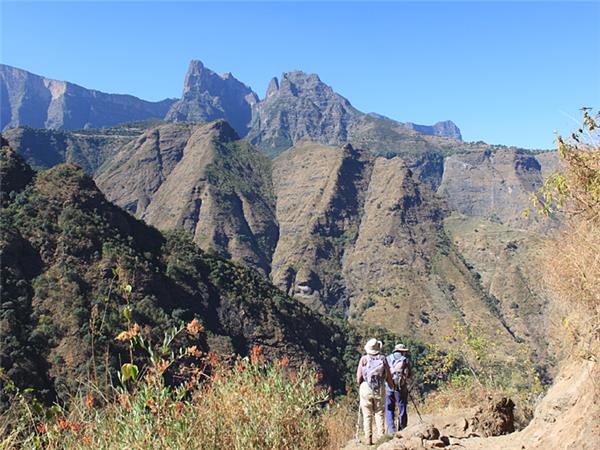 Trek the isolated splendour of the Ethiopian highlands
From
£3399

to

£3499
15 days
inc UK flights
Small group travel:
2019: 6 Oct, 10 Nov, 24 Nov
2020: 9 Feb, 23 Feb, 4 Oct, 25 Oct, 8 Nov, 22 Nov
If you'd like to chat about Ethiopia or need help finding a holiday to suit you we're very happy to help.
The tribes of the Omo Valley
Think 'Ethiopian culture' and what will likely spring to mind are the photogenic tribes of the Omo Valley, whose portraits are splashed across books, blogs and magazines around the world. Like so many tribes who have clung to a traditional way of life as modernisation tornadoes around them, the Omo Valley tribes have found themselves in the eye of a storm – threatened firstly by tourism, and now by
possible displacement
to make way for a dam. But in this landscape, where it is believed humanity originated, some 200,000 people, comprised of around 12 tribes, continue to live as agriculturalists and pastoralists. Inter-tribal marriage is not usually permitted, which has maintained the unique cultures and languages, and this region is considered the most genetically and linguistically diverse place on the planet.
Visitors to the Omo Valley will observe the visual differences between tribes – the heavy lip plates of the Mursi women, the mask-like face paint of the Surma and Kara boys, the ochre-and-butter rolled hairstyles of the Hamer tribeswomen. Their festivals and rituals fascinate too – particularly the famous bull jumping ritual, a rite of passage for young men coming of age.

Cattle equal status here, and women are valued for their dowry, which can include dozens of cows. As well as providing milk, cattle provide blood and meat for consumption in the dry season, when other food is scarce. Their hides, bones and horns will also be used. Due to their high value, cattle rustling is always a threat.
Ethiopian culture can be quite a shock to the system, but there are numerous ways you can dip your toes into this fascinating society before you embark on a holiday.

Ethiopian and Eritrean restaurants exist in many cities outside of Ethiopia; book a table with some friends to work your way through the wot and wrap your fingers around the injera. Wash it down with honey wine and coffee. Ethiopian music is pretty bonkers, but strangely catchy. Listen to Krar Collective to familiarise yourself with this traditional stringed instrument and the strange African/Middle Eastern rhythms it follows. Or tune in to Mulatu Astatke, known as the father of Ethio-Jazz, whose influences span Ethiopia, London and the US, making him one of the best-known Ethiopian musicians on a global level. If that's a bit much, you could always try some reggae. The Rastafarian movement was named after Ethiopia's Emperor Haile Selassie I, known as Prince Ras Tafari prior to his coronation. He was seen by Rastafarians as the second coming of God, and Ethiopia as the promised land. Selassie donated 500 acres of his land to allow people of the Caribbean to be 'repatriated' in Africa; today, this area is called Shashamene, and some 200 Rastafarians live there, still bobbing along to the Caribbean bass. Sharp eyed travellers will notice that the Rastafarian flag is the same as the Ethiopian one – with the addition of a lion. Dervla Murphy travelled across Ethiopia by mule and donkey in 1966; her account, In Ethiopia with a Mule, provides a warm insight into this culture, which has not changed greatly, along with the highs and lows of travel in Ethiopia.
Convert currencies