Walking holidays in Ethiopia
Ethiopia is still a long way off the beaten tourist trail, meaning its own trails remain wonderfully crowd-free. This is a unique and magnificent trekking destination, and a fantastic opportunity to escape from the route around the main sights to get to know the culture in-depth through speaking with your guides, and encounters with local people in communities you pass along the way.

During your treks you can expect to see many examples of Ethiopia's wildlife, much of it endemic, from grass-chewing geladas to rare Ethiopian wolves, and birds of prey wheeling in the sky above. Sightings made by your group may be passed on to help with conservation research.

Most walking is done in the north of the country, particularly in the Simien Mountains National Park and the Gheralta Mountains of the Tigray region. But lighter trekking is also involved when bird watching in the Bale Mountains south of Addis Ababa. You'll stay in a mixture of locally owned lodges, where you can expect the accommodation to be quite Spartan but comfortable enough, and tents at both permanent and wild campsites.
How fit do I need to be?
For walking in Ethiopia you will want to be reasonably fit, as you'll often be at altitudes of over 4000m, covering daily distances of 7-21km each day, so it can be fairly demanding. But if you walk regularly, and you're in good health you should be fine. Poles of course can be an advantage, and you'll naturally need a hat to protect you from the sun.

Expect some challenge with steep ascents and descents in places, such as the Devil's Staircase in the Simien Mountains. For this reason, mules are usually employed to carry equipment and supplies including water that is boiled daily to minimise the use of plastic bottles. Local guides, cooks and porters also accompany you, and depending on where you're walking, an armed guard.

These can be either small group tours (with numbers up to around 16 people) or tailormade, which allow you to upgrade to a little more luxurious accommodation in places. Treks can range from four to 18 days so there's plenty of choice when it comes to how active you want to be.
When to go walking in Ethiopia
The best time of year for walking in Ethiopia is between October and January, when the rains have come to an end and the scenery is at its most lush. From November onwards the agricultural season gets underway and you'll encounter many people at work in the fields, while January sees the Timkat festival, celebrating the baptism of Jesus by John, which is a major event in the Gondar calendar. The rainy season ends slightly earlier in the Simien Mountains than it does in other parts of the country, so you can trek from September onwards.
Our top Ethiopia Holiday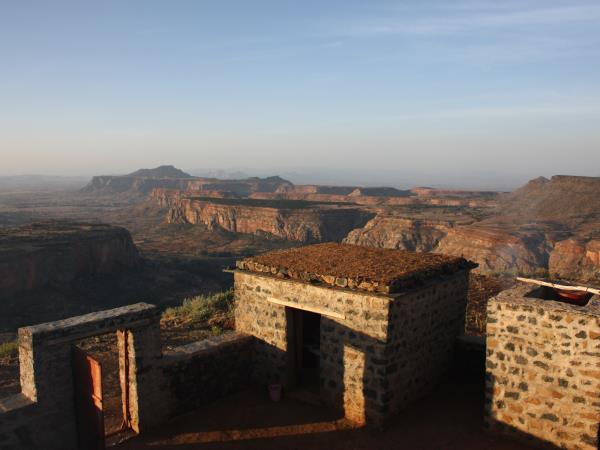 Walk through beautiful landscape as guests of the Villagers
From
US $205
4 days
ex flights
Tailor made:
This trip can be tailor made throughout the year to suit your requirements
If you'd like to chat about Ethiopia or need help finding a holiday to suit you we're very happy to help.
Walking in the Gheralta Mountains
North of the Simien Mountains National Park, the Gheralta Mountains are home to a number of rock-hewn and frescoed churches and hermitages similar to but not so well-known as those of Lalibela, perhaps because they're harder to reach. The mountains lie in the Tigray region, and walks here can be combined with seeing the amazing obelisks of Axum. Lower down than the churches you can visit farmsteads and villages that tend to see very few tourists, where farmers plough their fields using physical labour as they have done for centuries. Summit mountains, rest beneath groves of olive, eucalyptus and cacti and camp beneath sycamore trees where scores of exotic birds come to nest.

Walking is also done in other parts of Tigray, less adventurous as you stay in the foothills. You'll be accommodated in quiet villages with not a great deal going in the evenings beyond the odd performance of traditional dance, and your luggage will be transferred between lodges by mule.
Walking in the Simien Mountains
The Simien Mountains National Park was one of the first UNESCO World Heritage Sites to be created. Usually treks here follow a circuitous route from Sankaber, but you can also take an extended route all the way back through the foothills to the ancient capital, Gondar. You might climb Ras Dejen, 'the Roof of Ethiopia', at 4,563m the highest peak in the country, a walk that necessitates a dawn start. Or you might explore the rural communities in the semi-arable lowlands, perhaps venturing further up where you'd meet cattle and goat herders going about their business.

The landscapes of the Simien Mountains are sublime: plunging valleys, waterfalls tumbling down the walls of gorges, towering mountain formations known as the Chess Pieces of the Gods, and immense highland plateaus where you're likely to encounter troops of grass-chewing geladas numbering up to 200. There are Ethiopian wolves here, jackals and even the odd lion.
"The trek in the Simien Mountains was truly memorable. It felt like we had the whole Mountain range, a world heritage site, to ourselves. Ethiopia is a beautiful mountainous country with historical sites to rival some of the best in the world, but with a tourist industry just getting off the ground the sense of exploration and privilege of seeing it now is palpable." – Matthew Thomas in a review of his Ethiopia holiday

"Make sure you are able to walk on uneven ground in altitude. Easy for most people but must be a consideration for older travellers in particular." – Anne Cooper in a review of her Ethiopia holiday

"Take some alternative nibbles for when you tire of injera. Wear high factor sunscreen – it's high up so it might not feel hot but you burn quicker. Drink lots of water. This was an excellent experience. The walking wasn't too strenuous, the guide was very good, there was plenty of cultural interaction, the scenery was spectacular, and we felt welcome at all times." – Joe Downie in a review of his trekking holiday in Ethiopia
Convert currencies