Wildlife holidays in Ethiopia
Most people, when they think about African wildlife, will be picturing the Big Five or perhaps the gorillas and chimpanzees of Uganda. But Ethiopia, well beyond the mainstream tourist track and boasting many relatively isolated regions, is a thrilling country to 'safari', with a number of species that cannot be seen anywhere else on Earth. These creatures are framed against some absolutely stunning landscapes from the Simien Mountains in northern Ethiopia, formed volcanically before the Great Rift Valley, to Lake Tana, said to be the source of the Blue Nile.
Where to see wildlife in Ethiopia
Simien Mountains National Park
Simien Mountains National Park is a popular trekking and camping destination that is a regular feature on Ethiopia holiday itineraries. Ras Dejen here is, at 4,563m, Ethiopia's highest peak. Besides the baboon-like geladas that wander the grasslands, pulling out clumps to chew, you may see wildlife including the rare Walia ibex, red foxes, jackals, klipspringer antelopes and even, if you're incredibly lucky, the Ethiopian wolf, Africa's most endangered carnivore. Leaving the mountains you may well pass through the Tekeze Valley, where huge, water-hoarding baobab trees loom above you.
Lake Tana
Heart-shaped Lake Tana is the largest body of water in Ethiopia, its shores and islands dotted with ancient churches and monasteries. Its immense cultural significance notwithstanding, the lake is also renowned for its wildlife. Colobus monkeys dance in the boughs of trees on the islands, hippos submerge themselves in the shallows, often to be seen on boat trips, and the birdlife is spectacular – you may see pelicans, kingfishers and fish eagles here among many other species. The surrounding biosphere reserve is habitat for porcupines, hyenas and rock pythons, Africa's largest snake.
Awash National Park
East of Addis Ababa, and with a dormant volcano at its centre, Awash National Park provides habitat for over 400 species of native birds including ostriches. Boat trips on the Awash River will often result in sightings of crocodiles sunning themselves on the banks, while game drives on the tracks that criss-cross the park may reveal oryx, gazelle, waterbucks and dik diks – small antelopes so-named for the whistling sound of warning that the females make in the presence of predators.
Nech Sar National Park
Covering a small section of the Great Rift Valley, Nech Sar is one of the country's least visited national parks. Herds of zebra and gazelle graze the grasslands, and there are rumours of the odd lion, but sadly the days of cheetah, elephant and giraffe populations are long gone here. Vervet monkeys can be heard chattering in the trees and there is a patch of shore on Lake Chamo known as the 'Crocodile Market' where at times hundreds of the toothsome reptiles sprawl menacingly.
Our top Ethiopia Holiday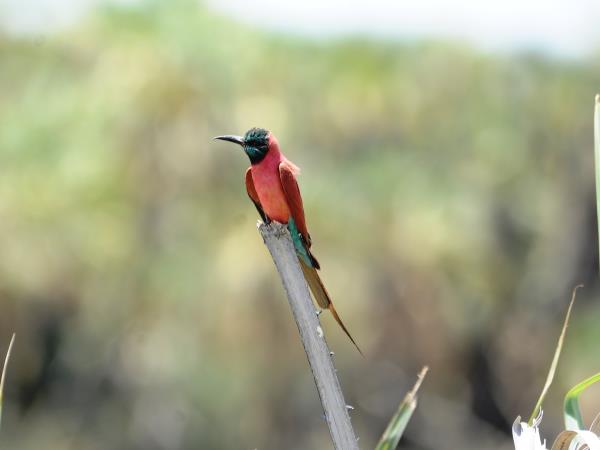 Discover Ethiopia's vast array of unusual birds
From
£1447
10 days
ex flights
Tailor made:
This trip can be tailormade at a time to suit you and can be adapted to suit your interests, budget and requirements as necessary. Minimum 2 people
If you'd like to chat about Ethiopia or need help finding a holiday to suit you we're very happy to help.
Yabelo Wildlife Sanctuary
Originally intended as a protected area for hartebeest, which have sadly now been poached out of existence here, Yabelo Wildlife Sanctuary is now best known for its incredible birdlife, with almost 200 known species including Prince Ruspoli's turaco, one of Africa's rarest birds.
Bale Mountains National Park
Considered one of the best birding sites in all of Africa – some 280 species have been recorded here – Bale Mountains National Park in the Ethiopian Highlands also holds around a quarter of the country's endemic wildlife species. Across several distinct habitats you may see leopards, wild dogs, hyenas and the critically endangered Ethiopian wolf, which preys on rodents. There is also a small population of black-maned Lions.
Bird watching in Ethiopia
Ethiopia is one of the finest countries in Africa for bird watching with over 800 recorded species, including some 23 endemics. Specialist bird watching tours here focus on the Bale Mountains, and may cover locations such as Awassa Lake to see pygmy goose, grey kestrel and African firefinch; the Sanetti Plateau; Abijatta-Shalla National Park where ostriches can be observed, and the Harenna Forest which is the best place in the country to see the Ethiopian wolf.
The 'bleeding heart baboon'
Among the most sought-after wildlife on Ethiopia holidays are geladas, sometimes known as 'the bleeding heart baboon' for their bright red chests, which live in large populations in the Simien Mountains. Despite the nickname they are not actually baboons, but actually the last surviving remnant of a branch of primates that live at high altitudes and eat grass. Endemic to the Ethiopian Highlands, they are generally unfazed by humans and will often gather in large numbers close to tour groups, so you can watch them grooming each other and playing. Curiously, the geladas seem to have developed a form of mutually beneficial
truce with Ethiopian wolves
, and appear content to let the carnivores wander nearby without appearing scared, while the wolves themselves seem uninterested in having monkeys for lunch.
"(In) The Simien Mountains we were lucky enough to see 5 Ibex in one day with our wonderful interesting guide ( who knew so much about the flora & fauna of the country as he was born there!) and the Bale Mountains were we spent a very lovely afternoon walking through the forest with a guide and saw so many animals Nyala, Reedbuck, Bushbuck and warthogs. All the animals were so close to us and it was a really fabulous time." – Kim Mahon in a review of her Ethiopia holiday

"The trekking and stay in the Simien mountains was amazing for the stunning geology, wildlife and flora. Our two nights in Awash national park were a hit too but seeing a hippo just a few metres from our boat on Lake Tana after returning from the island monasteries was a real highlight!" – Keith Muir in a review of his bird watching holiday in the Bale Mountains
Convert currencies