Best time to visit Faroe Islands

The Faroe Islands' weather is notoriously changeable – you can experience strong sunshine, fierce winds and thundering rain, all within the space of a few short hours.

They say that the Faroes can experience all four seasons in one day, and if you're visiting you'll need to make sure you're well prepared for any eventuality. Though it doesn't snow that often or that heavily, the islands are rainy, cloudy and often battered by ferocious winds, thanks to their exposed position. The best time overall to visit the Faroes has to be during the summer months of May to August, when the evenings are light and the weather is at its most stable; when wildflowers bloom in the valleys and thousands of birds nest along the sheer cliffs.
The Faroe Islands, month by month
June, July and August are the brightest and most temperate months in the Faroe Islands. There's daylight for up to 20 hours a day, average highs of around 13°C and the least amount of rain. It's also the best time to see puffins on Mykines Island, and the time when locals flood the streets to enjoy food festivals, outdoor concerts and national celebrations. Late July, for example, brings the two-day Ólavsøka Festival, a national holiday full of parades, concerts and traditional dancing. Come September the weather is still mild and most other tourists have left, so you'll have even more breathing space at the country's top attractions. October and November bring wind and rain, which continue into the winter months of December, January and February, when temperatures waver between 1°C and 6°C. Daylight is scarce during these months, and the skies start to darken at around 2pm. March, April and May are a great time to visit the Faroe Islands, as flowers bloom, the birds start to return and the sun makes more of an appearance.
Our Faroe Islands Holidays
Things to do in the Faroe Islands
Things to do in the Faroe Islands…
The Faroe Islands is made for outdoor activities: horse riding, climbing, sea kayaking, sailing, fishing and wild swimming are all on the cards, but even more accessible are walking and cycling. Hikers could choose to trek from Tórshavn to Kirkjubøur to see the oldest church in the Faroe Islands or make the steep, 2km ascent to Slættaratindur, the islands' tallest peak at 880m. Cyclists, meanwhile, can make use of the archipelago's excellent roads, whose smooth surfaces and low volume traffic make for an easy, breezy bicycling experience, allowing you to soak up the landscape and spot wildlife that you might otherwise miss in the car.
The Faroe Islands is a brilliant destination for birders. The environment is perfect for migratory birds, who come here to breed and nest during the summer months. The tiny island of Mykines becomes home to millions of birds over the summer, including puffins, sparrows, storm petrels, gannets, guillemots and the national bird of the Faroes, the oyster catcher. Easier to reach are the Vestmanna bird cliffs. A short boat ride from the capital city, they offer the chance to gaze up at thousands of birds from the water below.
Driving in the Faroes is about more than just getting around, it's a highlight in itself, and self drive tours are a great way to explore on a week-long trip. Sweeping roads hug the cliffs and mountains, showing off the fjords and green landscape to their best, and the excellent infrastructure of beautifully paved roads and undersea tunnels means you can cover plenty of ground without the need for a 4WD.
Things not  to do in Faroe Islands…
Art and music are flourishing here so don't forget to explore the creative side of the islands. Capital city Tórshavn may be small but it has a symphony orchestra and a smattering of excellent design shops, museums and galleries, including the striking modern National Gallery, which shows off local artwork, and Nordic House, where you can take in music, dance and theatre performances and well as and art exhibitions. The Faroese love their festivals and summer sees several foodie and cultural events, including the outdoor G! Festival, which attracts thousands of people from home and abroad to the diminutive village of Gøta to listen to rock music and chill out in hot tubs on the beach. Faroese cuisine has generated plenty of column inches over the past few years and with good reason, so don't miss out on the local food. Meat and seafood are big news here and traditional dishes include skerpikjot (wind-dried lamb) and roestur fiskur (wind-dried fish). For a memorable dining experience, you can pay to eat in a local home – a practice called heimablídni, or 'home hospitality' – but you can also try out one of the capital's fine dining restaurants or make for the Faroe Islands first Michelin-starred eatery, KOKS, located in the village of Kirkjubøur. Tailor made tours that emphasise the great eating here are available. The weather in the Faroe Islands is notoriously unpredictable so don't forget your waterproofs. You don't know what's in store for you on any given day, though cloud, rain and wind are probably on the agenda. Pack rain gear, layers, hats, gloves and a good pair of hiking boots. And try to be a little flexible when it comes to planning – ferries and helicopters can get cancelled in bad weather.
Our top Faroe Islands Holiday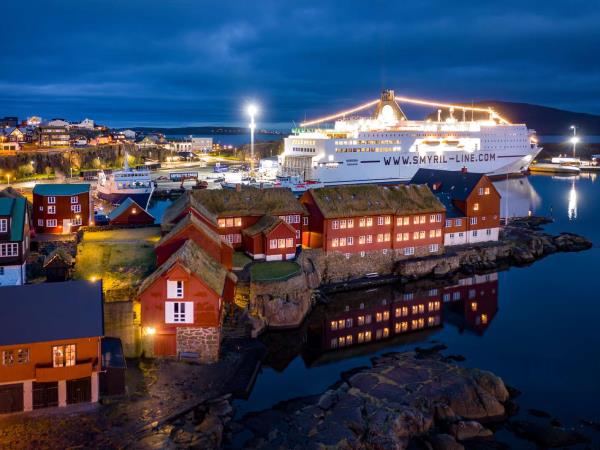 Amazing opportunity to travel flight free to Iceland
From
£4980
15 days
ex flights
Tailor made:
This trip can be tailor made throughout the year to suit your requirements
If you'd like to chat about Faroe Islands or need help finding a holiday to suit you we're very happy to help.

Faroe Islands travel advice
Faroe Islands Highlights
Michael Voss, from our supplier Regent Holidays:
"My favourites include Mykines Island and the Vestmanna bird cliffs for spectacular views and bird watching, the villages of Saksun and Tjørnuvik on the island of Streymoy for picturesque and historical places and the island of Nólsoy, a 20-minute ferry ride from the capital Tórshavn, for an (even) slower pace of life - if you stay there overnight you can see Europe's largest colony of storm petrels.
Getting around
Laura Greenman, from our supplier Magnetic North Travel:
"If you have up to a week to spend on the Faroe Islands, you can cover many highlights. Most people opt for a self-drive tailor-made itinerary, but increasingly people are requesting to see the islands by bike. For example, we offer an itinerary enabling guests to take the 'slow road' and uncover the real Faroe Islands at a relaxed pace. Yes, you're more open to the elements, but the rewards are great and the itinerary very flexible. We also think it's important to encourage cycle touring and cycle trips wherever possible to reduce motorised traffic, and we're proud of the work we've already achieved there.
Eating in the Faroe Islands
Laura Greenman from Magnetic North Travel:
"Since the restaurant Koks received its first Michelin star in 2017, the Faroe Islands have become an overnight foodie destination, albeit a rather remote one. Local produce and inventive chefs have begun an exciting journey pushing the boundaries of cuisine and cookery on the islands. Often they look back to ancient practices such as fermenting, smoking, salting and drying and combine these with modern standards of taste and presentation. Underneath is a keen passion for sustainability as the islands ensure that farming methods preserve landscapes and protect animal welfare."

Michael Voss from Regent Holidays:
"Due to its remote nature the Faroese have had to be quite creative with their food, particular to sustain them through the winter. Nearly every house will have attached a "drying house" in which they will store lamb over the winter and you will often see fish hung outside houses drying. As an island of fishermen there's also a wide variety of fresh fish available. The dried and cured lamb and fish have very distinctive tastes and are served with berry sauces foraged from the countryside during the summer."
Costs
Michael Voss from Regent Holidays:
"The Faroe Islands is roughly on par with Scandinavian countries and Iceland so costs for eating out, particularly in better restaurants, and alcoholic drinks are probably about a third more expensive than in the UK. In general public transport on buses and ferries is very good value and convenient, as is helicopter travel between the islands (which also provides spectacular views). To keep costs down you can stay in guesthouses with shared facilities, and there are also a number of B&Bs and hostels for the budget conscious. In terms of food many hotels and restaurants offer buffets in the evening, and most towns and villages have cafes which are reasonable. If you're driving, most petrol stations include a café selling good value burgers, hotdogs and sandwiches."

Laura Greenman from Magnetic North Travel:
"The Danish Krone is used on the islands, and since this is a strong currency, a trip here can be expensive, coupled with the fact that demand outstrips supply in terms of accommodation. Pre-booking a package itinerary ensures that you get the best deal possible and that you're taken care of once on the islands."
When to go
Laura Greenman from Magnetic North Travel:
"The best weather in the Faroe Islands is during the summer months of July and August - but these are also the busiest. The island has very few hotels and guesthouses, so chances are you may find little or no availability for those weeks. My suggestion is to travel in May, June or September, just outside of shoulder season when it's a little quieter and the weather is a little more stable. Pre-booking your accommodation is essential, as the islands are unable to cope with influxes of travellers with nowhere to stay."

Michael Voss from Regent Holidays:
"Go between May and September when the weather is more reliable, and there are more cultural events such as outdoor concerts and mid-summer celebrations going on. Some museums are closed or have restricted opening hours outside of these months."
Packing tips
Michael Voss from Regent Holidays:
"Be prepared for all weathers! Bring sturdy walking shoes and comfortable light clothing in summer (especially if planning on walking), but be prepared for wind and rain which can arrive suddenly in short bursts. Warm jumpers and a waterproof jacket are essential year round, especially if taking boat trips such as to the Vestmanna bird cliffs or ferries between the islands (if you want to sit outside to see the views – which you should)."
Laura Greenman from Magnetic North Travel:
"There is very little snow in the Faroe Islands due to the Gulf Stream, but where it lacks in the white stuff, it more than makes up for in windy and blustery weather. Wind-proof gear is a must have - a thick fleece lined jacket, hat, gloves and water proof trousers in particular. It's also a good idea to pack layers for when the sun comes out."
More about Faroe Islands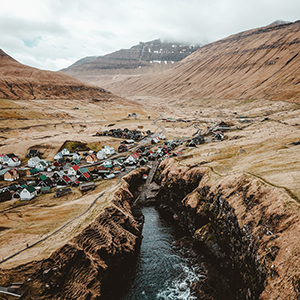 This Faroe Islands travel guide unravels some of the mysteries, giving you a taste of the best hiking, biking and bird watching on these North Atlantic islands and pointing you in the direction of top cultural highlights too, from the highest cliffs in Europe to beguiling capital city, Tórshavn.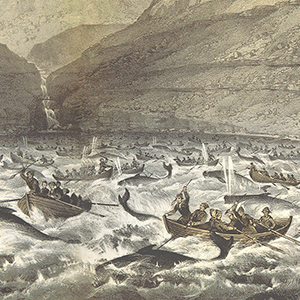 Whale hunting still takes places annually in the Faroe Islands. Many locals argue that it's a long-held cultural tradition and sustainable to boot. Animal rights organisations contend that the practice is cruel and outdated. Read on to find out more.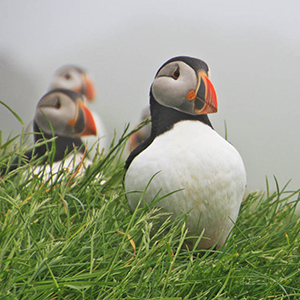 Really, every holiday to the Faroe Islands is a bird watching trip. Even if you think you're there to drive around fjords and feast on skerpikjøt, you'll still end up gawping at colossal puffin and kittiwake colonies. Embrace your inner twitcher with our bird watching guide to the Faroes.