Germany has 16 states called "Bundesländer" or "Länder" for short. And of course there are many places to visit in Germany, already known for its superb city breaks. But at Responsible Travel, we are flagging up the green and gorgeously elusive regions when it comes to tourism. Starting with the less elusive but definitely exquisite mountainous Bavaria. Then you have an island filled Mecklenburg-Western Pomerania, also home to the 'land of a thousand lakes'. And who knew about the volcanic Eifel Mountain in North Rhine-Westphalia and northwestern Rhineland-Palatinate? Or the river-rich Lower Saxony where the Weser cycle path goes on forever, passing medieval villages, renaissance castles and the ancient Hanseatic city of Bremen? That's a lot of lovely Länder.
1. Weser Valley Cycle Path
Over 500km of flat trails along Weser River taking you through the Saxon lowlands all the way up to North Sea. En route, take in historic and charming towns such as the timbered, medieval houses of Hann.Münden, legendary Hamelin and Hanseatic Bremen. With open broads of the North German Plains en route, it makes for not too challenging and very family friendly cycling.
2. Bavarian Alps
Far from the madding crowds of other alpine resorts, explore not only tranquil snowshoeing and 'langlauf' trails of this southern region of Bavaria, but also mountain villages where ancient traditions are still celebrated. Such as festivals to bring the cattle down the mountains from summer pasture. Walking trails abound, the highest peak being Zugspitze 2,962m. And beer rules the state. By the litre.
Bavarian Forest National Park
3. Bavarian Forest National Park
This magnificently wild state stretches all the way to Czech Republic, and the NP will have outdoor addicts feeling the high of nature searing through their bloodstream. Shared with Czech Bohemian Forest NP, it's Europe's largest protected forest. Where bison and wild horses roam, hike on myriad trails but also on the world's longest, and fully accessible treetop path.
4. Black Forest
In Baden-Württemberg state, it's the home of hiking and cake. With over 24,000km of hiking, cross country skiing and cycling trails, traditional festivals such as Alemannic Carnival, with masks and madness, in a good way, and a vast network of rural guesthouses. The regional Konus Card is basically a free travel pass for visitors on Black Forest holidays. The Scenic Railway is a must.
5. Rügen
Rügen is an unspoiled nature seeker's must. Not just for sandy, dune lined beaches, prolific birdlife and pretty meadows, but also for architecture. From 18th century spa-resort architecture to the spooky Third Reich resort at Prora, now largely empty apart from a youth hostel. Superb for cycling on car free trails, particularly in Jasmund NP where 10km of chalky cliffs and ancient beech forests astound.
Rheinsteig long distance trail
6. Rheinsteig long distance trail
One of the most uplifting, undulating and underrated ways to visit the Rhine. A 320km walking trail you hover above this magnificent artery, discovering gorges and ridges along 21 sections. Climb through hilly Riesling vineyards, dip down to stunning castles such as in Koblenz, stroll through ancient forests and check out famous cliffs at Loreley rock.
Muensterland Castles Cycling Trail
7. Muensterland Castles Cycling Trail
Starting in Muenster, this 330km cycling trail takes you from one stunning castle to another. Always Germany's most populous region, urban wealth led to the building of stunning castles and palaces, many of which you can visit on this majestic route. From the sandstone, moated Hülsdorff to Versailles - like Nordkirchen, a UNESCO Site, there are at least 100 to choose from.
Wadden Sea World Heritage Site
8. Wadden Sea World Heritage Site
Stretching along Dutch, Danish and German coasts, this is the world's largest intertidal wetland. The German section protects seascapes where marine life thrives, from seals to porpoises, shellfish to seabirds. A place to absorb tranquility with miles of floating sea grasses, gently blowing dunes and sea beds that stretch to the horizon twice a day, to then disappear again.
9. Rennsteig walking trail
An iconic, ancient 170km trail along an elevated ridge through Thuringian Forest. In six stages, walk south to north for less taxing inclines. Ancient woodland and rich spruce forest that opens out to hilltop views make for superb trekking year round, with cross country skiing when snow falls. In summer, check out the vast Alpine plant collection at Rennsteiggarten Oberhof.
10. Lake Constance
Known as Bodensee, the shores of this turquoise stunner are shared with Germany, Austria and Switzerland. In the foothills of the Alps, it is beyond chocolate box. More like a chocolatier's convention. A cycling route circumnavigates the lake, so you can indulge in the deliciousness of Konstanz Cathedral, swimming beaches, Seewein vineyards or Meersburg Castle. And, importantly, a lot of chocolate.
Mecklenburg lake district
11. Mecklenburg lake district
Also known as land of a thousand lakes, it's Europe's largest landlocked lake district. Watersport central, there are many quiet spots, with forested campsites, rural guesthouses, houseboats and waterside cabins. If waking up, jumping into your canoe, fishing for breakfast, cycling, having a dip and cycling home again is your idea of heaven - here it is.
12. Rhineland-Palatinate
The River Rhine twists its way through the state from south to north, creating an omnipresent, castle bedecked inland waterway with UNESCO status. River Mosel, heading west into Luxembourg and France, has a list of so many famous vineyards it looks like a sommelier's wishlist. The Eifel Mountains and Hunsrück-Hochwald NP proffer perfect hiking and cycling with stop offs at castles en route.
Our top Germany Holiday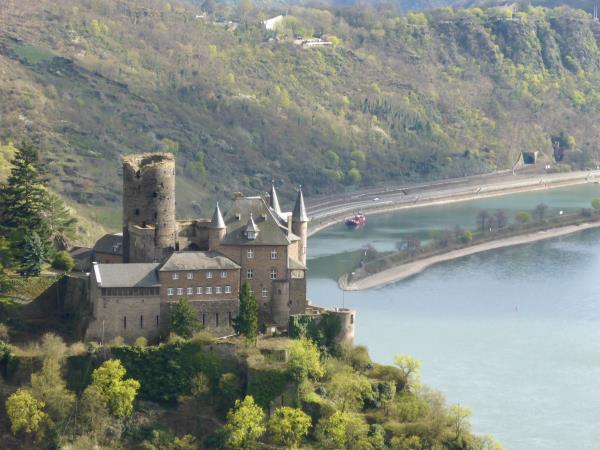 Walk the Rhine Trail and discover Germany on foot
From
£795

to

£905
8 days
ex flights
Small group travel:
2023: 1 Apr, 2 Apr, 3 Apr, 4 Apr, 5 Apr, 6 Apr, 7 Apr, 8 Apr, 9 Apr, 10 Apr, 11 Apr, 12 Apr, 13 Apr, 14 Apr, 15 Apr, 16 Apr, 17 Apr, 18 Apr, 19 Apr, 20 Apr, 21 Apr, 22 Apr, 23 Apr, 24 Apr, 25 Apr, 26 Apr, 27 Apr, 28 Apr, 29 Apr, 30 Apr, 1 May, 2 May, 3 May, 4 May, 5 May, 6 May, 7 May, 8 May, 9 May, 10 May, 11 May, 12 May, 13 May, 14 May, 15 May, 16 May, 17 May, 18 May, 19 May, 20 May, 21 May, 22 May, 23 May, 24 May, 25 May, 26 May ...
If you'd like to chat about Germany or need help finding a holiday to suit you we're very happy to help.

The following times give you a rough idea of the travel times between the main attractions in Germany.
London – Frankfurt: from 5.5 hours by train Rennsteig Long Distance Trail: 9 days on foot Berlin – Binz on Rügen Island: 4.4 hours by train Hannover – Hamelin: 60 mins by car Cologne – Münster: 1.45 hours by train German Wine Trail, or Radweg Deutsche Weinstrasse: 3-4 days by bike

Responsible Travel would like to thank the German National Tourist Board for their sponsorship of this guide.