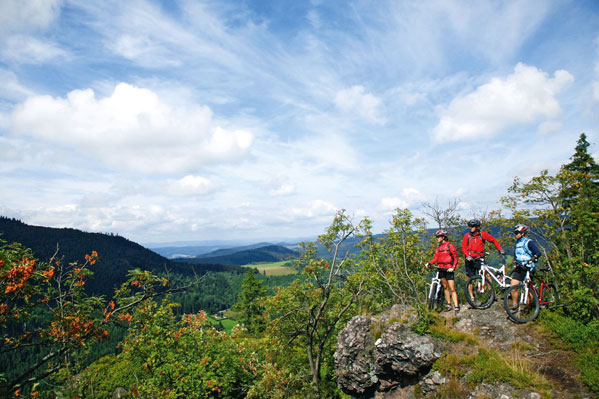 Germany is well known for its city breaks, but what most people don't realise is that because enjoying nature and wildlife is such an innate part of German culture, the infrastructure in its major cities makes it extremely easy for residents, and therefore, tourists, to escape to the wilds. Trains connect with forests, cycle paths follow rivers out to small villages, hikers can hit the mountains in a heartbeat, kayakers can paddle their way to freedom and swimmers can seek out salty and freshwater serenity. It is amazing what can be found just an hour from the cities, and all so accessible, thanks to a country that has long been switched on to sustainability. And seeking solace in nature. Here are a few of our favourites:
Berlin
Brandenburg is the state that envelops Berlin, and there are many cycling tours that take you from Berlin straight out into the countryside. There are, in fact, over 7,000km of cycle trails stretching out into the rural areas, along river banks and through small towns and villages. The city's 'S-Bahn' trains stretch out into the country, and you can put your bike on it, so there is an option to do one leg of the journey by train.
Munich
You can reach mountains, lakes and gorges easily from Munich, so pack your hiking boots with your suit, and stick an extra couple of days on a business trip. The shoreline hike around Ammersee, just a 50-minute S-Bahn ride from the city, is 42 km. Take the train to Berchtesgaden to hike in the Wimbach valley and gorge, or the hourly Bayerische Oberlandbahn (BOB) train out to Lenggries, then an RVO bus to the Brauneck cable railway station and up into another world. Goodbye city, hello hiking heaven.
Hamburg
All about water, you can explore by canoe, kayak and paddleboard. They are to rent everywhere, taking you the low carbon way along its network of channels, out as far as the artificial lake, Aussenalster. Here you can swap paddle for saddle and cycle around it too.
Cologne
London has the M25, Cologne has the Kölnpfad, a 171km hiking trail all around the city. Highlights include the Königsforst woodland and the Wahner Heide heath, the Roman aqueduct in Klettenberg, as well as riverside meadows and villages (it crosses the Rhine twice), with some urban areas scattered in between to wade through. Clearly marked by a series of white circles on a black background, you can access it at various points across the city.
Frankfurt
Home to Germany's largest urban forest (Stadtwald), this is 80km2 of hiking, horse riding and cycling perfection, all accessible on the S7 line or Tram 14. Another world awaits, just an hour away too. Because Mainz, the capital of the Rhineland-Palatinate region, known as the romantic heart of Germany, is just over an hour by bus from Frankfurt Hahn airport. From here you can take boat trips down the Rhine, visit vineyards and stunning castles, and forget the city altogether.