Walking the Great Ocean Walk
Australia is best experienced on foot and with so much of the Great Ocean Walk set in really remote stretches of coastline, there's often no other option. Forget the Twelve Apostles and the bright lights of Melbourne, this is an opportunity to seek out the secret spots and appreciate the wild, untamed nature and Aboriginal history of Victoria from an on-the-ground Aussie angle.

A wide variety of walking trails unveil Victoria section by section from the Surf Coast in the east, to the Shipwreck Coast in the west. Landscapes morph from sandy beaches to rugged cliffs, fern-filled rainforests to open heath and bushland, positively bopping with wallabies.

The Great Ocean Walk is a 104km signposted trail that curves around the coast from Apollo Bay to Port Campbell National Park. It weaves through dense rainforest in Great Otway National Park, around bird-filled estuaries at Aire River inlet, towards ocean views at Moonlight Head and The Gables, and onwards to completion at the Twelve Apostles.
Splitting the Great Ocean Walk into seven sections allows you to comfortably complete the entire track in a week although there's no rush. Locally-owned accommodation offers a warm welcome in the form of a home-cooked evening meal as well as space to rest and relax. After a hearty breakfast the following morning and a homemade packed lunch, you'll be good to go either in the company of a local guide and other walkers, or with detailed walking notes and route map.

But the Great Ocean Walk isn't just for those walking from inn-to-inn over the course of a week. It's also a 'step on, step off' sort of trail, with lots of shorter side paths and circular routes allowing access to lesser-known natural highlights – manna gum groves complete with koalas, for instance, or grassy plains dotted with emus, or wind-sculpted sand dunes skimmed by seabirds.
The best ways to walk the walk
Small group walking holidays are great for travellers who like to make new friends and conversation as they stroll. Group sizes are usually no more than eight people. One of the benefits of walking with a couple of local guides is that a larger group can be split in half. This not only allows for a more interactive experience and a choice of distance and difficulty, but it also lessens the group's impact on the environment, including the naturally peaceful ambience.

The Great Ocean Walk is interspersed with natural highlights like the stalactites and stalagmites in Naracoorte Caves National Park, as well as loads of look out points such as Parker Inlet, or secret side tracks that lead down to out of the way locations, like Crayfish Bay.

Walking guides will explain more about the area's Aboriginal heritage and help you understand the importance of the region, as a whole, to Australia's indigenous land owners. The history of the Great Ocean Road didn't just start when it was built by Aussie soldiers returning from WWI, dinosaurs once ruled this realm and it won't be too hard to imagine a land that time forgot when walking on deserted beaches as waterfalls cascade down onto the rocks below. In fact, Milanesia Beach, close to Cape Otway, features Victoria's best known dino footprints, encased in sandstone boulders.
Walking with a guide allows you to ask questions and find out more about the true owners of the land and the rights and issues still facing them today. Guides also explain more about environmental challenges facing the region and what travellers can do to help. Of course, one sure fire way that you can help is by walking rather than joining the coachloads on the road.

Overnight accommodation might be in lighthouse keeper's cottages at Cape Otway or a locally owned small hotel in Port Campbell. All meals are included in the price of a small group holiday and solo travellers have the option of sharing a room with a group member of the same sex or opting for a single room for an additional supplement.

Self guided walking holidays are ideal for travellers looking to get away from it all but with the added confidence that comes from local recommendations. Detailed walking notes, trail maps and a designated driver and guide, on call, gives you the extra confidence to go the extra mile. Not only that; locally-owned accommodation and luggage transfers are included too.

It's also possible to walk with an experienced wildlife guide. What better way to understand the natural habitats of kangaroos, koalas and echidnas other than with an experienced Aussie animal expert? These local wildlife guides are highly trained and also encourage an environmental ethic and have great respect for the ecosystems and animals that you'll encounter. This type of three day walking tour can be tailor made to suit your interests and fitness levels. You'll get to observe animals safely and respectfully as well as learning more about the environment.
Tailor made tours encourage walkers to achieve average daily distances of 15km en route to some of the most welcoming inns in Australia. Local hosts will provide breakfasts, packed lunches and evening meals as well as information about what you can expect from the trails ahead. You might even dine out in an Aussie pub in a tiny outback town like Little River.

Not only will you get closer to the natural environment on the Great Ocean Walk but you'll also give a financial boost to people living in remote regions of Victoria. Guest house hosts, especially, are genuinely welcoming and friendly folk. They love to greet and hear more about their guests from all over the world. You literally will not be able to leave until you've got a full belly and an earful of stories – some even true.

Below are a few of the walking route options that you might wish to experience. From easy going and circular routes to moderate walks and trails that are more of a challenge; this is your chance to choose your own adventure and experience authentic Australia.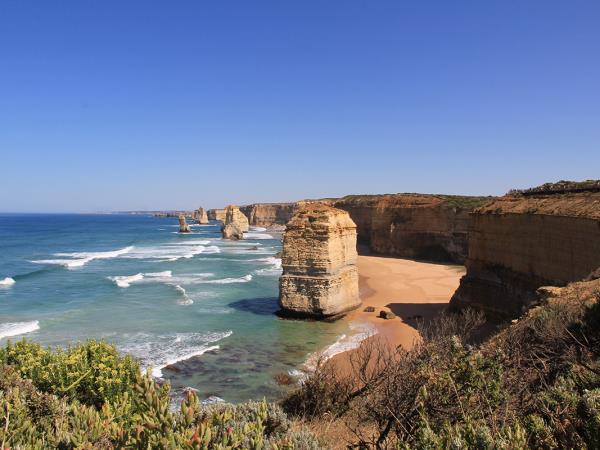 Walk the famous Great Ocean Walk in Australia
From
AU $3250
7 days
ex flights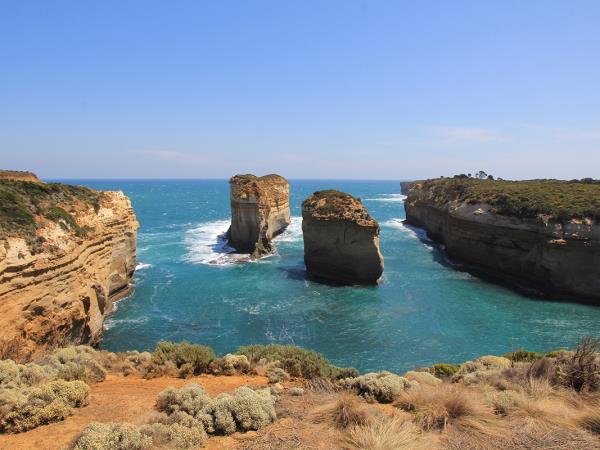 The full Great Ocean walk pack free self guided.
From
AU $2855
8 days
ex flights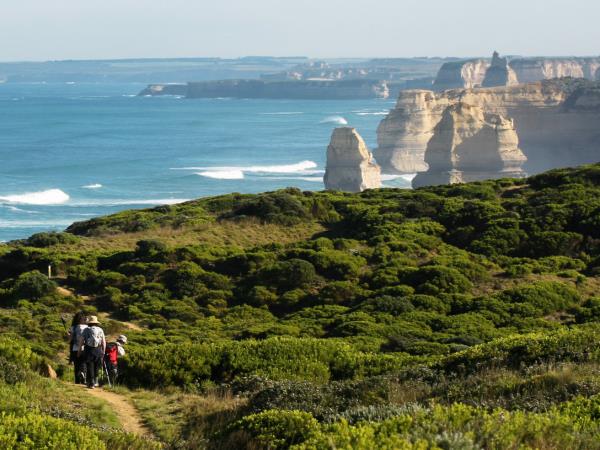 Self guided hike of the highlights of the Great Ocean Road
From
AU $2195
5 days
ex flights
If you'd like to chat about Great Ocean Road or need help finding a holiday to suit you we're very happy to help.

Great Ocean Walk – easy going routes
Apollo Bay to Castle Cove is known as the 'mild side' of the Great Ocean Walk and offers a range of shorter walking options for those seeking something more akin to a stroll than a hike.

The 10.3km stretch from Blanket Bay to Cape Otway, for example, offers a gentle climb through coastal forests. You'll get to experience impressive views of Parker River as well as manna gum groves where koalas are often seen.

Another easy going option is the 4.2km Aire River Escarpment Lookout walk. This takes you along the Aire River estuary to the bird filled Hordern Vale wetlands and Escarpment Lookout point.
Great Ocean Walk – more of a challenge
For something a little more challenging, take a walk on the 'wild side' on the track from Johanna Beach to the Twelve Apostles.

The stretch from Devils Kitchen to Glenample Homestead travels 12.9km along the boundary of the Great Otway National Park through sandhills and coastal scrub and offers uncrowded views of the Twelve Apostles.

Another more challenging 10km trail takes you from Milanesia Beach to Moonlight Head on a one day walk across steep hills and through coastal forests where you'll pass high sea cliffs and sensational coastal scenery.
Great Ocean Walk – long distance routes
The Surf Coast Walk is a scenic 65km marked trail from Torquay to Lorne. This includes some beach walking as well as the majestic forests and cascading waterfalls of the hinterland. The 5km section from Bells Beach to Point Addis is particularly picturesque, featuring red cliffs, sandy beaches, mine ruins and forests of ironbark and messmate. If you time your visit for the spring, the coastal heath lands around Anglesea will be covered with colourful wildflowers.

For contrasting scenery head further west to the area around Warrnambool where the volcanic geology makes for an interesting backdrop to some moderately challenging hikes. In Mount Eccles National Park take the 3km Crater Rim Walk through manna gum woodland (popular with koalas) to the north end of the crater for breathtaking views and the chance to visit a lava cave.

Top tip: bring a torch so you can explore this subterranean wonderland and check out the lava canal which was formed when large sections of the roof of a lava tunnel collapsed.

From here you can either continue around the rim to see a series of smaller volcanic vents – and possibly peregrine falcons – or follow the lava canal for a more strenuous 6.5km walk over rocky terrain on which you might encounter wallabies, echidnas and diverse, noisy birdlife.
Great Ocean Walk – short circular trails
Shelly Beach is one of the best circulars on the Great Ocean Walk. Beginning and ending at the Shelly Beach picnic area, the 2.4km route traverses fern gullies, coastal scrub and rocky platforms as well as the eponymous beach, and takes just under an hour to complete.

Another short loop walk is the lighthouse cemetery and lookout walk at Cape Otway. This 2.8km trail visits the historic final resting place of intrepid explorers and shipwrecked casualties and takes walkers through coast beard heath where a lookout offers views back across to the lighthouse.

For a simple circuit of just 4km why not head to Lake Elizabeth close to the town of Forrest. This route follows through the rainforest to the lake – passing the landslip which caused Lake Elizabeth to form – before winding its way around the shore, through cool fern forest and underneath towering blackwood trees. Look out for platypus if you're walking in the early evening or morning.

Finally, for something a little more strenuous climb up to Sabine Falls, where a well-marked circular 3.5km trail leads through lush rainforest on a narrow track before emerging at the lookout overlooking the cascading waterfalls – the tallest in the Otways.
More Great Ocean Road articles