Great Ocean walk information
Imagine making the very first footprints in a pristine stretch of pure white sand. Or exploring rainforest gullies beneath towering trees that stretch to the sky and make you feel smaller than you ever imagined. Or soaking up expansive ocean views from rugged clifftops that drop vertically into the sea beneath your feet. This is the Great Ocean Walk, a 104km trail that takes hikers to never-before-seen places, inaccessible to all but those on two feet, and winds its way along this most iconic of coastlines, bringing you closer to those breathtaking views than ever before.
Starting in the picturesque fishing hamlet of Apollo Bay and finishing at
Glenample Homestead
next to the extraordinary limestone stacks of the Twelve Apostles, the Great Ocean Walk takes hikers through stunningly remote scenery including rocky platforms, sheltered beaches, crystal clear rivers, ferny forests and coastal heathlands. Hugging the coastline, the route passes through the dense rainforest of the beautiful Great Otway National Park and the diverse coastal landscapes of Port Campbell National Park; both protected areas in which the air is fresh and clear and you could walk for days without seeing another soul.
The walk also takes hikers to some of the highest coastal cliffs in mainland
Australia at Moonlight Head
, around anchors from dozens of shipwrecks which dot the sand at
Wreck Beach
and beneath huge specimens of the world's tallest flowering tree, the Mountain Ash, in the rainforest gullies of Cape Otway.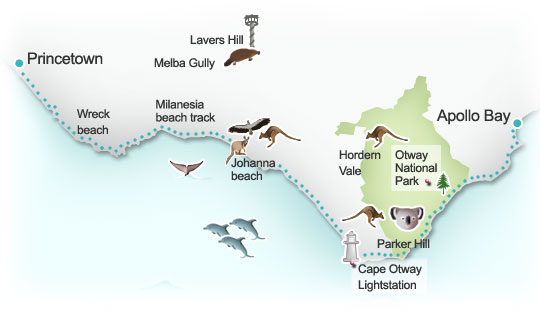 Well away from the roads and crowds of civilisation, the Great Ocean Walk takes you through an unspoilt region, home to a plethora of wildlife. As you walk, look out for eastern grey kangaroos, black wallabies, echidnas and koalas, scan the water for dolphins and migrating whales and look to the skies for sightings of king parrots, singing honeyeaters, yellow-tailed black cockatoos, wedge-tailed eagles and white-bellied sea eagles. Along the beach keep your eyes peeled for flocks of crested terns, oystercatchers and, if you're lucky, little penguins.
With all this and so much more to see, it's time to take to the track - but there's no need to rough it, the Great Ocean Walk features hike-in campsites situated in some of the most dramatic coastal settings and offering stunning tent-side views.
But for those who don't do composting toilets or simply don't fancy a night under canvas, there are also numerous local hotels and guesthouses offering a little bit of luxury.
After a day on the trail, why not treat yourself to a dinner of fresh local produce and a bottle of Australian wine, then recharge your batteries with a hot bath or even a soothing massage before getting some much-needed sleep in a comfy bed. Because the walk is designed as a step on, step off trail, there are numerous accommodation options to suit all pockets and you can tackle as much or as little of the walk as you want to, over as many days as you like.
Spend a day taking in the almost-unbelievable coastal rock formations around the Twelve Apostles, stay overnight and get to know the cool rainforest of Cape Otway or take your time and explore every nook and cranny of this spectacularly diverse region over a week. Whatever your ability and however long you have to spend, the Great Ocean Walk will bring you close to nature in a way driving never could – so grab those hiking boots and experience it first hand.
Responsible Travel would like to thank Tourism Victoria for their sponsorship of this guide