Aboriginal culture on the Great Ocean Road
Southwest Victoria's coastline and hinterland supplied natural resources for Aboriginal people for tens of thousands of years. As such it holds significant spiritual connections related to the land, wildlife and Aboriginal ancestors. The Great Ocean Road was built on land owned by several nations – from the Maar Nations in the west to the Kulin Nations in the east, through the Kirrae Whurrung, Gadubanud and Wadawurrung Language/Lore groups.

Unfortunately, long before the GOR was a mere gravel track, the area's natural resources were also of significance to European immigrants. Farmers, fishermen and whalers in the early 1830s would come into increasing conflict with Aboriginal people. Later, mining industries such as sand, gravel, coal and gold, and the fishing and timber industries, exploited the area's natural resources, making physical changes to the landscape.

Vast areas of land were cleared and non-native animals such as horses, sheep, rabbits, cats and foxes greatly altered the natural ecosystem. The availability of traditional food sources and the ability to manage the land in traditional ways was also greatly reduced. Low-intensity burning, for instance, was used by Aboriginal people to revitalise areas for agriculture, and reduce the risk of bush fires.
Our Great Ocean Road Holidays
Horrific human massacres followed including notable sites at Blanket Bay and the Bay of Martyrs. The Aboriginal population was devastated, with the fraction that remained being forced into Aboriginal reserves and missions such as Framingham Aboriginal Mission near Warrnambool.

Jeremy Redmond is co-owner and small group guide at our Great Ocean Road tour specialists, Australian Natural Treasures: "About 80% of the Aboriginal people in the southwest of Victoria died in the first 40 years of white settlement from disease and conflict. It is always quite devastating for our guests to hear that the conflict was so one sided and that we still have work to do on recognising our Aboriginal people properly. When the conversation takes place at a place such as the 'Bay of Martyrs', for instance, known for the settlers driving the Aboriginal men off the cliff at gun point, it comes as a surprise to even the Australian tourists as we were all a little oblivious to what went on."

When the Great Ocean Road was built by returning WWI veterans (1918-1932) there was little left to imply that the land belonged to anyone other than the Australian state government of Victoria.

Research relating to fire charred stones and scattered shell pits at Moyjil (Point Ritchie) near Warrnambool actually suggests that human activity can be traced back to more than 120,000 years ago.
Aboriginal cultural sites on the Great Ocean Road
Make sure you travel with a responsible tour group who don't gloss over Aboriginal ancestry. Your guides might not be of Aboriginal descent themselves, but they should still be able to address topics sensitively and with honesty. Visit Indigenous cultural centres exhibiting ancient archaeological artefacts as well as honest information about how Aboriginal people have been treated.
For example, there's a traditional Aboriginal meeting hut and trail at Cape Otway Lighthouse designed and built by Richard Collopy, Traditional Owner in Gadubanud/Gulidjan Country. Here, you can meet and chat to guides who are happy to share their personal and ancestral stories and knowledge of the land as well as teaching kids about bush tucker.
Ask questions and do your research beforehand so you're equipped with facts. Build visits to Indigenous cultural centres into a tailor made itinerary or join a small guided group which have these sorts of sites already included as part of a tour.
Some areas, such as
Budj Bim Heritage Landscape
near Portland, can only be experienced in the company of an Aboriginal guide. Make sure you travel with tour guides who respect this. Not only will you be providing employment for local guides, but you'll also be contributing to rural economies in remote regions away from the tourist hot spots.
The
Narana Aboriginal Cultural Centre
, in Geelong, encourages travellers to listen and learn about Aboriginal Dream tales as well as expanding on the importance of the natural landscapes that you'll find further west along the coast. From interactive educational exhibits to authentic Aboriginal art and handmade cultural souvenirs, a visit to Narana, prior to heading out, is always an education.
Tower Hill State Game Reserve is another important Aboriginal site to visit if you're close to the Great Ocean Road. The information centre is managed by the Worn Gundidj Aboriginal Cooperative, which aims to empower Aboriginal people through employment. The surrounding area has also been repopulated with native flora and supports native animals including emu, echidna and possums.
Jeremy Redmond from Australian Natural Treasures shares another Aboriginal cultural centre to visit whilst on the Great Ocean Road:
"Brambuk is a great non-government funded cultural centre in Grampians National Park. They tell the Aboriginal creation story via video and also have wonderful displays of boomerangs, shields and artwork, alongside confronting information about the historical mistreatment of Indigenous local people. The travellers we introduce to Brambuk are generally enlightened and touched by the deeper understanding about the people, history and issues."
Our top Great Ocean Road Holiday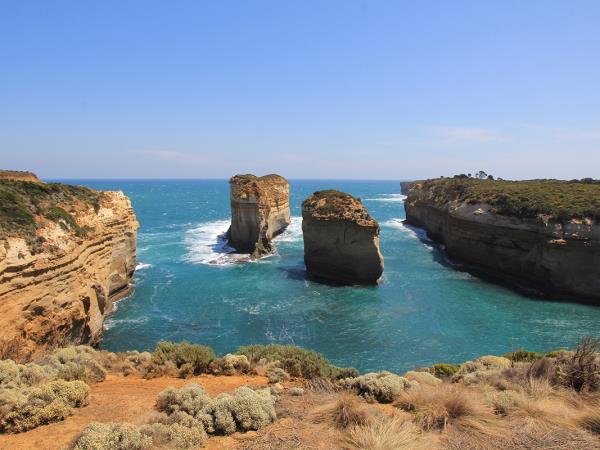 The full Great Ocean walk pack free self guided.
From
AU $2855
8 days
ex flights
Tailor made:
Any day of the year for a minimum of two people booking together (subject to availability)
If you'd like to chat about Great Ocean Road or need help finding a holiday to suit you we're very happy to help.

What you can do
Visit the Great Ocean Road with smaller, locally-owned tour specialists who support, understand and respect Aboriginal communities and put profits back into initiatives based upon continuing to promote and preserve the rights of Aboriginal Australians. Walk with an Aussie tour guide who understands and empathises with Aboriginal cultural heritage and wants to share the history of the area, as well as preserving the natural environment. Buy authentic art and wood carvings from Aboriginal cultural centres and learn more about Dreamtime and relationships with the land and wildlife. Respect privacy when visiting Aboriginal communities and respect cultural traditions when attending a ceremonial event or visiting a sacred site. Pay heed to signs asking you not to photograph, climb or deface important Aboriginal landmarks. Consider the outdoors as a cathedral or temple; you wouldn't clamber all over an altar to get a good photo or bathe in holy water to cool off, so don't do it when you're visiting sacred sites on the Great Ocean Road. Ask questions about the importance of Aboriginal cultural heritage before you book a tour. Find out how your visit will benefit local Aboriginal communities and help to provide employment for local people. Education may not be a holiday tick box for some, but it ought to be for travellers looking for an authentic and respectful experience.
More about Great Ocean Road