Gir National Park, Gurarat
Some 600 Asiatic lions call Gir National Park home. That's the entire population of a species that used to roam from Greece to Bangladesh tucked away into a tiny corner of Gujarat. The only lions left outside of Africa might be thriving here – their population has more than doubled in the last 40 years – but they are still vulnerable. Human-lion conflicts are increasing as more lions roam beyond the park's boundaries in search of space, and the pride is one contagious disease or one devastating forest fire away from extinction.

The Asiatic lions are its star turn, but Gir National Park, or Sasan Gir, isn't a one-trick pony. This is Gujarat's most biodiverse natural area, a big claim in a state boasting one of the world's largest salt deserts, extensive mangrove forests and 23 designated wildlife sanctuaries. As Kashka Lantis, Gujarat expert at our tour operator Exodus Travels says "The chances to see the lions are reasonable, but come ready to enjoy whatever you see. This is a wonderful national park, beautiful to explore with lots of other wildlife too, including lots of different types of deer and antelope, hyenas, leopards, rusty spotted cats and porcupines. And over 300 species of birds".
You'll also meet the Maldhari people, whose long history of coexistence with wildlife – and their respect and tolerance for it – provides a model for humanity's treatment of the planet as a whole. These are people who don't begrudge the loss of sizeable portions of their livestock herds to lions each year, seeing it as necessary payment – prasad – for living in another's homeland.
As the Gujarat Tourism Board succinctly puts it "When you visit Gir, try to see the Maldharis not with nostalgia for a picturesque past, but as crucial teachers for a better present and future. You don't have to be a shepherd living with wild lions to learn from their way of life."
What does a Gir National Park safari entail?
You won't have Gir National Park to yourself, but this is certainly a quieter step away from the jeep-filled, sometimes chaotic tiger safaris in India's more famous reserves like Ranthambore. Peace aside, the way the safaris work are similar – as Kashka Lantis explains: "Safaris here are similar to tiger safaris in other parts of India. You'll head out in the early morning or early afternoon on jeeps. Expect 6am starts in the morning. If you're going to be given a chance to see the Asiatic lions then the morning is when they're most active."

While lions are the main event in Gir National Park you'll want to keep your eyes open for leopards too. In other areas of India these elusive big cats are displaced by their stripy cousins, but leopards' interactions with lions are different, and as a result, while still elusive are seen here more regularly than in any other park in India.

You won't be toasting any lion or leopard sightings with a post-safari sundowner however, Gujarat is a dry and mostly vegetarian state – and while alcohol licenses are available you are prohibited from drinking in public. Kashka adds "Gujarat is where Gandhi was born and the state is very respectful of his beliefs and that heritage."
Where you'll stay
Accommodation in Gir National Park varies, from luxury lodges to more basic but comfortable tented camps. To ensure your stay supports local communities, many of our Gujarat specialists are either part of, or use accommodation that is part of the
Tour Operators for Tigers
(TOFTigers) network. This campaign group works tirelessly to make safaris in tiger reserves, and other reserves such as Gir National Park, sustainable for the future. By working with communities surrounding the reserves – for example training local guides, running environmental education programmes and setting up local handicraft cooperatives – TOFTigers creates long term economic benefits and value in preserving wild areas for nature. For places like Gir National Park, where human-lion conflicts are increasing, this kind of work is invaluable.
Beyond Gir National Park
Usually, you'll be spending at least one night in Gir National Park as part of a wider holiday through Gujarat. This is a state that offers heritage and culture to rival regal Rajasthan, a wealth of wildlife, and a mind-boggling array of landscapes including the Great Rann of Kutch, one of the world's biggest salt deserts. But don't expect to just be a spectator behind a camera lens here; to make the most of Gujarat you'll need to embrace its richly woven tapestry of culture, arts and architecture as well as its wildlife. Indeed, it's through local artisans that some of Gujarat's most unique cultures shine through.

Kashka Lantis, Gujarat expert at our small group specialists Exodus Travels, explains how you can engage with traditional heritage on their trips: "There are a few special handicrafts in Gujarat – Patola silk weaving has been practised here since the 11th century, it's very unique to Gujarat and we visit an award-winning family-run heritage museum. Living culture is really important and it is very special to be able to support this heritage. We also visit the tribal lands where handicrafts are a livelihood and a way of expressing cultural identity. India does well at preserving these kinds of traditions but so much can be lost if we are not careful." It is the human heritage of Gir National Park, the cattle-herding Maldhari people who have co-existed harmoniously with its lions for centuries, that makes this park so unique.
Our top Gujarat Holiday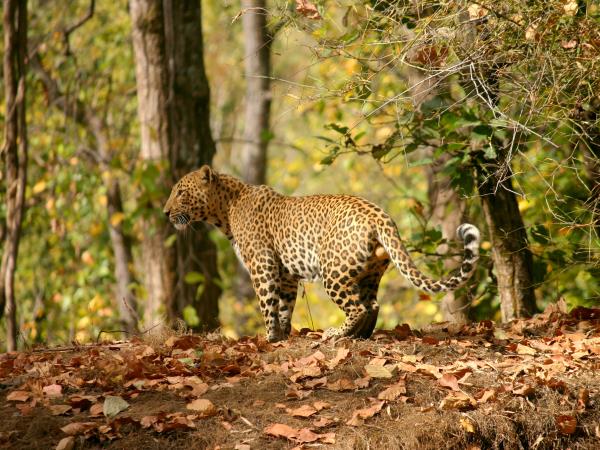 Explore Gujarat for rare wildlife including striped hyenas
From
£3145
15 days
ex flights
Tailor made:
This trip can be tailor made throughout the year to suit your requirements
If you'd like to chat about Gujarat or need help finding a holiday to suit you we're very happy to help.

It's shocking to think that before the turn of the 20th century, Asiatic lions roamed from Greece to Bangladesh, across the Arabian Peninsula and into central India. Since then intense hunting has all but wiped out these magnificent creatures, leaving Gir National Park and its surrounding forests as the only, tiny enclave of Asiatic lions left on the planet. And the only place to see lions outside of Africa.

The 600 lions that call Sasan Gir home, however, are thriving. By 2010, the lion population had doubled in the preceding 30 years, and since then has risen by another 30 percent. But, unfortunately, conservation success has bred its own problems. Human-lion conflicts are increasing in surrounding communities as lions roam further outside the park boundaries in search of space, into land that has been increasingly cultivated for crops to feed an ever-growing human population. Tourism, which can bring in vital conservation funds, also brings its own pressures and demands on Gir's natural resources. The Gujarat Tourism Board lays out the problem: "Tourism itself is a growing threat to Gir. Clearly, the genuine visitor is beneficial, but tens of thousands of people visit the park every year simply as an afterthought to their trip to Somnath or Junagadh, stopping in for a few hours to snap a photograph of the lions in captivity. These visitors create a huge demand for infrastructure but do little of benefit to the park or the lions, not even staying long enough to really experience it or learn much at all".

It adds "Wild natural environments are confined to extremely limited areas, and human civilization, industry and economy has overtaken everything else. The problem is not, in fact, that the lion population has grown "too big for the park," but that the park is far too small for the lions. As a visitor, let this be an opportunity to spark your imagination on the question of shifting the priorities of humanity towards re-integrating ourselves with the rest of life."
As visitors to Gir National Park we need to ensure that we bring genuine economic benefits to the communities who are paying the price for sharing their land with lions. Look out for accommodations or tour operators who are members of initiatives such as TOFTigers, don't just pop in for one game drive but stay overnight or longer and use local guides to gain an insight into the history of the lions – and the Maldhari people, who have inhabited the park harmoniously with its wildlife for centuries.
Kashka Lantis stresses that visiting Gir National Park is necessary and responsible tourists will help continue the conservation work being done. She says "Just visiting, paying your entrance fee, ensures you are helping conservation. More money coming into the park means more rangers can be educated. This is the last refuge for Asiatic lions and their numbers are increasing here. The conservation strategies are working, so it needs your support to continue to flourish. By choosing Gir National park, you're also supporting a state that is less visited and receives less income from tourism to India than other areas."
Best time to visit Gir National Park
"The best time to go is anytime that's not the middle of the summer", says Kashka Lantis. Gujarat gets very hot and very humid from May to September and you won't have a chance to visit Gir National Park at all from mid-June to mid-October as the park closes its doors to visitors during the monsoon – and peak breeding – season. Best is to travel from mid-October to early April when temperatures are milder (Gujarat has a fairly constant temperature of 30°C during these months). "It's a dry heat" says Kashka, "so 30 degrees it not as stifling as it can get with humid climates. Bring light cotton clothing to stay comfortable". The best time to see the lions themselves is between December and March, when milder temperatures mean wildlife is more active during the day. This is also peak season, and while not as busy as some of India's more popular tiger reserves, you still need to be prepared to share sightings with other jeeps.
More about Gujarat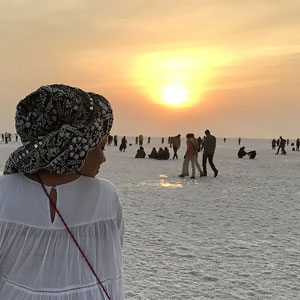 Discover the traditional handicrafts, celebrations and architecture unique to India's most westerly state.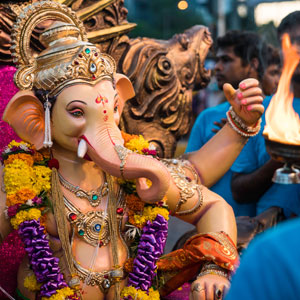 Experience a variety of contrasting landscapes, like the Rann of Kutch and Gir National Park.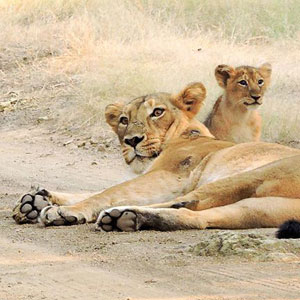 The last remaining Asiatic lions on the planet can be found solely in Gir National Park