Make the most of Mumbai before jumping on an overnight train (530km) north to Ahmedabad as the rest of Gujarat opens up to the west. Round trips from Ahmedabad will often take travellers in an anticlockwise direction so as to experience the salt plain deserts and tribal villages of the Rann of Kutch half way through a two-week tour. Jeep safaris to spot Asiatic lions in Ger National Park and trips to the shores of the Arabian Sea or the holy ghats over the Gomti river in Dwarka, will usually follow before travellers make their way back to Ahmedabad via the Jain temples on Shatrunjaya Hill or the fortified temples, mosques and palatial properties of Champaner-Pavagadh.
1. Ahmedabad
This is India's fastest growing city where skyscrapers sit alongside ancient gates as you enter a warren of street stalls, Hindu and Jain temples, and mosques, in Ahmedabad's UNESCO old district. Peace exists at Gandhi's riverside Sabarmati Ashram, now a national monument, although sharing the spoils of a home cooked Gujarati meal in the company of local hosts is equally as enlightening.
2. Bhuj
This is the epicentre of Kutch craftsmanship where potters, Ajrakh block printers and weavers from Vankar communities ply their trade in village workshops and community centres. Bhuj also provides a base from where to visit Khavda, Khatri and Bhujodi villages as well as an opportunity to glimpse Gujarat's European-inspired architectural treasures, including the Aina Mahal and Prag Mahal.
3. Gir National Park
This is the last place on earth that Asiatic lions can be found in the wild and safaris in Gir National Park also unveil opportunities to spot other animals, such as leopards, deer and jackals. 15th century step wells in nearby Uperkot Fort, overlooking the Girnar Hills, and chances to meet traditional Siddis communities, present an altogether more human perspective close to the park's perimeters.
4. Jamnagar
The continuous chant of 'Shri Ram, Jai Ram, Jai Jai Ram' can be heard echoing around the hallowed halls of Bala Hanuman Temple making it not just a place of spiritual sanctuary but also a World Record Breaker. Elsewhere in Jamnagar the Adinath Jain Temple sits amongst the jewellers, goldsmiths and sweet sellers of Chandi Bazaar to provide a taste of local life and Gujarati treats.
5. Mumbai
Mumbai introduces travellers to an extrasensory assortment of smells, sights and sounds alongside entertainers and food vendors on Chowpatty Beach. See Mumbai's high-rise skyline from Kamla Nehru Park on Malabar Hill or learn about the multi-ethnic and industrious lifestyles of Dharavi, one of the world's largest slum districts, and the inspiration for international bestsellers and box office hits.
6. Rann of Kutch
This vast salt marsh area is home to tribal nomads and villages where traditional skills, such as bead weaving, metal forging and hand painted Rogan art on silk saris, cushions and curtains, are still practised. Staying with a tribe in a circular bhunga (mud hut) encourages interaction with local families as well as allowing you to explore the Kutch desert in search of herds of Indian wild ass.
If you'd like to chat about Gujarat or need help finding a holiday to suit you we're very happy to help.

Places to avoid
"There are so many different possibilities to explore in Gujarat. Each destination has a variety of things to offer and every part of Gujarat has a different history, architecture and landscape. However, there are also places that I wouldn't recommend visiting. Places like: Vapi, Hazira and Mundra. These are all very industrial towns and probably worth avoiding."
Genuine Gujarat gifts
"There are many places where ethically made souvenirs are available from cultural craft and art centres. In Ahmedabad, for example, you can buy locally made wooden sculptures inspired by the beautiful stone screen work on the city's monuments. In Dasada, small beadwork souvenirs made by nomadic Mir women can be found. In Bhuj, block printing, tie-dye, and examples of Rogan art, are available from the artisans that created them. Visit the village workshops where handicrafts are handmade or ask your local guide about where to buy authentic artwork and genuine Gujarati gifts."
Cultural connections
"My most memorable traveller tale from Gujarat is when a group of African American high school students visited a Sidi (African Indian) society in Ahmedabad. The group interaction went really well and turned into two hours of traditional dancing. At the end of the visit both groups of people had tears in their eyes over their shared heritage and cultural connections."
Top tip from one of our travellers
"36 degrees, blue skies and sunshine in March. The tour guide, Jaya Basera, is worth her weight in gold. A fantastic person and a pleasure. My tip is to have an open mind. Enjoy the countryside and people. The tour company is great at low impact tourism and engaged with the local people."- Geoffrey Hermsen
More about Gujarat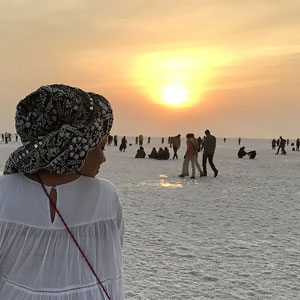 Discover the traditional handicrafts, celebrations and architecture unique to India's most westerly state.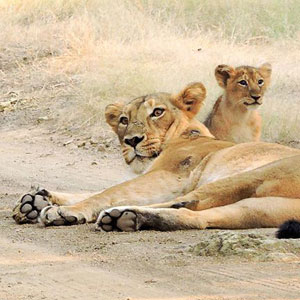 The last remaining Asiatic lions on the planet can be found solely in Gir National Park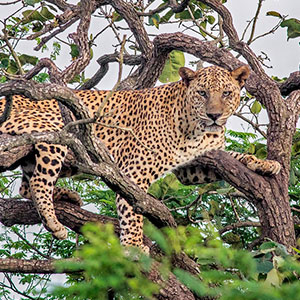 The last refuge of Asiatic lions on the planet – and the only place to see a lion outside of Africa.