Gujarat is one of India's lesser-visited regions where vast salt flats, the Arabian Sea and the last hunting grounds of Asiatic lions make for a varied and eye-opening itinerary. Travelling overland from Ahmedabad, after making the most of Mumbai, introduces the influences of diverse dynastic rulers who've left their mark within Hindu temples, centuries old mosques and elaborate European-inspired façades and colonnades.

Gujarat glows green, shimmers in silver moonlight and is splashed in watercolours for cultural celebrations – if you think you know India, reflections of Gujarat stand things on their head.

Overnight sleeper trains, heritage tours with local guides and visits to artisan workshops in remote tribal villages, encourage interaction with Guajarati people, on their level. This type of experience creates a two-way cultural exchange, a special moment for both sides. Small guided groups and personalised tailor made tours also allow authentic and unobserved encounters to evolve quietly and naturally, as well as allowing opportunities to stay in smaller, locally owned accommodation.
Yes, you might well get stared at in Gujarat or asked to appear in 'selfies'. It's because not many western travellers head this far west – you'll be something of a trailblazer. Expand horizons, enjoy the ride.
What does a Gujarat holiday entail?
Most of the Gujarat holidays that we recommend start in the city of Ahmedabad as it has an international airport. Alternatively, you can fly into Mumbai before making the journey north to Ahmedabad by overnight sleeper train. From Ahmedabad, tours head west from where the state of Gujarat opens up by road. Often distances between key locations are quite lengthy (about five hours' drive) which is why a two-week tour makes sense rather than rushing from one place to the next without really scratching the surface.
If you've already been to India you may have a rough idea what to expect from Gujarat. However, this western state is unique in lots of ways as over the years it's been ruled by a succession of dynasties from different cultural backgrounds. The city of Ahmedabad, for example, was ruled by Muzaffarid, Maratha and Mughal empires before being colonised by the British. Each left its mark.
Still to this day Gujarat exhibits an eclectic mix of cultural and artisan influence. Opulent palatial properties once owned by wealthy merchant families sit side by side with sandstone step wells and ancient ashrams once owned by Mahatma Gandhi. Further afield you'll find humble rural villages inhabited by Garasia tribes still living as subsistence farmers. Elsewhere skilled master craftspeople continue to perfect traditional textiles, signature silk weaves and Ajrakh block print artwork.
Unravelling the cultural threads of Gujarat is what a tour entails. You'll get to meet artisans in their workshops and community craft centres. You can visit tribal groups in their villages and markets; you can find out more about religious belief systems and cultural customs at places of worship in the company of a knowledgeable local guide. Travelling overland also allows you to experience the changing face of the Gujarati landscape. The vast white salt plains of the Great Rann of Kutch, for instance, stand in stark contrast to the teak and acacia forests of Gir National Park or the views over the Arabian Sea from the island of Dui. Who you travel with also determines what a holiday entails.
Small group or tailor made?
One of the best ways to discover Gujarat is to join a small guided group. This alleviates having to organise travel arrangements, accommodation and entrance fees as well as encouraging authentic experiences that aren't in the guidebooks. The group leader will provide valuable local knowledge and top tips for things to do in your free time. Specialist local guides will also be employed for city sightseeing tours and temple visits as well as qualified naturalists and wildlife guides within the realm of national parks.

This type of tour offers an excellent introduction to India as well as encouraging a sociable experience with travelling companions. Group sizes are usually kept below 12-15 people which allows for minimal disruption when visiting temples and tribal villages as well as opportunities to book into smaller, locally-owned guest houses as you travel by public transport or in smaller vehicles.

Solo travellers in small group tours have the option of sharing a twin room with a group member of the same sex, or to opt for a single room supplement if they'd prefer their own space.

Minimum age for small groups ranges from 14 to 16 years old. This is probably a good rule of thumb for families also considering a tailor made tour in Gujarat – mid to late teens rather than youngsters.
Tailor made tours of Gujarat offer a much more bespoke experience where travellers can choose their own adventure as well as picking dates to suit them rather than having to choose specific dates as per a group tour. Accommodation, entrance fees and travel arrangements are still taken care of as well as opportunities to utilise the services of local guides and naturalists who will often be living in villages nearby some of Gujarat's most interesting places to visit.
You can also meet local artisans in small workshops rather than standing at the back of a crowd. The same can be said for visiting tribal villages in the company of a local guide. Not only will you, the traveller, benefit from a much more intimate experience but the villagers and craftspeople benefit too.
A two-way cultural exchange
Sanjay Oberoi, Director at our specialist Gujarat tour company Bespoke India Travel, explains the benefits of responsible tourism for local Gujaratis: "Each and every place you visit in Gujarat is run by locals. The guides in every national park and sanctuary in Gujarat are the local villagers trained by forest departments as spotters and trackers. When you visit artisans in small villages, the purchase of their art benefits them and helps keep their art alive. While visiting different tribes and communities in villages, we make sure that we take care of their cultural customs and that it is a comfortable interaction for both guests and the local people."
Drinking alcohol in Gujarat
The prohibition of alcohol is currently in force across the state of Gujarat. This means that you can't buy wine, beer or spirits if you're a local; however, you can buy it if you're from outside of the state – as long as you have applied for an online permit and have a printed copy of the permit in your possession at time of purchase. Ahmedabad has around nine stores where you can buy alcohol and there are another 25 stores to be found in other larger cities across the region. The small island of Diu is an exception. Although it's linked to the mainland by a bridge it's actually part of the Indian union territory of Daman and Diu and therefore has its own rules and government.

Prohibition was brought in out of respect for Mahatma Gandhi's ideology and enforced under the The Bombay Prohibition Act of 1949. Please drink in private.
Our top Gujarat Holiday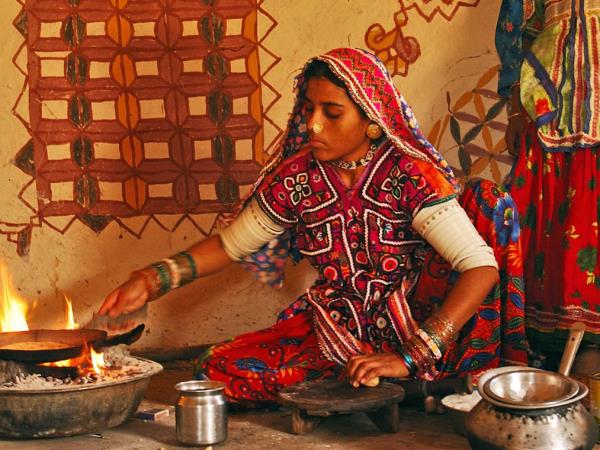 A fascinating mix of local village culture and wild landscapes
From
£2875

to

£3085
15 days
ex flights
Small group travel:
2022: 22 Oct, 12 Nov, 17 Dec
2023: 14 Jan, 18 Feb, 11 Nov, 17 Dec
If you'd like to chat about Gujarat or need help finding a holiday to suit you we're very happy to help.

Best time to visit Gujarat

Gujarat glows green post monsoon as thoughts turn to dancing in moon and candle light for the Navaratri harvest festival and Diwali celebrations during October.

Summers in Gujarat start in March with temperatures rising in the run up to June. April and May tend to be the driest, hottest months – temperatures often exceed 40°C – although towards the end of summer it gets really humid in readiness for the southwest monsoon season in July, August and September. Gir National Park actually closes at this time of year. It tends to rain less in the north of Gujarat so Ahmedabad is a good option, alongside Bhuj and the Rann of Kutch which receive hardly any rain. October through to February finds temperatures dropping and rainfall stopping making it the best time to go on holiday in Gujarat for glorious green countryside.
Sanjay Oberoi, Director of our Gujarat tour specialists, Bespoke India Travel:
"The best time to visit Gujarat is in winter. Winter is when we celebrate most of the festivals, the weather is pleasant, and hordes of migratory birds are visiting as well. Festivals such as Navaratri (Sept/Oct), Holi (March), Kavant Mela tribal festival (April), and Uttrayan kite festival (January) are definitely worth experiencing."
More about Navaratri in Gujarat
This nine-day festival is a celebration of the Hindu goddess, Navaratri, and takes place in the month of Ashvin – end of Sept or early to mid-Oct. Performance art, fasting and prayers to garbos (clay pots) – which symbolise the womb of Mother Universe – take place across Gujarat. One of the most significant celebrations is a synchronised dance called garba which involves the striking of dandiyas (sticks) and gentle teasing and banter between the boys and girls taking part. Vibrant and colourful traditional costumes are worn as entire communities dance to tunes, hymns and folk songs relating to tales of Navaratri and Lord Krishna. This is an exciting time of year as not only does it signal the end of monsoon season but also the run up to one of India's most important events – Diwali.
Winters in Gujarat can get chilly at night; however, visit the villages close to Bhuj and the Rann of Kutch during December or January and you'll soon warm up as you experience one of the region's best loved cultural festivals: Raan Utsav. Join local Gujaratis for folk music, dancing and traditional craft exhibitions under the illuminating light of the full moon reflecting across the salt flat plains. Another January festival celebrated in Gujarat is Makar Sankranti or Uttrayan. Skies become awash with kites as people gather on the rooftops of their homes and engage in dog fights and kite dances while celebrating with snacks and music. Ahmedabad hosts an especially impressive kite festival in January where many international kite flyers participate along the river front. Festival celebrations tend to wind down during February but if you're looking for the best time to go wildlife watching in Ger National Park then foliage is in scant supply making animals, including leopards and Asiatic lions, easier to spot. Rising heat and humidity signal the start of summer in Gujarat with temperatures climbing through March, April and May to peak in June – not the best time of year to visit the Raan of Kutch. Holi festival takes place in March to celebrate the onset of spring. Bonfires are lit and coconuts and corn are offered to the fire god on the first day. Whilst the second day, Dhuleti, is celebrated in an explosion of colour as young people throw coloured water and paints at each other, alongside numerous other cultural customs, as a blessing of good harvest for the year ahead. Ger National Park actually closes its gates during June, July, August and September as it's monsoon season; many small group tours won't run at this time either – it's just too wet. After the rains have finally ceased at the end of September, Gujarat's countryside gives way to glorious green with the Hindu harvest festival of Navaratri causing nine-day celebrations to take place across the whole of India in early October. No sooner than Navaratri celebrations have cooled then Gujarat, and the rest of India, turn their minds to Diwali – the festival of light – for five days at the end of October. Expect homes, temples and shops to be cleaned and bedecked in candle light. November is one of the best months to go to Gujarat for greenery and comfortable temperatures and a chance for local people to welcome tourists and travellers at the start of peak holiday season.
More about Gujarat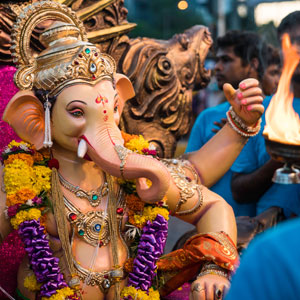 Experience a variety of contrasting landscapes, like the Rann of Kutch and Gir National Park.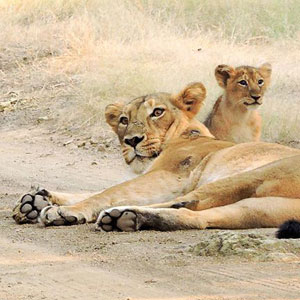 The last remaining Asiatic lions on the planet can be found solely in Gir National Park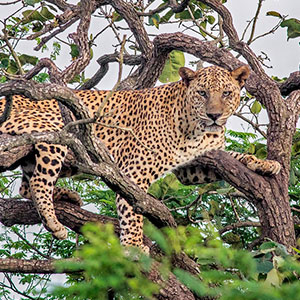 The last refuge of Asiatic lions on the planet – and the only place to see a lion outside of Africa.