Multi activity tours in Alaska
Our 
multi activity tours in Alaska
explore magnificent national parks such as Denali and Kenai Fjords, your entrance fees helping to protect these beautiful landscapes, and the wildlife that depends on them for habitat.
With this kind of holiday the focus is on getting out and about on two feet, on two wheels, or in a kayak. And you will have F.U.N. But between taking in the views and sharing a few drinks with your fellow travellers in the evenings, you'll learn plenty about these places and the threats they face, from glacier melt to warming seas. Seeing the speed with which a glacier is retreating or visiting a marine wildlife rescue centre set up in the wake of the 1989 Exxon Valdez disaster, can be a striking reminder of the fragility of nature and human impact upon it.
Touring Alaska is also an opportunity to learn the stories and traditions of Alaskan Natives, the various indigenous peoples here. Among them are the Yup'ik on the west coast, who are seeing their ways of life challenged by rising sea levels. The loss of their ancestral lands will force migration, making them among
America's first climate refugees
.
Hiking
Even in a state that's not short on beautiful walking trails, Alaska's Denali National Park is remarkably blessed with them. Wilderness hiking on the spectacular Triple Lakes Trail takes you up through spruce forest past stunning mountain panoramas. The wildlife here includes wolves and grizzly bears, as well as caribou, dall sheep and moose. While you're unlikely to see a wolf, bears can often be spotted, particularly later in the summer as they fatten themselves up prior to hibernation. You can also take a guided bus tour of Denali which gives you the chance to see more of the park, handily stopping at some of the best viewpoints for wildlife.
Trips here also visit Kenai Fjords National Park, where you can hike to the immense Exit Glacier, getting close enough to hear the ice creaking and groaning. Unfortunately, like many others around the world, this glacier too is making a swift Exit, and this long finger of ancient ice has now been found to 
retreat in winter
as well as summer. If you want to see that blue, blue ice then you need to walk even further up the trail.
"Climate change is affecting Alaska in many ways but in south-eastern Alaska visitors and residents may notice above all else how quickly glaciers are retreating," says Faye Wilkinson of our partner Intrepid Travel, who organise multi activity tours in Alaska. "When you hike out to Exit Glacier, there are signs that show where the glacier reached to in years past which allows you to get a feel for how fast the retreat is happening. You can still see many glaciers when you visit, but the landscape is changing quickly and if someone were to return in 10 or 20 years, it will look quite different."
Biking
On an activity tour in Alaska you might take to two wheels on the Tony Knowles Coastal Trail, which is one of the most picturesque in North America. A 32km route takes you from downtown Anchorage to the visitor centre in Kincaid Park. Views of the Cook Inlet, where you might see beluga whales, give way to forested trails where you need to keep your eyes open for moose emerging from the undergrowth. On the list of animals that you don't want to ride a bike into the side of, a moose is close to the top.

Bikes provided are high-quality and ideal for the terrain you'll be tackling, and the pace is always relaxed. Still though, a few practice rides before you go, if you're not a regular cyclist, won't hurt.
Kayaking
Seward is one of the oldest towns in Alaska, gateway to the majestic Kenai Fjords National Park, which is home to the Harding Icefield and its many glaciers. Here you can get a different perspective on Alaskan landscapes and wildlife as you launch kayaks into the waters of Resurrection Bay. In the calm waters of this beautiful fjord you'll paddle along for an easy-going afternoon in search of sea otters and seals while bald eagles circle overhead, their attention on the salmon in Tonsina Creek.
Alaskan salmon are under threat from the climate crisis – warmer water not only drives away more nutritious food such as zooplankton, but it contains less oxygen. Mass die-offs before the salmon can spawn are
an increasing concern
. The situation is tragically ironic, given the huge carbon footprint that Alaskan salmon will often fly (boxed up and frozen of course) to reach supermarkets around the world. And of course with Alaskan salmon struggling, predators such as bears and eagles which are reliant on it as a food source will also suffer from population falls and become harder to spot.
Our top trip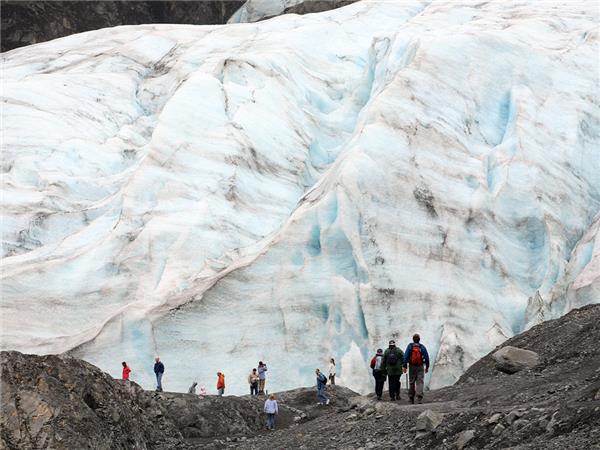 Get active in some of Alaska's best national parks
From
£2202

to

£2800
6 days
ex flights
Small group travel:
2024: 9 Jun, 23 Jun, 30 Jun, 7 Jul, 14 Jul, 21 Jul, 28 Jul, 4 Aug, 11 Aug, 18 Aug, 25 Aug, 1 Sep
If you'd like to chat about Hike, bike and raft or need help finding a holiday to suit you we're very happy to help.

What do Alaska multi activity tours involve?
Our multi activity tours in Alaska are usually around six days in length. These are small group tours, with a professional tour leader accompanying you throughout to make sure everything runs smoothly while you get on with enjoying the activities. Group sizes are limited to around eleven. Enough to be very sociable, and that by the end of the second day you'll know everyone's names, but also allowing you to stay in smaller, independent hotels and eat in local restaurants, which means more economic benefit to the communities you visit.
Tours usually start and end in the Alaskan state capital, Anchorage. If six days isn't enough for you then you can easily continue your travels from here. Or stick around in Anchorage for a while. Like many other parts of the United States, Anchorage is rife with microbreweries where you can reward the week's exertions. The city is also home to the
Alaska Native Heritage Center
, which through immersive experiences honours and showcases the culture of Alaskan indigenous peoples including the Iñupiaq, St. Lawrence Island Yup'ik and Athabascan.
Best time to go
The best time for hiking, biking and kayaking in Alaska is between May and September when there is unlikely to be snow obstructing routes. "We look to the warmest months of the year for the most comfortable and safest time to do these activities," says Faye Wilkinson.

May to September is when you're most likely to see whales off the coast while hiking or biking coastal trails. From August onwards meanwhile bears are hunting salmon and berries before they hibernate, and moose are rutting, making this an exceptional time to be out and about roaming the wilderness. Keep in mind that mosquitos are abundant from mid-June through to the end of July though, so on a multi activity tour around then you'll want adequate protection from these nasty nibblers.
More Hike, bike and raft articles