Best time for a family to go to India

For Easter or autumn holidays, come to Kerala, and in July and August, head north. Christmas in India finds cooler, drier conditions across the board, as well as the crowds.

Jul-Aug coincide with southern India's monsoon season but the further north you travel, from Udaipur to Ladakh, for example, the drier it tends to get. Apr-Jun will be hot in
Rajasthan
, very hot; however, this is the
best time to spot tigers
as they appear around diminishing waterholes. Christmas gets busy down south, with Dec-Jan in
Kerala
alive with tourists, so opt for Oct half term, post monsoon, when forests and waterfalls are replenished and everyone's gearing up for Diwali.
In the south
dress kids in cottons because the weather is always warm and - of course - you can buy clothes in India, so try not to overpack.
Our India family Holidays
Is an India holiday with your
family for you?
Things to do on a family holiday in India...
Tales from the Jungle Book have never seemed so vivid as you take your family on a tiger safari within the lesser known national parks of Kanha and Bandhavgarh, just an overnight train ride from Delhi. Of course, Ranthambore National Park isn't a bad place to seek out Shere Khan either with tumble down fortresses and creeper-covered temples adding to the excitement for jungle explorers.
If you've never considered volunteering on a family holiday then now's the time to start as you discover a side to India that will bring you closer together as you help out in urban slum areas and remote rural schools. Assist in English lessons, get your hands dirty, and interact with local kids in underprivileged communities close to the highlights of tourist-enriched areas like Kerala's Fort Kochi.
If you've got plans to show your kids a side to life that doesn't include electronic gadgets then there's nothing better than a homestay to do just that. Learning how to cook, care for livestock and enjoy simple pleasures, like sunsets over Himalayan mountains, will turn your family into much more appreciative travellers with new playmates providing friends for life, and a lot more besides.
Things not to do on a family holiday in India …
We've all seen Michael Palin staring wistfully from a slow-moving train as he heads from one region to the next. However, with kids in tow, travelling right across India whilst ticking off temples is not recommended. Stay in one state, like Rajasthan, Kashmir or Kerala, and focus your family on just a couple of cities, villages or national parks so you can slow down, appreciate an experience, and go with the flow, without cramming too much in. Ignoring advice is not something that we'd recommend. It's crucial on a family holiday in India for adults to lead by example, especially when it comes to dressing appropriately and briefing kids on what they can and can't do. For instance, rabies still exists in India so petting animals is out. Hygiene should be taken seriously so pack wet wipes and hand sanitiser although most other medical supplies will be available. You can also get pens in India, lots of pens. Don't pack pens. India is filled with cows, holy men and beggars. Or so the cliché goes. Putting poverty into perspective means neither ignoring the slum areas of Mumbai, Delhi and Calcutta nor focusing purely on living standards. India has many layers of poverty and organised, ethically-run slum tours can explain why poverty exists so as not to leave you with the impression that everyone in India is poor, solely relying on begging for income. Dig deep, open your mind and peel back the layers.
Our top India family Holiday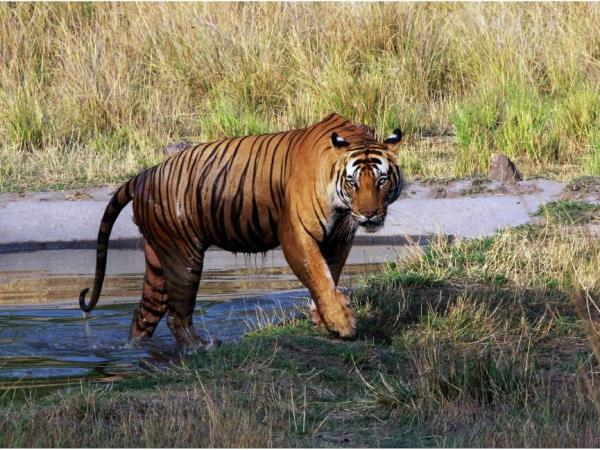 A chance to see the majestic tiger in the wild
From £1200 to £1550 9 days ex flights
Tailor made:
This trip can be tailormade throughout the year and can be adapted to suit your requirements for 2 to 12 people. The best time to travel is October to June
If you'd like to chat about India family or need help finding a holiday to suit you we're very happy to help.

INDIA FAMILY HOLIDAYS TRAVEL ADVICE
Listen and learn
Sophie Hartman, from our tour partners Chinkara Journeys, has been taking her daughter to India since she was three:"Listen to advice when it comes to appropriate dress. I've really struggled with people whom I've specially asked to dress modestly (we operate in a very under-visited part of India where people aren't used to seeing white people, let alone bare white legs and arms) who've then emerged in shorts and a strappy top and asked the guest house owner if they're ok as they are – the hotel owners are far too polite to say anything and although everyone is lovely in the part of India in which we work the local people are embarrassed and that infuriates me. Ditto tipping – don't tip less than your guide recommends, and be generous; people are so poor, the few extra pounds you give to the fellows who clean your room and make your supper will go towards giving their children a decent meal or an education."
Introducing India
Jim O'Brien, Director at one of our suppliers, Native Eye Travel, recommends where to go for families:"For first time visitors to India, I would recommend Rajasthan. It fulfils all Indian fantasies, with camels on the street, palaces, maharajas and so on."
Unleash your inner Indian
Rajat Kumar Managing Director of our supplier ExplorIndya, shares his top tips for families visiting India: "We don't realise as Indians how important vacations are to the typical western traveller, because it isn't as important for us. We don't have holidays in the same way, so we don't realise how necessary things need to be spelt out and why things shouldn't be left until the last minute. If you think something isn't clear, always ask for clarification. Ask more questions, and complain when you need to, be direct and open. That is what Indians would do, and you can't change the mindset."
When to visit Kerala
Diana Syrett, Managing Director of one of our top suppliers, Kerala Connections, explains the best time to visit Kerala with kids:
"December and January are really busy in Kerala, so if you don't want crowds and very high prices, these months are best to avoid. June and July are also worth avoiding because of the monsoon, but really you can go anytime outside those months. The Easter holidays are good for families and August and September are still low season in a lot of the lowlands, but sometimes it is hard to get flights from the UK at that time of year, so you need to do that well in advance. It is also the Onam Festival here in August and September. It is the equivalent of Christmas for Hindus and a wonderful family celebration."
For more information on the best time to visit India please visit our
India travel guide
.
The kids are alright
Sophie Hartman, from our tour partners Chinkara Journeys, has been taking her daughter to India since she was three: "I've been taking my daughter since she was three (she's now 21) and the most striking thing is the bliss of being in a country where people actually like children. Kids are often accommodated free in hotel rooms and people are lovely about making special food. The 'don't pack too much in' tip holds even truer here. Find somewhere lovely (Bhoramdeo Jungle Retreat is a particularly lovely low key guest house in northern Chhattisgarh with a wonderful owner who is great with children) and park yourself. Establish good relationships with people who might help a bit with childcare and then do outings from your base."
INDIA FAMILY HOLIDAYS TRAVEL ADVICE
At Responsible Travel, we think the best people to advise our travellers are often... other travellers. They always return from our tours with packing tips, weather reports, ideas about what to do - and opinions about what not to.

We have selected some of the most useful India family holiday tips that our guests have provided over the years to help you make the very most of your holiday.

Tiger spotting in India is not like an African safari as tigers live in dense forests so you have to have a good guide & good luck.

It's a great holiday - the guides were knowledgeable and managed to get the right balance of sightseeing and down time. Pack light as it makes it easier when travelling between locations. Stay at the old harbour in Cochin - great place. Our children age 13 and 10 thoroughly enjoyed it - and absolutely no issues with anything while they were there." – Philip Hesketh

"If you go at Easter expect great heat and humidity also you will be sharing some of the sights with the Indian people as they will be on holiday too - this actually made the experience better for us. We went without any computer games or mobile phones and found that improved the experience for us as our child engaged with the country and if she was bored she slept and that proved to be the best use of her down time. If you need to contact home, all hotels had free wifi and computer access." – Sarah Griffin

"The driving distances are not far but can take a long time as the roads are sometimes small and busy. We asked for stops for the children to stretch their legs and experience a little of the busy Keralan towns. Lots of mozzy cream/spray is useful. We talked to our lovely driver, Deepu, a lot and learnt so much about South India, the elections taking place, the culture and traditions. Leave any preconceptions of India behind and be prepared to be amazed!" – Sarah Bland

"Be vigilant with hygiene if you want to avoid a stomach upset – lots of antibacterial hand gels, avoid meat, dairy and uncooked fruit and veg, and be careful of swallowing swimming pool water. July/Aug was very humid but the monsoon rain did not affect our trip and made the heat more bearable than May/June. Begging is rife and hard to ignore. I would not recommend this trip for very young children, but fab for teenagers." – Janine Jackson

"Tiger spotting in India is not like an African safari as tigers live in dense forests so you have to have a good guide & good luck. Out of 10 drives we saw 5 tigers & were considered very lucky. Be prepared for early mornings (5.45am) and tiger drives of 7 hours a day. But it's worth it." – Katherine Robins

Stay at the old harbour in Cochin - great place. Our children age 13 and 10 thoroughly enjoyed it - and absolutely no issues with anything while they were there.

More about India family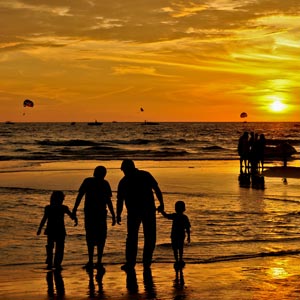 Instead of thinking what could go wrong why not flip things upside down and think what could go right as you embark on an India family holiday that will leave your family collectively looking at life in not quite the same way, ever again.