Cycling the Wild Atlantic Way in Ireland
The ancestors of the folk living in west Ireland were no strangers to hardship. Famine, social isolation and untameable limestone landscapes led to massive population decline. The whole of Ireland suffered too. From a country of more than eight million in 1840, the effects of the
Great Famine
and subsequent emigration to the US led the Irish population to drop to just three million during the 1920s.
Joe Joyce runs a sheepdog farm in Connemara, County Galway. The farm is set in a beautiful, pristine valley and Joe and his family are the third generation who've lived and worked there since the 1800s. Not many Irish people have ever heard of the area, let alone tourists. Our
self guided cycling
tour will point you in the right direction though. Joe tells some amazing tales about his ancestors and what they had to deal with working this inhospitable landscape in some truly desperate conditions.
An example of how desperate things were is shown in the plough marks that are still visible on the mountainsides. Some of the slopes are so steep you can barely walk on them, let alone pull a plough. But pull they did, in an attempt to cultivate new soil to grow crops. Once you see the grooves of the plough you'll begin to see them again and again in other areas and on even steeper slopes. But you might not see them, or know their significance, before someone like Joe has pointed them out.
These days the nine counties of West Ireland are still just as wild and untamed, especially along the Atlantic coast, but through perseverance, resolve and pure pig-headed stubbornness, the people have remained and the population has grown. Family and community are what binds them. And the rewards for living in one of the greenest and most exhilarating parts of Europe are infinite.
Attracting more tourists to the area is one way that the Irish government and tourism board have attempted to capitalise on the captivating countryside and exciting Atlantic outcrops, and support local communities in lesser-known, isolated areas at the same time. In 2010 the Fáilte Ireland (Welcome to Ireland) marketing campaign set out to do just that. Four years later, in 2014, the Wild Atlantic Way was unveiled to the world and the rest, as they say, is history.
Cycling the Wild Atlantic Way
The Wild Atlantic Way is a 2,500km signposted road route on Ireland's west coast. It leads through all nine counties and takes in the rural roadways that wind up through the hills, as well as the quiet secondary roads that circumnavigate the towns and cities. Cycling stretches of the Wild Atlantic Way immerses you in countryside and coastline, as well as inviting instant opportunities to simply stop, get off the saddle, and soak up the scenery or pop into a pub for a blether over a Beamish.

All in all there are around 2,000km of cycling and walking routes situated on or just off the Wild Atlantic Way. They take in Ireland's jagged, jigsaw-like coast, as well as coming inland to make the most of the beautiful scenery that stretches from the counties of Cork and Kerry, through Galway and up into Donegal in the northwest. Ireland is only 486km long, as the crow flies, so you can imagine how many inlets and bays can be found along the coast that contribute to the length of the trails.
The region as a whole is an incredible area for outdoor activities and cyclists, in particular, have really been able to take advantage of the road signs all along the WAW. Local people have benefitted too. The additional tourism in the area has created more jobs, particularly in the service industries, activity centres and locally owned B&Bs and hotels. Our cycling tours stop off at a different village or small town every night. This means that cyclists will get to spend time off the saddle meeting local people in traditional pubs, seafood restaurants and in homely guesthouses.
Local landladies, especially, have become ambassadors for the whole of Ireland. They've thrived on the opportunities that the Wild Atlantic Way has delivered to their doorsteps. There's nothing that they don't know about what's going on in their local village or town, not to mention the entire county.
Our top trip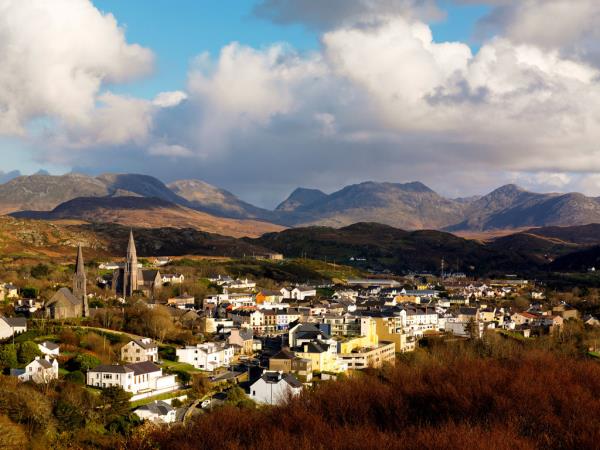 Spectacular cycling on the Wild Atlantic coast of Ireland
From
€1350

to

€1450
7 days
ex flights
Tailor made:
This trip can be tailor made throughout the year to suit your requirements
If you'd like to chat about Ireland cycling or need help finding a holiday to suit you we're very happy to help.

Variety's the spice of life
There's a real variety of landscapes all along the Wild Atlantic Way. Burren National Park in County Clare, especially, is quite remarkable. It's got a unique and rocky, lunar-like quality of sheer limestone and covers Clare's west coast. It's a fascinating area with numerous endemic plants and flowers, including practically all of Ireland's species of wild orchids.

The Burren is also blessed with a huge amount of historic sites, such as early Christian churches and sacred stone tombs, many of which have remained untouched by all but the elements. Due to the inhospitable nature of the Burren's rocky landscapes, numerous examples of early human inhabitation remain throughout the area. Some of the weather-worn stone sites go back to 3000BC.

"Our cycling tours are all self guided and lead you through the Burren over rural tarmac roads and paved paths. These are very narrow roads we're talking here, proper winding country lanes, only a car's width. Not that you'll see many cars. Our cyclists really enjoy the good quality road surfaces and being surrounded by countryside. We also direct people over two lane country roads that are, again, very quiet." – John Kennedy
The Cliffs of Moher are Ireland's second most popular tourist attraction and certainly worth a visit whilst in the Burren. They rise up some 700ft in places and there's a great 18km cliff top trail that leads along the top with great views out over the Atlantic and towards the Isles of Aran. You can't cycle the trail, but it's worth a walk if you fancy an afternoon out of the saddle, and the visitor centre is very good and in keeping with the wild and untamed natural environment.
To the north of County Clare, Galway is sometimes described as the most Irish of Irish counties by local people and visitors alike. This is the region where the Irish language and cultural traditions are still kept alive and well. Galway City is the headquarters for many of Ireland's cultural heritage and Irish language organisations. You'll still hear traditional Irish spoken in the streets and in the schools. In fact, English isn't taught or spoken in the schools of Galway.
Another region of County Galway that has a rich tradition of Irish culture is Connemara. It's considered the largest Irish-speaking region in Ireland. Connemara's landscapes are actually fairly similar to what you'll find in Kerry and Cork but much, much quieter, with a fraction of the tourists. Some of the beautiful golden beaches are often deserted and look like you could be in the Caribbean, although the water is slightly colder.
Cycling through Connemara takes you through the tiny country lanes and around the mountains. The distances between the villages and towns are perfect for cycling with 20-30km routes making for a very nice afternoon by bike. Some of the seafood that you'll find in Connemara is fresh out of the Atlantic with shellfish, salmon and sea trout all making their way to restaurant and kitchen tables across the county.
Starting out
Galway City is where cyclists first come to when they're starting out on a week-long tour of the west coast. They'll be welcomed to Ireland, and the area, by John in his bike shop. Bikes will be fitted, itineraries and routes discussed, and maps pored over on the countertop.

Cyclists will then be given their info pack and route notes before being transferred out of the city and into the countryside by vehicle. Luggage transfers, 24hr call out service and a network of local bike shops ensure cyclists can pedal with confidence, safe in the knowledge that help is always at hand in the unlikely event of an emergency.

The beauty of a tailor made cycling tour is that mixed-ability groups of friends and family members get to go on the same trip. There are often about four or five different ways that you can cycle from one village or town to the next. This works out really well for cyclists, as you can often choose between 25km, 50km or 70km routes that all lead to the same overnight location.

Of course, the other beautiful thing about cycling on the Wild Atlantic Way is that you really get to feel the place. It's as if the stories of the ancestors and the spirits of the past are welcoming you to their country. Cycling helps you tread with respect and without barriers. You'll fit right in, just as nature intended.
More Ireland cycling articles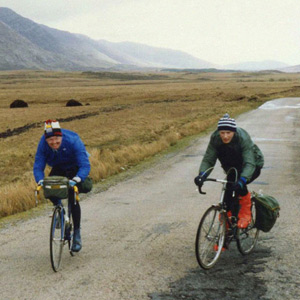 Follow winding rural roads and good quality, car-free tracks on your bike in Ireland.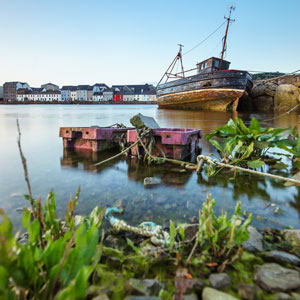 The nine counties in the west of Ireland all have plenty to offer visitors.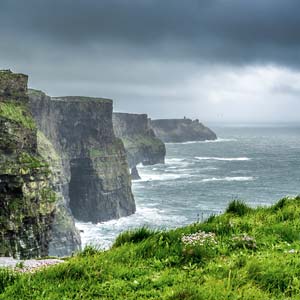 Previously abandoned railway tracks have been turned into cycle routes.