Italy winter holidays guide
There is a bit of a north-north divide when it comes to winter holidays Italy. The sharp, snowy slopes of the Dolomites in Italy's northeast, bordering Austria? Or the Alpine cols and crests over on the border of both France and Switzerland? They are all Alpine, of course. The Dolomites are famous for their dramatic, jagged peaks, the most famous being Tre Cime di Lavaredo. And the Alps need little introduction with peaks like Grand Combin overlooking Aosta Valley or Cima del Bosco which towers over both Italy and France.

Snowshoeing high up in the Italian Alps and then crossing over into France to take on the Cime de Saurel peak, now that is what I call freedom of movement in Europe.

Both regions are perfect for winter activities such as cross country skiing, snow shoeing and winter walking. Or just finding a mountain chalet and breathing air into those lungs again. The cultural divide is almost as immense as the mountains, with the South Tyrolean Dolomites all a bit apfelstrudel and the northwestern Italian Alps a bit more cheese and chocolate. Make of that what you will.

Find out more in our Italy winter holidays guide.
Our Italy winter Holidays
Is a Italy winter holiday for you?
Go on an Italy winter holiday if…
… you love hiking here in summer but think that winter slopes are all about downhill skiing. They really aren't. Don't let your hiking boots gather dust in winter; dowse them with powder instead.
… you want to try cross country skiing. Even if you are a beginner, this a wonderful country to start with places like Dobbiaco being the Dolomites' cross country skiing hub with trails trickling off in every direction. Once you have tried, you will always love the 'loipes'.
… you are fed up with the environmental destruction caused by downhill skiing, but love the freedom of the Alps in winter.
… you want to head well off the beaten piste. Our responsible winter holidays in Italy offer accommodation in small, local communities. Others snow shoe from one Alpine valley to the next, staying in mountain huts or gites along the way.
Don't go on a Italy winter holiday if...
… you are very unfit. You don't need to be a triathlete, but these snow covered valleys do give you a pretty good workout. Cable cars up and downhill back? Not so much. ... chalet chic or piste parties are what you are after. These holidays are fun, but you won't find too much Europop rocking these mountains. Evenings eating fine food and excellent wines will be a feature, however. ... you have young children. Most winter holidays in Italy involve cross country skiing or snow shoeing, and the minimum age tends to be around 12. … you have a lot of dietary requirements. Food is pretty traditional in northern Italy with a lot of game, big meat stews, cheese and more cheese. Gluten frees will love the prolific polenta, though. And forget 'dry January' if you are going then. The local wine is flowing.
Our top Italy winter Holiday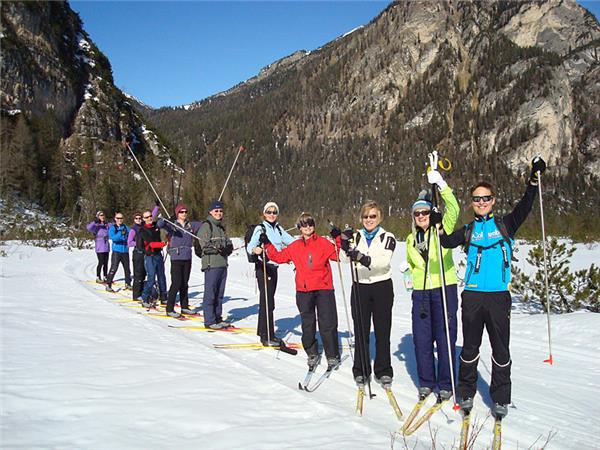 A famously beautiful range of jagged peaks
From
£1799

to

£2079
8 days
inc UK flights
Small group travel:
2023: 14 Dec, 21 Dec, 28 Dec
2024: 27 Jan, 3 Feb, 10 Feb, 17 Feb, 24 Feb, 2 Mar
If you'd like to chat about Italy winter or need help finding a holiday to suit you we're very happy to help.

Italy winter holidays map & highlights
Winter holidays in Italy are all about northern exposures. In the northwest, there is snow shoeing and cross country skiing in the Alps. These form a natural border with Switzerland and France and in some cases this means you can take a winter wander over the border. In northeast Italy you have the Dolomites which are a UNESCO World Heritage Site. Although they are also part of the Alps, they have a very independent feel about them, with a lot of limestone. Bordering Austria, there is also a lot of South Tyrolean culture going on, so you'll find a different vibe all round.
1. Aosta Valley
The small mountain town of Valpelline wits at the meeting point of Ollomont and Valpelline Alpine Valleys, all part of the bigger Aosta Valley. It's at the foot of Grand Combin which, at 4,314m, protects the valleys from harsh winter winds, making this a wonderful winter walking location. Fill up on fine Aosta cuisine at the end of the day, in a region that specialises in all things local.
Cross country skiing, Dolomites
2. Cross country skiing, Dolomites
Dobbiaco is the Dolomites' cross country skiing hub with trails trickling off in every direction, as well as regular international XC competitions. 'Loipes' take in natural wonders such as the Sexten/Sesto and Prags/Braies valleys, the Plaetzwiese Plateau and the iconic Tre Cime di Lavaredo peaks. Some tracks also lead to Cortina d'Ampezzo, which hosted the 1956 Winter Olympics.
3. Italian mountain food
The Dolomites are all about South Tyrolean specialties such as Speck ham, apfelstrudel, dumplings, groestl bacon fry ups and a lot of local game, washed down with equally local wines. Aosta Valley, which borders France and Switzerland, has treats such as carbonada red wine meat stew, Fontina cheese fondue, gnocchi and Motzetta, which is dried chamois meat, similar to prosciutto. And polenta is everywhere.
Snow shoeing, Fanes-Senne Natural Park
4. Snow shoeing, Fanes-Senne Natural Park
This stunning landscape of sheer cliffs interspersed with white jagged peaks covers some of the Dolomites' beauty spots like Val Badia and Val Pusteria Valleys. Snow shoe along WW1 trails that exemplify nothing but peace these days, with views to the iconic Tre Cime di Lavaredo peaks. Snow shoe here for a week and tackle new, pristine trails every day.
Snow shoeing, Italian Alps
5. Snow shoeing, Italian Alps
Snow shoeing close to the French border takes you to exquisite elevations where you can escape the downhill posse and trek through gorgeous winter wilderness. Val de Susa is a great starting point for snow shoeing gite to gite, hut to hut. Highlights include Cima del Bosco (2,376m), a collection of cols over 2,000m and then, crossing over the border, Sommet des Anges (2,459m).
Winter walking, Lago di Braies
6. Winter walking, Lago di Braies
Lago di Braies, a lake at the head of the Dolomites' Braies Valley, also known as Prags Valley, turns from turquoise in summer to teal in winter, emanating that icy blue green gorgeousness that will makes your reach for your camera. A snows hoeing and winter walking guide will lead you through the forests that envelop it, with views of glorious white peaks all around.
More about Italy winter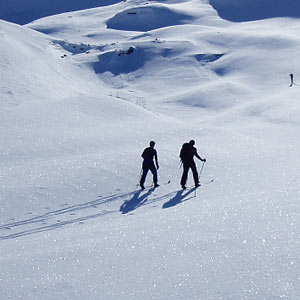 Winter holidays in Italy tend to take place up north where snow falls between December and April. Find out the best month for your chosen activity...