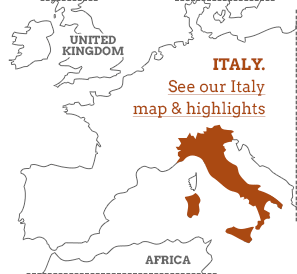 Italy inspires awestruck sayings more than perhaps any country in Europe: 'All roads lead to Rome'; 'See Naples and die' (referring to its intoxicating impact not the driving). In his 1972 book Invisible Cities, Italo Calvino wrote that 'every time I describe a city I am saying something about Venice'.

Piedmont gave birth to the Slow Food movement, sprinkling new ethics into global consumption and conception. Italian artistry is revered: the glory of Leonardo among a host of Old Masters; iconic architecture, from ancient Roman grandeur to the sublime elegance of Palladio; an array of chic, contemporary fashion and design.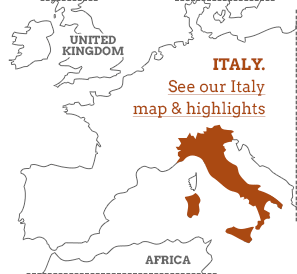 Its empire once ruled the ancient world, but today Italy sweetly captures hearts and minds instead.

But alongside glorious towns, peerless history and irresistible food, Italy has truly bellissima nature too: wild and beautiful mountains; deep valleys, vast lakes and smoking volcanoes; paths tracing gorgeous coasts or vineyard-dotted hills. Italy draws passionate responses – and our Italy travel guide is happy to share.
Italy is...
passionate, colourful, sophisticated, delicious.
Italy isn't...
all coach tours, gondoliers and David souvenirs.
What we rate & what we don't
Inland Sardinia
Ancient Romans christened inland Sardinia's wild mountains and valleys 'Barbaria' (barbarian) and left it unconquered. Now Barbagia, it remains untamed, the flanks of the Gennargentu massif carpeted with herb-scented scrub roamed by wild horses. Admire powerful murals in former bandit town Orgosolo, then hike from Is Muralleddas to Texil through woods of oak, chestnut, cherry and cork.
Proper Italian meals
Forget soggy pasta doused in gloopy tomato sauce. A true Italian meal skips delectably through distinctive antipasti appetisers, a small risotto or pasta course (cooked al dente and lightly coated with something interesting), then fish and/or meat courses, ending with sweet stuff and cheeses. Pizza should be thin-crust, herby, not too cheesy, and piping hot from a wood-fired oven.
Farm stays
Tuscany and Umbria have long led the way for Italian farm stay breaks (agriturismi) but recent years have seen a surge in places around the country like Calabria and Sardinia to enjoy close-to-the-earth bucolic bliss. Options include rustic old houses with tiny groves, gritty muck-in farms or grand country estates with pools alongside the produce!
Underwater wonders
The Ligurian Sea has one of the Mediterranean's highest concentrations of whales and dolphins in the Pelagos Marine Sanctuary stretching from the mainland to Sardinia. The latter offers a host of memorable dive sites in the sublime Gulf of Oresei: submerged fossil beaches, mysterious ocean caverns and WW2 wrecks, as well as vibrant reefs and colourful swimming things.
Amalfi Coast
The Amalfi coast presents a sophisticated face to the Gulf of Salerno, beaches and marinas interspersing chic towns like Sorrento, Positano and Amalfi, with glamorous hotels dotting steep coastal hills. Unspoilt west coast hikes on the island of Capri plus the vibrant mainland port of Salerno contrast the glamour. And ferries beat the hairpin coast roads for getting around.
Tuscany
Popularity can sometimes make Tuscany's hills, vineyards and jewel-like towns crowded – but no less gorgeous for that. Florence remains a stunning backdrop for Old Master treasures, alongside Gothic Siena and Renaissance Lucca. The high towers of San Gimignano are an iconic Italian skyline. As for that wonky tower in Pisa, they're still pursuing the builder!
Umbria & Le Marche
Discover an Italian secret right next door to Tuscany. Vineyards and groves flourish in the lee of the snow-capped Apennines or behind cliff-backed Adriatic coves in neighbouring Le Marche. Medieval towns like Assisi, Macerata and Gubbio vie with Renaissance Urbino, gourmet Orvieto and vibrant Perugia. Hikers will love the Parco Nazionale dei Monti Sibillini and the stunning coastal Parco del Conero.
Coffee
There's more to coffee in Italy than just espresso and cappuccino (named after brown cowls worn by Capuchin monks). Ristretto is super-strong short espresso and lungo a gentler long one. Macchiato is espresso 'stained' with milk. For stronger cappuccino ask for it scuro. Marochino is cappuccino with cocoa. Caffe corretto is espresso spiked with grappa – a real pick-me-up!
Cruise ships in Venice
The deep channel dredging done to allow cruise ships to sail up Venice's Grand Canal has scarred the fragile eco-system of the lagoon: disturbing marine life plus natural sediment deposition and vital water movements. And all so passengers too lazy to spend a few minutes in a tender can click pics without having to even leave their giant floating hotel.
Dolphin shows
Italy has five dolphinaria - Rimini, Oltremare, Acquario di Genova, Fasanolandia and Zoomarine – where dolphins are made to perform 'circus' tricks in cramped captive conditions that violate both national and international laws. Only two of the dolphinaria even have a license – the others are technically illegal. Morally, they offend too. Please don't go.
Costa Smeralda
Sardinia's Costa Smeralda is great to preen on a beach drinking cocktails and gawping at mega-yachts. Which seems a huge waste of a distinctive island rich with prehistory, lovely medieval towns, unique food and fantastic character. Even the beaches are better elsewhere on Sardinia: Nora with its Roman amphitheatre; La Pelosa; Baia Chia's towering dunes; the entire Orosei coast.
Tourist tat
From Pinocchio's nose to David's penis, if it vaguely has a cultural reference, you'll find it emblazoned on fridge magnets, key rings and aprons. Typical tourist tat flocks to Italy's landmarks, like pigeons to piazzas, and if you're looking for authenticity, steer clear of the stalls surrounding statues and opt for out of the way workshops, markets or agriturismo stores instead.
Eating & drinking in Italy
Drinking cappuccino after midday is a breach of Italian coffee etiquette!

Aperitivi are early evening bar nibbles (free or cheap) – particularly popular in Milan, Rome, Turin, Naples and Venice (called cichetti there). They're a great way to eat - and meet locals - for the price of a drink.

Italy now boasts a growing number of lip-smacking artisan grappas - Poli, Nardini, Capovilla and Tosolini lead the way.


People of Italian origin account for 40% of the population of Argentina – and 5% in the US and Australia.

Our top trip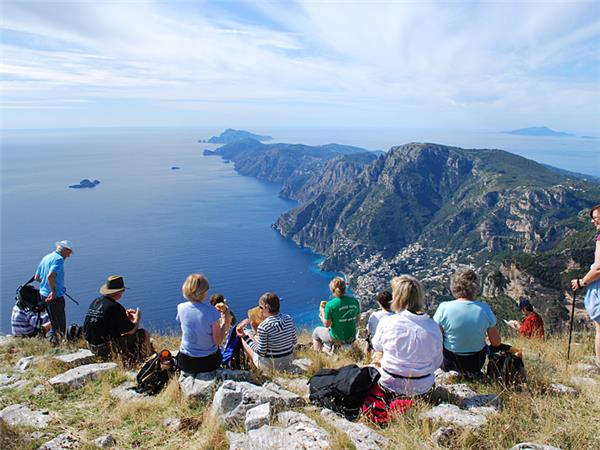 Walk in lemon groves and hillside villages
From
£1599

to

£2349
8 days
inc UK flights
Small group travel:
2023: 23 Dec, 30 Dec
2024: 10 Feb, 17 Feb, 24 Feb, 2 Mar, 9 Mar, 16 Mar, 23 Mar, 6 Apr, 13 Apr, 20 Apr, 27 Apr, 11 May, 18 May, 25 May, 1 Jun, 8 Jun, 15 Jun, 22 Jun, 29 Jun, 6 Jul, 13 Jul, 17 Aug, 24 Aug, 31 Aug, 7 Sep, 14 Sep, 21 Sep, 28 Sep, 5 Oct, 12 Oct, 19 Oct, 26 Oct, 2 Nov, 9 Nov, 16 Nov, 21 Dec, 28 Dec
2025: 8 Feb, 15 Feb, 22 Feb, 1 Mar, 8 Mar, 15 Mar, 22 Mar, 29 Mar, 5 Apr, 12 Apr, 19 Apr, 26 Apr, 3 May ...
If you'd like to chat about Italy or need help finding a holiday to suit you we're very happy to help.

People & language
Italian is spoken with passion, adorned by engaging facial expressions and gestures. It's a language full of grace too, a concept that extends to people via the prized concept of la bella figura – the desire to 'cut a good figure' in how you look and carry yourself.

Impress the locals with dashes of style, and avoid slobbishness that might prompt mutterings of 'Che brutta!' ('how hideous!')

Ciao (hello/goodbye) is best used with people you know, not strangers.

If unsure, stick with the simple basic greeting Buongiorno (good day).
Gifts & shopping
Italian wine and food. For wine, look for DOCG and DOC designation as a sign of a good local appellation, while DOP is a similar sign of a genuine quality Italian food product.

Olive wood is used for beautiful carved items - and it's sustainable too!

First compiled 50 years ago, The Silver Spoon is a classic book gathering over 2000 traditional Italian region recipes.

Religious paraphernalia can make beautiful presents, even for non-religious friends – rosaries perhaps, or prayer cards devoted to a particular saint.

The first banks appeared in 12th century Italy – and a 15th century Siena firm remains the world's oldest surviving bank.

How much does it cost?
Meal in budget restaurant: £12

Cappuccino: £1

1.5l bottle of water: 35p

Train fare from Naples to Pompeii: £2

Ferry from Palermo (Sicily) to Lipari
(Aeolian islands): £30

A brief history of Italy
Italy has suffered badly in recent years from economic woes that have seen unemployment rocket and austerity bite hard – making tourism an even more important lifeline. Many people bemoan rampant nepotism that denies opportunities to anyone without 'connections', while politics seems crazy to outsiders – notably long-time heavyweight (and several times Prime Minister) Silvio Berlusconi's years mired in scandals and ongoing efforts to resist punishment after finally being convicted in 2013 of tax fraud. It seems fitting that a protest party set up by a comedian (Beppe Grillo) took a quarter of the votes in the 2013 election. But for many Italians austerity and social instability are sad detractions from the warmth of the people, and the beauty of their natural and cultural treasures.
Read more