Tuscany travel guide
---
2 minute summary
Tangled knots of vine stretch as far as the eye can see and as you pause momentarily to dab your brow from the heat of the day you're reminded, yet again, what a good idea it was to decline that coach trip to Florence. Tuscany's cities are always popular and contain an inordinate amount of Renaissance art and Romanesque architecture however, during the summer they can become packed and more akin to Napoleon's 18th century invasion rather than a cultural sightseeing tour.
Visiting lesser known villages and towns, especially outside of the summer, offers a much more medieval vision of Tuscany with surrounding scenery promising endless opportunities to walk, cycle and generally enjoy life outdoors. Staying on a working farm is a great way to envelope yourself within Tuscany's most idyllic rural images and if you fancy eating alfresco with grapes hanging overhead and chickens scratching around in the yard then agriturismo is definitely the way to go.
Tuscany is...
a cross between a
medieval theme park
and a
sublime step back in time
Tuscany isn't...
just for sightseeing
, it's for taking a rest and learning to lunch alfresco for an entire afternoon

Hello.
If you'd like to chat about Tuscany or need help finding a holiday to suit you we're very happy to help.
Rosy & team.
01273 823 700
What we rate & what we don't
---
OUR BEST & WORST OF TUSCANY HOLIDAYS
Underrated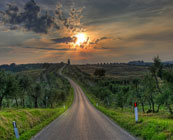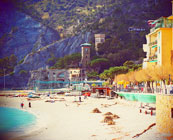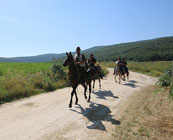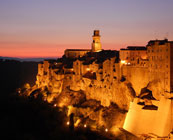 Long and winding roads
Yes, Italy has something of a reputation for 'fearless' drivers and yes, the roads in Tuscany are notoriously twisty turny, but don't let this put you off exploring by car. Ditch that wide wheeled Chelsea Tractor and join the cool club with a cheeky Cinquecento that will help you negotiate narrow tracks and hug those hairpin bends with a touch more confidence.
Days at the beach
Most Tuscans treat the beach in a similar fashion to their seasonal wardrobe in as much as come the autumn it needs to be mothballed and rarely visited until summer temperatures begin to rise. This leaves travellers with beaches bereft of people where solitude can be sought under statuesque pines and dips in the Med, even in October, can be wonderfully warm; well, by northern European standards anyway.
Horse riding holidays
Swapping two legs for four lets you experience Etruscan hillsides from a whole new perspective with wide tracks through vineyards and olive groves combining with wooded ridgelines and views over the Arno Valley. Informal riding and language lessons, and days out of the saddle in Arezzo, Orvieto or Assisi, add to the laid back ambience, with picnics and BBQs in Chianti offering a chance to soak up the views from ground level.
Pitigliano
Situated in the southeast of Tuscany is the rather remarkable town of Pitigliano, whose nickname, Piccola Gerusalemme or Little Jerusalem, offers insight as to just part of the attraction. Aside from the former Jewish quarter and a walk around the walls, Pitigliano is all about the approach with ancient tufa rock carvings offering an amazing example of Etruscan architecture rarely glimpsed by the Chiantishire jet set.
Rated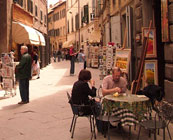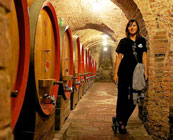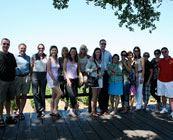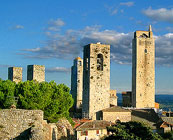 Lunchtime dining
Eating out in Tuscany is certainly not something to be confined to the evening and definitely not just for expensive restaurants yards from the Ponte Vechhio or Siena's Piazza del Campo. Lunch in Tuscany is the most important meal of the day with shops closing – pausa pranzo – from 1pm until 4pm; so, when in Rome and all that. Top tip: stumble over a tiny trattoria without tourist menus or inflated prices.
Wine tasting tours
Il sole, la terra and la colline (the hills) all combine to create Tuscany's fabled Sangiovese grape and sampling the produce of vines surrounding Montefioralle, Montalcino and Montepulciano, will put a smile on your face as wide as the Arno. From a blood red, oak-infused Chianti to the crisp, citrus flavours of a white Vernaccia di San Gimignano; wine tasting tours in Tuscany have got legendary status sealed in.
Guided sightseeing
We're not talking following a tour guide with a telescopic umbrella here. Small group holidays in Tuscany are all about discovering the region through the eyes of a local. You'll get to know what they recommend as you learn about the landscapes, the history and the most important highlights of the region on an enjoyable, personable and memorable experience without a brolly in sight, hopefully.
San Gimignano
San Gimignano is going to be busy and entering through the Porta San Giovanni will place you right onto the main street of Via San Giovani which leads to the Piazza del Duomo. Stepping off the tourist track is extremely easy and there's a wonderful walk around the perimeter of the city as well as plenty of affordable and authentic places to eat if you have the time to explore.
Overrated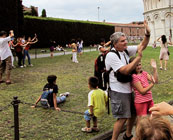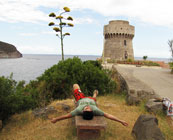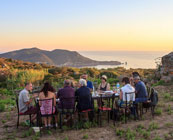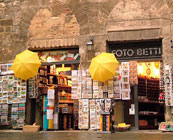 Coach tours
Although an organised coach tour may appear a less stressful alternative to driving it won't necessarily give you as authentic an experience as you might have hoped for. Watching the clock and sightseeing en masse chucks you into a whirl of tourist tat and machine gun photography with little or no time to rest, explore and enjoy places away from the souvenir stores and over-priced restaurants.
Cramming it all in
Lucca, Florence, Siena, Pisa, San Gimi-watsit! Arrghhh. Sometimes what was meant to be a stress-free week away can turn into more of a medieval nightmare. Don't overdo it. Spend an afternoon by the pool or linger a little longer over lunch. Those medieval ramparts have been there a while and, you know what, they'll still be there next time you come back.
Expensive restaurants
The essence of Tuscan dining is whatever's in season, served simply. You know the sort of thing: freshly picked basil, tomatoes straight from the vine, a splash of olive oil, a drizzle of balsamic vinegar. Although expensive restaurants will often offer an inviting ambience nothing beats rustic dining well done so do yourself a favour and swap Michelin in Florence for mozzarella on a hillside - you won't regret it.
Tourist tat
Pinocchio paraphernalia is everywhere with an army of carved wooden boys swinging from key rings and anything else you care to mention. Michelangelo's David also features amongst the tourist tat with 'saucy' aprons and postcards depicting parts that other souvenirs simply cannot reach. Don't expect these sorts of keepsakes to have been made in the area but if you're looking for cheap and cheerful...
Food, shopping & people
---
TRAVEL LIKE A LOCAL ON YOUR TUSCANY HOLIDAY
Eating & drinking
---
Pecorino is a delicious nutty tasting cheese and comes in three types: stagionato (hard and mature), semi-stagionato (a little softer) and fresco (mild, soft and creamy). Great after a meal with walnuts, pears and honey or just gobbled on its own with a drop of Chianti.
Prosciutto crudo (baked ham) and Tuscan bean soup are both rural favourites but if you're heading Livorno, on the coast, then cacciucco is a local seafood stew speciality and perfect for pit-stops after a bracing winter walk along the beach.
A pre-dinner drink, apertivo (singular), or an after-dinner drink, digestivo, are both used to stimulate the stomach for either food consumption or digestion. Typical Tuscan digestivi (plural) include: ponce alla livornese, vin santo (dessert wine) and ammazzacaffè literally meaning 'coffee killer'.


Chianti wine bottles were originally created through glass blowing and therefore had a rounded bottom. Hence the need to store them in handmade, flat-bottomed straw baskets, originally made from dried river weeds.
People & language
---
After the unification of Italy in the 19th century it was the language spoken by the Florentine upper-class that was adopted by the country as a whole. Therefore Tuscans consider that they speak authentic Italian, much to the disgruntlement of the Milanese and Romans.
Practise your Italian by saying:
Cos'e questo? 'What is this?' or Quanto costa? 'How much is this?' Of course, a warm Buon giorno 'good day' or Buona sera 'good evening' never go amiss along with grazie, per favore and arrivederci. Come si dice? 'how do you say' is very helpful, especially when you point at something and add the word questo, to form: 'how do you say this one?'
Gifts & shopping
---
Bottles of Limoncello or Amaretto, complete with amaretti biscuits, make ideal gifts to bring home.
When buying Chianti keep an eye out for the DOCG label sealed onto bottles which means that they've been certified as only using grapes from the region, primarily Sangiovese grapes. Chianti Classico has to be encased in oak for a minimum of seven months whereas Chianti Classico Riserva will have been aged for at least two years before appearing in the shops.

Carlo Collodi, the creator of Pinocchio, was born in Florence in 1826; hence the key rings, puppets and statues of old 'pine eyes' adorning every souvenir shop from Pisa to Pitigliano.
How much does it cost?
---
Train ticket price from Pisa Airport to Florence: £8.40

Basic adult ticket to Uffizi Gallery, Florence: £11.30

Three course meal (without wine) in rural
restaurant: £13.50

Single scoop ice cream or slice of pizza per la via (for the road): £1.80

Cappuccino at the bar or per la via: £1.20

Servizio covers the service charge and equates to a 10% or 12% tip
A brief History of Tuscany
---
Following the alpine cattle herders of the Apennines who inhabited the area during the late Bronze and Iron ages, the Etruscans were Etruria's (central Italian regions of Tuscany, Lazio and Umbria) first civilised residents who farmed, mined and transported materials in between the Arno and Tiber rivers before finally succumbing to the might of the Roman Empire. The Romans set to work establishing links between citadels by extending roads and introducing aqueducts and sewer systems; although subsequent sackings by Goths, Byzantines and Lombards all befell the region prior to the rise of independent communes or republics during the Middle Ages.
Read more ▼