Where to go in Tuscany
---
Make the most of your time
If you think Tuscany starts and finishes with Florence then you're way off as from the coastline of Maremma to the mountainous landscapes of Garfagnana, there's much more to the region than just tourist hot spots. Often the best way to explore is to bin the guidebook, and no sooner than you've set off you'll be winding your way through the agricultural landscapes which surround the likes of Arezzo, Lucca and San Gimignano, en route to who knows where. Strolling against the sound of church bells and ascending pigeons forms an indelible soundtrack and once you've embraced the Apennines and cavorted in Chianti you'll be planning your next trip quicker than steam dissipating from an early morning espresso.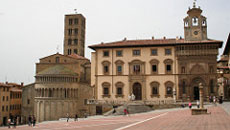 Arezzo
The sloping, red bricked Piazza Grande is the perfect place to sit and take stock in Arezzo with an intriguing border of dusty antique shops and Gothic style facades adding to the Sunday morning ambience. Like most Tuscan towns, Arezzo takes its heritage very seriously with numerous medieval processions making their way through the narrow cobbled streets during the course of the summer.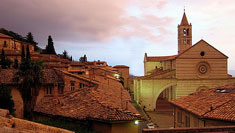 Cortona
Towering, terraced streets turn Cortona into a maze of honey shaded walls pinned with peeling panelled shutters, with steep gradients making excellent excuses to pause for breath and take in the Val di Chiana from the Piazza Garibaldi. Numerous churches, including the nearby Santa Maria Nuova, offer sightseeing options and the abundance of artisan food, drink and craft shops are super for souvenirs.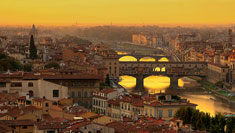 Florence
Many tourists hunt for Florence but are pleasantly surprised when they find Firenze. There is a difference. Florence is expensive ice creams by the Ponte Vecchio, queues for the Uffizi and selfie stick jousting in the Piazza della Signoria. Firenze is the Piazza Michelangelo after dark, picnics in the Giardino di Boboli, talking Italiano at the Mercato Centrale and lingering looks over the Arno as autumn starts to bite.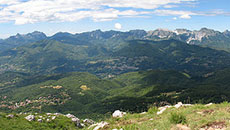 Garfagnana
This lesser-known region of northern Tuscany is quite possibly one of the most fulfilling for hikers thanks, in no small part, to the highly impressive Apennines. Following well-tramped donkey trails over alpine ridges and through dense beech forests, filled with wild mushrooms, presents a banquet for the senses alongside several challenging ascents, including Tuscany's highest peak: Monte Prado.
Greve
No trip to Tuscany is complete without at least a glass of Chianti, and Greve's Saturday morning market is the perfect place to pick up some accompanying bread, olives and fresh pecorino. The local butcher, Macelleria Falorni, is the toast of Tuscany and adding a hunk of his cinghiale (wild boar) to an ever burgeoning backpack gives carnivores an extra treat to unwrap in them there Chianti hills.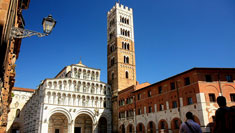 Lucca
Many an English schoolboy has the charms of Lucca to thank at their naming ceremony with strolls around the Passeggiata delle Mura, look out for the drop, and photo ops through archways leading to the Piazza dell'Anfiteatro, still set to inspire. Lucca's one of the few Tuscan towns that's not on a hilltop, although the city walls and the views from the Torre delle Ore more than make up for the lack of elevation.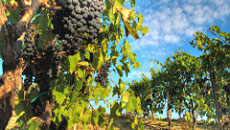 Panzano
Views from Panzano's lofty perch are truly beautiful and if you find yourself on the scenic Chiantigiana highway, somewhere between Florence and Siena, this is an attractive place to stop for lunch. Although many come to Panzano to visit the famous Tuscan butcher, Mac Dario, or the Chianti Classico wine estates, sometimes exploring with a little less purpose reaps greater rewards.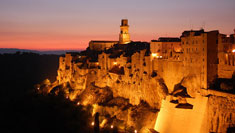 Pitigliano
Looking rather like a magnificent, turreted sandcastle that's succumbed to the incoming tide, Pitigliano rises out of tufa rock to stretch church spires and Orsini Palace ramparts towards Tuscan skies. A synagogue, cemetery and museum are all that remain of a once prominent Jewish community and stand above temple caves and Etruscan tombs, now turned into wine cellars to support surrounding vineyards.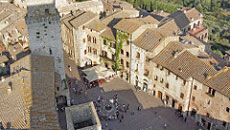 San Gimignano
San Gimignano's towers, piazzas and art-filled churches and cathedrals have resisted all manner of destruction which makes the town a huge draw for cultural travellers and tourists alike. Things can get very busy, but step off the main tourist street or visit either side of May or September and you'll discover an absolute gem, especially when appreciated over a cool glass of Vernaccia.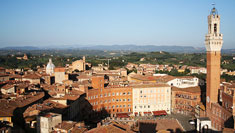 Siena
It's hard to imagine Siena's world-famous horse race, the Palio, when visiting the bowl-shaped Piazza del Campo, with kissing couples and chiming church bells replacing clawing crowds and thundering hooves. The fierce rivalry between the city's 17 contrade is hidden behind Gothic facades, Renaissance frescos and smiling sellers of medieval pageantry but it exists, and definitely not just for tourists.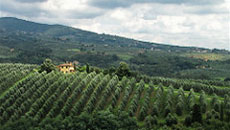 Vinci
If Leonardo da Vinci were alive today he wouldn't be unfamiliar with the rural scenes from his home town's medieval ramparts as things haven't changed all that much since the Renaissance. The obligatory da Vinci Museum is housed within an oval-shaped 12th century castle and is well worth a look although the 3km vineyard walk to the hamlet of Anchiano is just as memorable.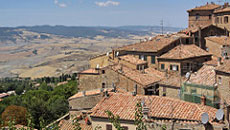 Volterra
Medieval heritage is everywhere you turn in Tuscany and the walls surrounding Volterra paint a picture of what life was like back in the Middle Ages. The city's lifeblood stems from the Piazza dei Priori and makes for an ideal starting point to discover Volterra's Romanesque cathedrals, Roman amphitheatre and 13th century gates as well as an assortment of traditional alabaster workshops.



Hello.
If you'd like to chat about Tuscany or need help finding a holiday to suit you we're very happy to help.
Rosy & team.
01273 823 700