Sicily travel guide
---
2 MINUTE SUMMARY
Reading up on the Greco-Roman classics prior to visiting Sicily isn't essential although, a cheeky flick through Homer's Iliad or Odyssey certainly won't do you any harm. That said, if you are planning on visiting archaeological sites, such as Syracusa or Agrigento, following a knowledgeable guide is definitely advisable and will give you a much deeper understanding of the island as a whole. Away from the ancient world, Sicily presents a warm and welcoming agricultural setting blessed with a bounty of seasonal fruits and vegetables to accompany the seafood along the coast and the traditional meats and cheeses sourced from traditional villages further inland.
Gastronomy plays a grand part in Sicilian culture, almost as vehemently as Etna or the volcanic Aeolian Islands, and any trip has to include both a cannoli and a Stromboli pizza from the streets for it to truly gain legendary status.
Read on in our Sicily guide...
Sicily map & highlights
---
MAKE THE MOST OF YOUR TIME
Sicily's main sites are conveniently scattered around its coastline which presents an ideal route for anyone wishing to hire a car or cycle and not get too lost. Taking the island one coast at a time is a great idea with Palermo to Taormina, Catania to Capo Passero, and Agrigento to Trapani, all promising at least a fortnight's worth of memorable moments on their own merits. Explore off the coast; the Aeolian Islands in the northeast and the Aegadian Islands in the west expand horizons as well as sunsets with some superb settings from where to kick back and relax or hike to an active volcano's edge, as the mood dictates.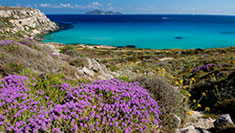 Aegadian Islands
Marettimo and Favignana are a couple of Sicily's west coast Aegadian Islands that you might well want to keep under your coppola. Although you won't find much in the way of sand you will discover a world of whitewashed fishing villages, shaded pine groves and endless walking trails with views over Caribbean clear waters, pitted with hidden grottos and sea caves, just aching to be explored.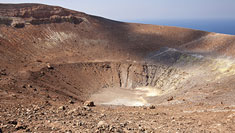 Aeolian Islands
Venting fumaroles, dramatic coastlines and violent expulsions of molten rock have quite rightly made the Aeolian Islands, off Sicily's northeast coast, one of the region's most exciting attractions. Each one of the archipelago's eight islands has its own unique terrain with moderate to challenging crater treks on Vulcano and Stromboli matched by seafood suppers overlooking Lipari's bustling harbour.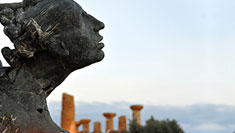 Agrigento
Agrigento is home to the remarkable Valle dei Templi and ablaze with archaeological treasures including the Temple of Concordia, one of the best preserved examples of Greek architecture on the planet. Heracles, Juno and Zeus all feature amongst the ruined and not so ruined Doric style temples with medieval and baroque architecture to be found closer to the main town.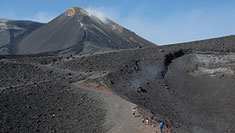 Mount Etna
Once you've caught a glimpse of Etna from the cliff side town of Taormina, which overlooks the Ionian, it's impossible to resist her charms any longer. Expeditions up the stratovolcano's southern slope are accessible to all and as you stroll through subterranean lava tubes and pass pine trees adorned with glowing lava baubles, keep an ear out for rolls of thunder – or was that…?
Palermo
If you can keep your wits about you and follow a local guide on a guided gastronomy tour of Palermo's bakeries and patisseries you'll find a city packed full of characterful heritage as well as some of Sicily's finest street food. Once you've had your fill of la dolce vita a wealth of cultural heritage awaits with cavernous cathedrals, medieval walls and opulent palaces helping to distract from the gelati.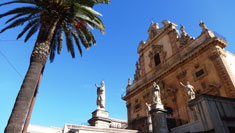 Val di Noto
This region of southern Sicily has been blessed with UNESCO World Heritage status thanks to the eight towns to be found within its borders. Catania, Ragusa and Modica, to name but three, are renowned for their classical and baroque architecture with a veritable cornucopia of churches and cathedrals creating a never-ending cultural odyssey against a suitably gorgeous Ionian backdrop.

Hello.
If you'd like to chat about Sicily or need help finding a holiday to suit you we're very happy to help.
Rosy & team.
01273 823 700