DOLOMITES TRAVEL GUIDE
---
2 MINUTE SUMMARY
There are more remote, lofty and famous ranges, but the Dolomites can't be beaten for dramatic, jagged peaks. These limestone monsters soar to over 3,000m, with many changing colour, from milky grey to rose-tinted, as the sun glides over them. Nestling at their skirts is a hard-to-resist supporting cast of Alpine meadows, abundant wildflowers, quiet villages, medieval churches and glacial lakes.
Looks aren't all the Dolomites can crow about – its climate is another joy. While most of Europe swelters through summer, rendering activity holidays a sweaty non-option, the Dolomites welcomes walkers, climbers and cyclists to its shady valleys and breezy peaks. And unlike the French Alps, this region cradles both Italian and Austrian culture, expressed in its varied architecture, languages and food. Dine on polenta followed by apfelstrudel, then take to the trails for a summer hike or winter snow shoe odyssey.
Our Dolomites travel guide has more details.
The Dolomites are...
a dose of drama on your doorstep
. Feast your eyes on these iconic peaks, nestling in nearby north-eastern Italy.
The Dolomites aren't...
all about crampons and scaling cliff faces
. Serious mountaineers are catered for, but there is every level of walking and cycling here and in winter, just grab some snowshoes and step out.
DOLOMITES MAP & HIGHLIGHTS
---
MAKE THE MOST OF YOUR TIME
Young ladies on the Grand Tour in the 18th century were encouraged to avert their eyes from mountain views. Rugged crags would upset them, it was considered. Thankfully times have changed – visiting the Dolomites is all about drinking in those jagged peaks. With the range just a short ride from Innsbruck or Venice, this is surprisingly simple to do. Once here, base yourself in one of the quaint towns for easy access to numerous walking and cross-country skiing trails, which make it easy to explore the landscape year-round. Many peaks have cable cars or chair lifts, too, with dramatic viewing platforms at their summits, so you can hit the heights without breaking a sweat.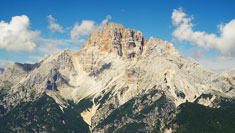 Croda Rossa
High and rugged, Croda Rossa is most famous for its deep red rock, unique in the pale Dolomites, which takes on a bloody glow in the sun. It's difficult to climb, because of its crumbly surface, but confident walkers can traverse its flanks, for a close-up view of the rock and its rainbow of shades, from yellow and orange to purple.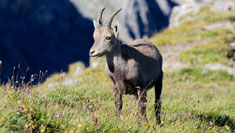 Dolomiti d'Ampezzo National Park
Covering 110 sq km, this national park boasts green valleys, woods, lakes and waterfalls, with protected Alpine flora and fauna thriving here, thanks to a longstanding environmental policy. The wildlife does all right, too. Spot ibex, chamois, golden eagles and bearded vultures. The totemic Tre Cime sit within its boundaries, with the pretty village of Cortina d'Ampezzo at its heart.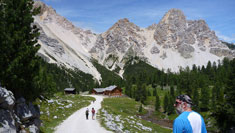 Fanes-Senes-Braies Nature Park
One of the largest protected areas of the South Tyrol, Fanes-Senes-Braies covers 257 sq km. It's dotted with small farms and villages with Lake Braies an easy-to-reach highlight. Dubbed the 'pearl of the Dolomites', it's tucked amid jagged peaks, dramatically reflecting them in its mirror-like surface. Climb from here to the Prato Piazza, an Alpine plateau 2,000m up and much loved by walkers.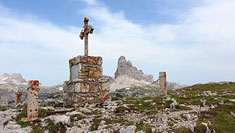 First World War history
This region formed the front line between Austria-Hungary and Italy. Mines were planted by each side in tunnels dug beneath the mountains and battles fought along their high-altitude crests. Follow the Austrians' attack routes across bridges and up ladders to the summit of Monte Piano, where there's an open air museum, trenches and shell craters still visible amongst the edelweiss and blue gentians.
Marmolada
At 3,343m, Marmolada is the Dolomites' highest peak, and a great place to gaze up at it is from Val di Fassa. Green pastures, meadows peppered with Alpine flowers and pretty villages contrast with the craggy bulk of Marmolada and its neighbouring peaks, looming above. While here, set your alarm for daybreak to watch the Catinaccio ridge glow golden-pink as the sun hits its flanks.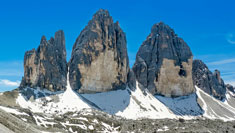 Tre Cime di Lavaredo
The Dolomites' most recognisable symbol is the Three Peaks. These dramatic limestone 'chimneys' once sat on the border with Austria and, while the boundaries have shifted, the mountains remain, like rotten teeth in a huge jawbone, marking the linguistic line between German and Italian-speaking majorities. Take a circular hike around them or, in winter, cross country ski in their shadow.



Hello.
If you'd like to chat about the Dolomites or need help finding a holiday to suit you we're very happy to help.
Rosy & team.
01273 823 700