Dana to Petra walking holiday
"If you told this story to the old generation, they wouldn't believe it," said Saleh Arfou. The Dana Reserve marks the start of a walking trail from Dana to Petra. It was once a place for nomadic Bedouin people like Saleh's family, who could hunt, freely graze their goats, and sleep in shelters they'd carved out of the natural caves. But in 1989, Jordan's Royal Society for the Conservation of Nature (RSCN) established what was to be the country's very first wildlife reserve – and it's most extensive. "When the idea of the reserve came we looked at the idea and thought we'll lose that land," Saleh says.
Something much better happened instead. "We stay here as guides, managers, drivers, researchers. This place is still for us, but as protectors," Salah explains. His father might not have believed it could be done, but the Bedouin in this area are now central to tourism here.
The other thing that's central, of course, are the views. From 1,500m up, you can see your way down the canyon – a path that peters out on its way down towards Petra, passing desiccated acacia trees and tripping through dusty scree.
Our Jordan walking Holidays
Shepherd guides
Bedouin people work in the Dana Reserve, and many also guide walks out of the reserve. Farah, tour designer for our adventure experts Experience Jordan, explains how they employ shepherd guides: "Our local suppliers are Bedouins who live in the area. They're mostly shepherds and they still do have all their goats, but they're using tourism as a business." It's not just men, either. "They're getting their family involved too, for instance, their wives cook the meals."
The Jordan Trail
These shepherd guides take small groups of trekkers on what has quickly become one of the best long-distance treks in the world – the
80km hike
south between the Dana Biosphere Reserve and Petra. This walk is part of the Jordan Trail, a 650km-long hiking trail beginning in the forests of Umm Qais and plunging south through the desert to the Dead Sea, finishing up at Aqaba.
Though the route was only officially established in 2017, it's been swift to gain global recognition, particularly the portion from Dana to Petra, which links two UNESCO World Heritage Sites. "It's one of National Geographic's top 20 long distance trails in the world," Farah says. Yes, there are many rewarding long-distance hikes around, but to Farah, Jordan's has the edge. "I think that the influence that the Jordan Trail has kept on the Jordan community itself, and the diversity of the hiking, is what makes it stand out," Farah says. Local people developed this path, they guide along it, and they supply the hikers who pass through.
Follow the trail
Just as it is for the Bedouin, finding new paths is written into the Experience Jordan team's DNA. The founders of Experience Jordan actually had a hand in designing the Jordan Trail – but that hasn't stopped them tweaking the Dana to Petra portion for this trip. "We make a few detours to make the trail more enjoyable and with great views," says Farah. When we talked, she herself was off to Dana that weekend. "We go and hike on new routes that no one has discovered before... maybe we will sell them some day."

The route takes you to Petra's quietest entrance, its 'back door', which gives you an immediate, privileged view of its biggest site without the usual queues. "The monastery is the first thing you see and you climb down to all the other sites," Farah says.
Reading the landscape
When Saleh talks about the land, it becomes poetry. "The nature still feels rich – the rocks, the valleys, the mountains, the landscape itself, the movements of lizards, the footprints of animals, all these creatures invite you to love the place, and I do love it."
As you walk with your guide, perhaps you, too, will start to read the landscape the way they do; to notice the small, charred circle on the rocks where someone else has brewed tea, or to spot white broom – a versatile plant whose ashes can be made into soap, whose boughs become Bedouin tents, and whose whippy branches can be used to sweep the floor.
Jordan is getting wilder: the Ministry for the Environment wants to protect the wildlife in 17 percent of the country. It's currently only four percent-protected – across the 10 areas governed by the RSCN, including Dana. Consider your walk from Dana to Petra a taste of what's to come.
Our top Jordan walking Holiday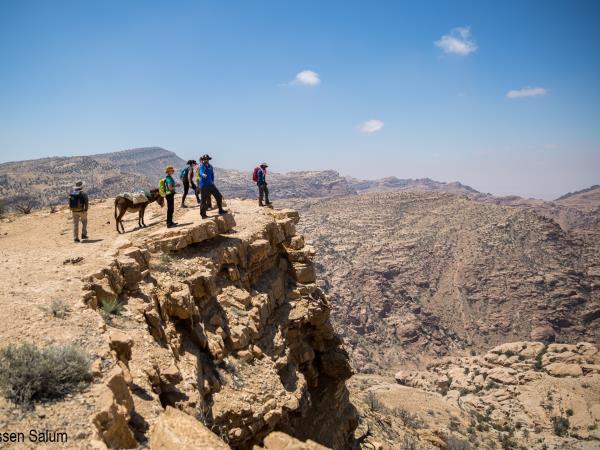 Best hike in Jordan along the Jordan Trail!
From
US $1495
9 days
ex flights
Small group travel:
2023: 1 Apr, 15 Apr, 29 Apr, 13 May, 16 Sep, 30 Sep, 14 Oct, 28 Oct, 11 Nov, 25 Nov, 9 Dec
If you'd like to chat about Jordan walking or need help finding a holiday to suit you we're very happy to help.

What does this trip entail?
The walk from Dana to Petra is roughly 80km, which you can comfortably fit into five days. A nine-day trip gives you time to fly into Amman, do the walk, plus time to visit Petra, Wadi Rum and the Dead Sea, too, so you can fit the highlights of Jordan around this highly rewarding hike. "If you ask people in Jordan, Wadi Rum is their favourite place," Farah says, "but for me Dana is taking over. The rock formation in that area is unbelievable." You'll walk through wadis and slot canyons, through a landscape of sandstone, limestone and granite. Each rock that you pass will have been whipped into shapes by thousands of years of wind and weather.

Small group walking is the way to go, in groups of no more than 14. That way you can share the need for a guide, a donkey porter, and you don't have to put up your tent when it gets to the wild campsite where you'll stay. You do need a guide. There's almost no signage on the trail, and the path tends to come and go.
Where will I be staying?
Wild camping is forbidden in the Dana Reserve, but once you leave the reserve, you'll wild camp for three nights. You'll find your wilderness camp area already set up when you arrive after each day's long walk, and your guides will cook dinner. Once you reach Petra and Wadi Rum you'll stay in Bedouin camps.
Why are we using a donkey?
Often, donkeys are used to carry supplies for walkers, and cooking equipment so that Bedouin can whip up the drink of choice in this area at any opportunity – the promise of a mint tea can really coax you up a hill.
Donkeys and camels have been used by Bedouin for centuries, and are perfectly adapted for taking on the steep, rocky terrain of the trail. According to SPANA, a charity who protect working animals in the world's poorest countries, there are some 25,000 camels and equines working in Jordan, but animal welfare isn't always a top priority; many animals suffer from neglect as their owners don't know how to care for them.
Responsible holiday companies are very aware of the problems faced by animals, and so follow very strict regulations set out by World Organisation for Animal Health (OIE) in partnership with Brooke, a UK charity that cares for working donkeys and horses.
What is the best time to go?
"The best times to hike Dana to Petra, or to visit Jordan in general, are spring and autumn," Farah says. "Summer is far too hot, and winter is very wet and rainy, and sometimes snowy." You can walk from the end of February through to the end of May, then again from September all the way through to December. Whenever you walk, it will be really bright in the sun. Alastair Mackenzie came here in 2019. His advice: "Take a spare pair of sunglasses with you."
More about Jordan walking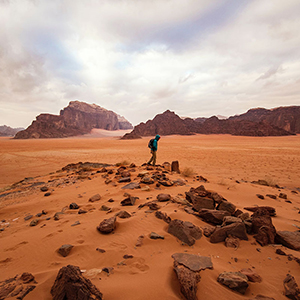 Walking holidays in Jordan involve trekking through wind whipped desert dunes, along a trail as old as time and into the Mars red valley of Wadi Rum.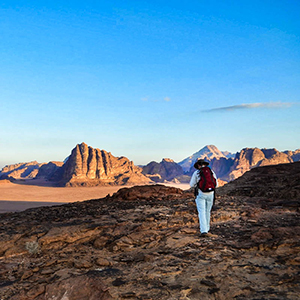 From peaceful sunrise strolls in Petra to hairy mountain hikes, the best walking routes in Jordan are the ones that lie off the well-used track and far from the busy tourist bus schedules.