How to book a last minute holiday
Last minute shouldn't mean sacrificing quality. At Responsible Travel, we believe that the best holidays are the ones where everyone benefits, which is why every trip you'll find on our website helps to preserve nature and support local communities. Our friendly and expert Travel Team are ready and waiting to talk to you about what you're looking for from a last minute holiday, and once they know your requirements, they'll save you time and effort by doing your research for you.

You're never going to lie on your death bed and say to yourself, 'I really wish I hadn't taken that last minute holiday to Africa.' Life is for living.

Unlike 'Alexa', our Travel Team are real people. Although when you start to delve into their extensive knowledge of all the holidays on offer, you will start to wonder if they're actually computers after all. They just know their stuff. We're certain of that, because the rest of us at Responsible Travel always use them as our first port of call for anything we don't know. So rest assured – you're in the best possible hands. Seize the day, call us – or read on to find out more about how booking a last minute holiday works.
Four steps to booking a last minute holiday
1. Browse our website
Before you call, have a quick browse though our
last minute holiday offers.
See where you could go now. Many of our partners excel at late availability, because they are used to working in a bespoke, one-to-one way. You could also check our
Facebook
and
Twitter
updates for late availability offers. Just remember: a late availability holiday doesn't always equate to a special offer.

Our responsible tourism partners aren't like the mass tourism giants. They don't buy packages in advance and then sell the leftovers off cheap at the last minute like stale buns. Their trips are always fresh and good quality.

In many cases, our partners also offer fantastic range of small group tours. So if only eight people have booked on a holiday which can accommodate 10, there's your late availability. They might not be offering smash-and-grab last minute deals, as the companies we work with have a' fair pay for all' ethos, but if there are spaces ready to go, they'll be pleased to welcome you aboard.
2. Call our Travel Team
When you call our Travel Team, they'll talk you through the various late availability options for the dates that you want to travel, and for your budget. They will let you know if there are small group or tailor made tours available, and will give you plenty of food for thought depending on what you're looking for. Remember: a bit of flexibility on duration, destination and departure dates can go a long way.
3. Choose one of our partners
Once our Travel Team has whittled down your options, they'll put you in touch directly with one or more of our partners. When you've made a decision, these responsible tourism specialists will take over with all the details, as they are experts in their field. They can tell you all the nitty-gritty about what you need to pack, accommodation details, who else will be travelling in a small group with you, and so on. They will also then be able to advise you on how to reach your destination, or in some cases, even book your travel for you.
4. Book your flights
Please note that we don't book flights at Responsible Travel. Our partners may be able to book them for you, but if not then read
our guide
to booking last minute flights. Our partners will make every effort to ensure your holiday arrangements fit with your flight times, including sorting our airport transfers if needed.
Our top Last minute Holiday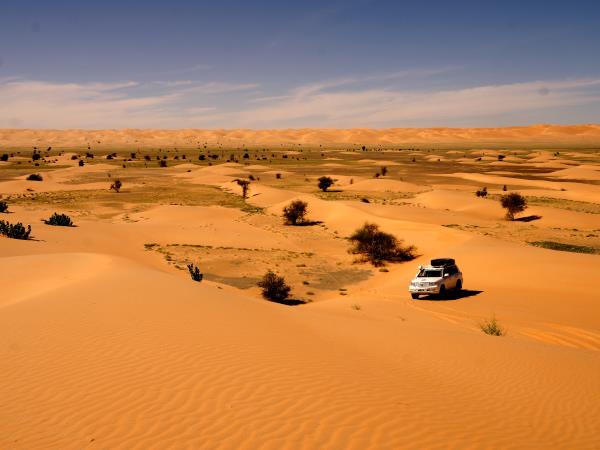 Travel from North Africa through the Sahara to the tropics
From
£8499

to

£8599
4 weeks
ex flights
Small group travel:
2023: 18 Nov
2024: 31 Mar, 11 Nov
If you'd like to chat about Last minute or need help finding a holiday to suit you we're very happy to help.

Consider flying somewhere in the same time zone, so you don't have to spend precious time acclimatising Don't hesitate if you find a dream of a last minute holiday. It could be gone two days later, so if you like the sound of it, go for it. Be open-minded about all the things you can do. You almost have to let fate play a hand when it comes to where you can go and what you can do, rather than saying, "This is what I want to do and that's that." It might even lead you down a path you might never have thought of before. Which leads to: flexibility gets you everywhere, especially when it comes to departure dates and trip duration. Last minute doesn't always mean cheap. Sometimes we do have special offers, and our Travel Team will point them out to you. Don't panic pack. More often than not, you can buy holiday essentials in the destination, or hire specialist equipment, which can also be a source of income for people on the ground. Also, remember to read the trip notes thoroughly before you go. Winter activity holidays, for instance, will usually provide all your outer clothing.